Saturday's decision by the producers of the film Ae Dil Hai Mushkil (ADHM) to bow to MNS chief Raj Thackeray's demand to pay Rs 5 crore penalty to the Army welfare fund had evoked both surprise and shock. More so because the compromise was reached in the presence of Maharashtra's BJP chief minister Devendra Fadnavis.
The storm has blown over; the movie can go on; the Pakistanis won't be allowed to act again. And Raj Thackeray has managed to pivot himself to political center-stage, catching the Shiv Sena -- long a thorn in the BJP's side -- by surprise ahead of the polls to India's richest civic body.
But the issue raises many questions that bode ill for Indian democracy. Most important of them is why did an elected government facilitate what essentially is a thinly veiled extortion job?
Let's for a moment keep aside the most emotional question that is roiling the minds of most Indians: why allow Pakistani artistes to act in Bollywood? Most Indians are upset -- understandably so -- after what looks to them as a money-crazy industry allowing Pakistanis to make money in India even as that country's government is sending terrorists to kill our soldiers and bomb our cities.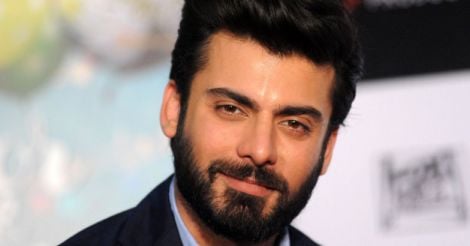 Pakistan actor Fawad Afzal Khan in a file photo taken on March 25, 2016 at a press conference.
Bollywood is split down the middle on the issue, despite the still-fresh memories of the Uri attack that killed 19 Indian soldiers. And the statements by some of the reigning Khans have not helped.
Also read: Behind the daily dose of box office patriotism
Also read: 'Ae Dil Hai Mushkil' row: Army 'upset' at being dragged into politics over film

The film's producer has a seemingly convincing argument: ADHM was shot when prime minister Narendra Modi and his Pakistan counterpart Nawaz Sharif were hugging each other in Pakistan, and green shoots of peace were emerging from the fog of distrust and terror. That he cannot now be penalized for something that was done then, without any idea of how fast things were going to slide downhill.
That argument does not carry much traction when you look at the larger picture. Bollywood has been notoriously ambivalent about banning Pakistani artistes, and those whispers of the D-company's money fueling the industry have just refused to go away. Taken together, the anger among India's common citizens at Bollywood's perceived insensitiveness cannot be completely dismissed as mass hysteria.
Bollywood definitely needs to declare clearly where its loyalties lie. Money cannot dictate the answers to all issues -- not when our soldiers are dying from the bullets of Pak-sponsored terrorists. But that is a different question.
What happened Saturday is even more terrifying. An elected chief minister of a state "mediating" with the leader of a party better known for extortion and xenophobia and facilitating a deal. Even worse, the army and its welfare fund for slain jawans were dragged into this political chess game.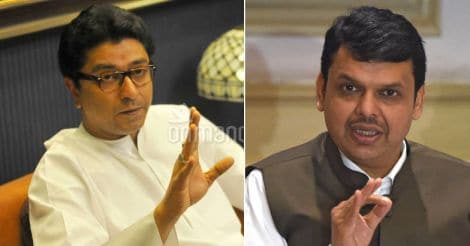 Combo image of MNS chief Raj Thackeray (L) and Maharashtra CM Devendra Fadnavis
Why did the state government not deploy the Mumbai police -- well armed and staffed to deal with street thugs -- to deal with the MNS' threats? Why was the Center, which is the real authority about banning Pak aristes, silent on the issue?
The way the game unfolded is scary not only because of its unconstitutional nature but also because of the way it confers legitimacy on thugs who thrive on using political power to knock off money, and the way the state law enforcement machinery was made a silent witness.
Rule of law is the key to any peaceful, orderly society. India's track record on that has never been worthy of praise, with politicians of all hues playing with fire for their own gains right from 1947. Cow vigilantes and fringe Hindutva elements are some of the latest manifestations of that disease; so is Raj Thackeray's – and Fadnavis' – politics.
The only side that conducted itself honorably through all this politics and money power is the Indian army: despite the pain it is going through, it has refused to accept the "extortion money" for its welfare fund. Let's learn from them.