A girl gives out her opinion on war, but digitally active literate Indians threaten her with rape. A minister, meanwhile, wants to know who is 'polluting' her mind. Obviously, she's just a pawn, he thinks; because how else would you justify the fact that a young female can have a strong political conviction in a country like ours?
Sportspersons like Virender Sehwag, Yogeshwar Dutt and Babita Phogat too stoke controversy by mocking the arguments put forth by the girl, just because it was beyond their comprehension.
Read: Campaign against ABVP: BJP's Mysuru MP likens Kargil hero's daughter to Dawood
After facing such backlashes and a barrage of abusive comments and threats, Gurmehar Kaur withdrew from a noble campaign for the freedom of speech and expression for students on college campus – a campaign, which later assumed political overtones, because you just cannot speak anything against the nation.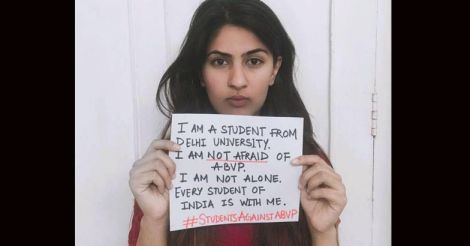 Image uploaded on Facebook by Gurmehar Kaur as part of her campaign.
"I have been through a lot and this is all my 20-year self could take," said Kaur, who is a student of Delhi's prestigious Lady Shri Ram College and the daughter of a Kargil martyr.
The fact that she had to withdraw her campaign and was threatened of rape, speak volumes about our society, particularly those ABVP supporters who cannot accept anything other than their own stringent ideologies and notions on patriotism.
Read: Kargil martyr's daughter gets 'rape threats' for opposing ABVP
To counter Kaur's campaign against the ABVP in the Ramjas college incident, the supporters of the right-wing students' organization dug out a video Kaur made a year ago. In the video, she condemns the war and calls for truce with Pakistan, even though her father had been killed in Kargil War.
The fact that a martyr's daughter can have an 'unpatriotic' opinion regarding the war irked the sangh supporters, who wanted to silence her by intimidation and bullying.
In the video, she says, 'Pakistan did not kill my father, but war did.' She further goes on to say if Japan-America and Germany-France can forget their past and work as friends why can't India and Pakistan do the same.
Why should Kaur prove her love for the country for making this opinion of hers public? How can a campaign over freedom of speech become a debate on nationalism all of a sudden? Speaking of which, why is any debate on freedom of expression directly linked to supporting separatism? And are all women with free will anti-nationals?
It is for the ABVP to answer these questions. But it is we, as a society, who have failed when a girl is threatened with rape for expressing her views.
It has been almost a year since the JNU incident and the murders over beef consumption happened, but the rising tide of intolerance repeats horrors of past. Anybody supporting BJP becomes a 'Sanghi' and anybody who is not, becomes an 'anti-national.'
Let's just hope there will be a day when people can hold debates and discourses with a free will and sound mind. The campaign began by Kaur may be withdrawn, but she has undoubtedly ignited a spark that will continue to glow.