The surveys are out – everyone thinks demonetization is a good step. The Modi fans are celebrating. But, hey, wait. Did anyone question the desirability of a step like this? Wasn't the eradication of black money one of the main planks on which Narendra Modi was elevated to power?
The problem most people have is with its messy implementation than with demonetization itself. It has showed that various levels of government, bureaucracy and the central bank were not talking to each other enough before doing something that has upended the life of millions of common citizens.
And, in my humble opinion, that still stands. People are still forced to spend time in lines in front of banks, and take spending calls based on how many of their precious Rs 100 and Rs 50 notes have to be given away. They are putting the stock of those notes above the creature comforts that they could have easily afforded in a normal-liquidity system. And that speaks volumes about the current situation. It won't even be wrong to say Narendra Modi has taught household budgeting to the Indian middle class!
Also read: Can we call demonetization a train wreck already?
Crackdown on black money smacks of a cover-up
Wait for more punishment after Dec 31, PM warns black money holders
Demonetization was a bold decision, a much-needed one. But it was lost in implementation. Ultimately it is probably Modi's style of functioning that is to blame for this fiasco. All his men failed to alert him of the cliff ahead, they told him what he wanted to hear.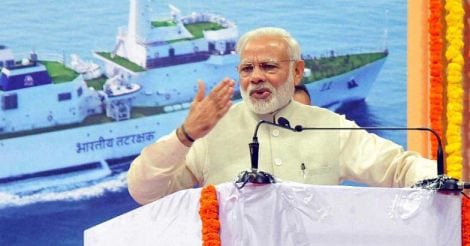 Prime minister Narendra Modi addressing the gathering during foundation stone laying ceremony of Greenfield Airport in Mopa, Goa on Sunday. Photo: PTI
Lest we condemn Narendra Modi, we have to understand that he is perhaps a victim of his times. The problems he face are no longer simple ones that can be addressed within national boundaries, with the simple tools from the last century that nation states still use. The black money and counterfeit note networks go beyond the borders, often operating beyond the grasp of nation states and their policing institutions. Those spigots cannot be turned off at will – by any national government.
Check out Onmanorama's in-depth coverage of currency chaos here
Modi should tell the people as much before the unreal expectations that have been built up by his dramatic late-evening announcement and by his fan brigade, trigger a blowback. It is also more statesmanlike to admit he erred in this first step and try to salvage the situation by bringing in competent people and taking real action on the ground; rather than making more threats to the still elusive black-money hoarders out there. Those threats are beginning to sound hollow – much like the Congress' secular argument. He should look at this as another opportunity offered by providence to reclaim his legacy rather than try to paper over the faults and open himself up to harsh judgment.
The fan brigade is celebrating on social media with pictures of abandoned and burnt currency notes. Yes, those pictures tell a story, but there are still not enough of them to make it a compelling narrative. If those pictures say anything, it is this: some black money guys have panicked but not all. Probably those new to the game are the ones who upped and ran. But the real hardcore guys who have been in the game for the last 2-3 decades, perhaps more, are still sitting tight. And probably laughing at the lines in front of the banks.
Their money is in real estate, in gold, and invested outside India. And it has been left untouched by this grand plan.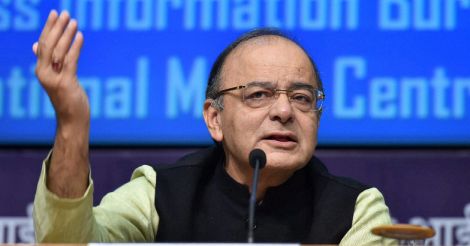 Finance minister Arun Jaitley addressing a press conference in New Delhi on Saturday. Photo: PTI
Selective amnesia: BJP had slammed demonetization during UPA regime | Video
How India's money supply dried up in just three days
Real estate prices will not come down because most honest builders have been edged out already. Those in the market now can afford to sit it out – whether it is an economic slowdown or a black-money hunt. They have only committed their unaccounted money and have enough legal money to maintain their legal operations meanwhile.
Things will change only when we see strong legal action on the hardcore black money types – something that has been missing so far, and which the PM or the FM has not directly talked about yet. Arrest a few real estate sharks, seize their assets, make examples of them – the real estate market will tumble. Arrest a few corrupt babus, some politicians. Right now that action is, conspicuously, missing. And without that, the footage of the PM choking up in Goa about the problems with demonetization is only great TV.
The simple truth is the prime minister, despite his obsession with creating the legacy of a doer, has bungled. Modi probably has understood it; hence the switch to the emotional appeal in Goa from the mocking he displayed in Japan just a day earlier.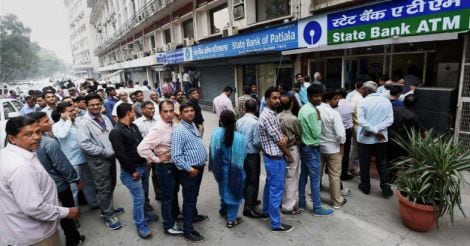 People queue outside an ATM in New Delhi.
Modi has asked for time till December 31 to get the liquidity levels back to normal. He can perhaps expect some help on this front from an unlikely quarter – the mint in Peshawar that is allegedly dedicated to printing Indian currency. Those guys are probably already on it.
A note to the political opposition: Modi is prime minister because he won the election on a hugely popular mandate. This misstep – however big – does not mean the Congress is coming back to power. There is too much the Congress has done to fuel Modi's rise. And it has not done anything to redeem itself yet, except harping on the old tunes.
(The views expressed are personal)