In small dabhas in Delhi, meat was just referred to as meat – not mutton or beef. Half meat was the standard menu with a dal makhani to go with two huge tandoori rotis. The reason for the smirk on dabha owner Dharampal's face was that Delhi was a place where cow slaughter was strictly prohibited.  But, liquor drinking in public places was also banned, but Dharampal would help us with huge steel 'glasses' where the quarter had to be quickly poured and drunk. This concession was available only to those ordering the said special 'half meat.'
I discovered Hauz Rani much later, a quiet Muslim village, tucked in a corner behind Malaviya Nagar (a bastion of Hindus and the BJP) and right cross the road from Press Colony.  Madan Lal Khurana was the permanent MP of BJP from Malaviya Nagar. South Delhi had a chain of such mostly Muslim villages forming a contiguity (broken by modern roads and flyovers) spreading from Mohammadpur, Katwaria Sarai, Lado Sarai, Mehrauli, Hauz Rani, Sheikh Sarai, Chirag Dilli, Jahanpanna forest, Badarpur till the stretch reached the Yamuna. In Hauz Rani, there were butcher shops selling beef and three or four restaurants. By beef, we have to strictly understand that it was buffalo meat and not cow or bull. The restaurants were crowded in the evenings and strangers were watched with weary eyes. The server Jaleel invariably asked 'bade ka ya chotte ka?'  Bada meant beef, chotta meant mutton. No half meats here.
I invariably ordered a bhuna (beef pre-roasted before making a curry) and two roomali rotis. Or, a half- biriyani (about one-tenth of a full Biriyani of Kerala). This was much before I discovered Nizamuddin Auliya's durgah and the hundreds of eateries offering varieties of kebabs and tikkas around it. 
I remembered all this when leading an almost vegetarian life in Palakkad and reading about the Center's move to make beef a not-so-easily available commodity through market intervention. Yes, it is cleverly done in a way that would make a Chanakya proud. And, the manner of doing it would undermine a long history of beef eating in India. Only a brahminic mind could conceive of such a thing. This cleverness was in operation in 1950 when an attempt was made to make the ban on cow slaughter a Fundamental Right (of whom was not clear) during the Constituent Assembly's deliberations. It was Ambedkar who thwarted this move and made it one of the Directive Principles as a compromise.
Now, Dr. Ambedkar knew his history very well. He showed us how in ancient India, cow slaughter and consumption of cow meat was rampant among Hindus as part of their unending sacrifices. Taittiriya Brahmana described even the kind of cows and oxen to be sacrificed for different deities. "Thus, a dwarf ox is to be chosen for sacrifice to Vishnu; a drooping horned bull with a blaze on the forehead to Indra as the destroyer of Vritra; a black cow to Pushan; a red cow to Rudra." The rise of Buddhism came as a challenge to this with their practice of consuming meat obtained not through deliberate slaughter. As Baba Saheb put it with wry humor, "In a period overridden by ritualism there was hardly a day on which there was no cow sacrifice to which the Brahmin was not invited by some non-Brahmin. For the Brahmin every day was a beef-steak day."

According to Baba Saheb, the eating of the flesh of the cow was a major boundary between Hindus and Untouchables. Because, as he says, "there is no community which is really an untouchable community which has not something to do with the dead cow. Some eat her flesh, some remove the skin, some manufacture articles out of her skin and bones."
Brahmins overcame the Buddhist challenge by adopting vegetarianism. The Gupta empire (the golden Hindu era) completely banned cow slaughter in its domain and it is interesting to note that the borders of the Gupta empire more or less coincide with the area in modern India where beef eating is less. Latest surveys by NSSO (a Government body) shows that the largest percentage of beef eaters lives in the states of the entire North East, Jammu and Kashmir, Kerala and West Bengal.   The highest percentage is not in a Muslim-dominated state like Kashmir, but Meghalaya where 80% of the population consumes beef. This is the reason why even the BJP leaders in that state are threatening to leave that party.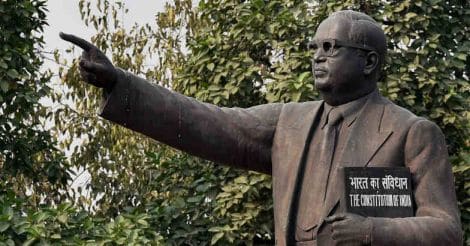 A statue of Dr. B.R. Ambedkar showed us how in ancient India, cow slaughter and consumption of cow meat was rampant among Hindus as part of their unending sacrifices.
The 'Preservation, protection and improvement of stock and prevention of animal diseases, veterinary training and practice' is Entry 15 of the State List of the Seventh Schedule of the Constitution, meaning that State Legislatures have exclusive powers to legislate the prevention of slaughter and preservation of cattle. As things stand now, Arunachal Pradesh, Kerala, Meghalaya, Mizoram, Nagaland, Tripura, and Lakshadweep have no legislation at all on cow slaughter.
This is what is being undermined through the Chanakya tantra of banning the sale of cattle in cattle markets for slaughter purpose. Any cattle owner can slaughter at home and sell the flesh, but not sell the cattle in the market. Outwardly, there is no ban on slaughter (like the High Court of Kerala said), but there is a covert ban that works equally efficiently.  It is not difficult to see that this covert operation is meant to deliver body blows to Hindutwa's major enemies – the minorities (largely Muslims- 40% of Muslims consume beef), Dalits (70% of Hindus eating beef are SC/ST)  and the regions outside the Gupta empire ( Meghalaya- 80%, Nagaland- 51%,  Kerala 25%, Arunachal 25%, Manipur 24%, Mizoram 23%, Assam 21%, West Bengal 18%).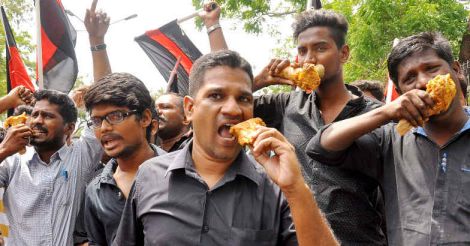 Members of various outfits eat beef as part of a protest staged in front of the IIT-Madras condemning the attack on a student for taking part in a beef festival. PTI
What does all this add up to? Are we back to the Gupta dynasty run by a new emperor? Is Dharampal's son still able to dish out his `half meat?'Is Jaleel's son in Hauz Rani still able to serve ` bade ka?' Or, has the entire village been razed to build some Madan Lal Khurana sports complex?
(Ravi Shanker is a poet, translator and columnist. He is the author of "Architecture of Flesh", a collection of poetry. Views are personal.)