'Jai Jawan Jai Kisan' (Hail the Soldier, Hail the Farmer) was a slogan raised by the then prime minister of India, Lal Bahadur Shastri, at a public gathering in Delhi in 1965. India was at war with Pakistan that year and there was scarcity of foodgrain in the country. Shastri gave the slogan to enthuse the soldiers to defend India and simultaneously to cheer farmers to do their best to increase the production of foodgrains. It became one of the most endearing slogans in India.
Today, the situation is such that these two important sections of society have travelled so far from each other that the government doesn't think twice before honouring a fallen soldier in Kashmir or Arunachal Pradesh or gunning down agitating farmers. The divide is so stark. Any critical remark against the armed forces is treated as treason. Killing of farmers by the state doesn't occupy even a ten-inch column.
By the same author: Life of 'chote log' in 'bada' empire
I must confess that I am no farmer, but I am a first-generation non-farmer. Even when I was studying in a college, we had two small plots of paddy which my mother supervised. I used to help her in buying fertilizers and paying a daily visit to the plots, one purpose of which was to defecate. We had no toilets. I cut classes for a few days during harvest. My main job was to help the workers heave each load of kattas wrapped in a panambu on their heads. Those were so heavy. The other job was to get the buffaloes for threshing. I made a trip to my grand uncle's kalam to get three pairs of buffaloes. It was left to me to navigate the varambus with these buffaloes without any mishap till the threshing floor. Making buffaloes obey you is a tough task.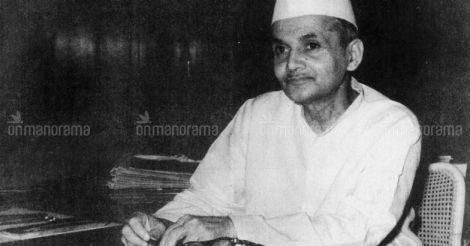 Lal Bahadur Shastri. Archives
But, am I unfamiliar with the soldier part? No. Before this Kisan avatar, I studied in a Sainik School which had all the basics of a strict and rigorous military upbringing. So, I can safely claim I am a soldier-turned-kisan-turned civilian.
As a friend wrote, 'the farmers were demanding Rs 8 per kg for the same onion that was selling in Kerala for Rs 100 a kg.' Why this anomaly? Why are farmers always the losing lot while all the intermediaries, including politicians, make money?
How is it that the present central government's thrust on a military solution for everything, eulogization of patriotism, and considering critical review as treason, the soldiers get all the limelight, whether dead or alive, while farmers are treated as shit?
History shows that peasant revolutions had paved the way to great changes in the world while the military has always remained anti-people and pro-State. During the British colonial period, agriculture became an important instrument to plunder colonies. Famines became commonplace, from Ireland, England's first colony, to India, its largest. This is why farmers were an important constituent of the freedom struggle in India. Their aspirations, undoubtedly, were of improvement in living standards and quality of life. Such aspirations have not fully materialized in independent India. Effective protection to farm products is much higher in Japan, the European Union, and the US than India. Farmers are a powerful voice in Indian democracy, but their large size and heterogeneity limits their influence on public policy. But, agriculture still employs half the population of India though it accounts for only 15% of the economy.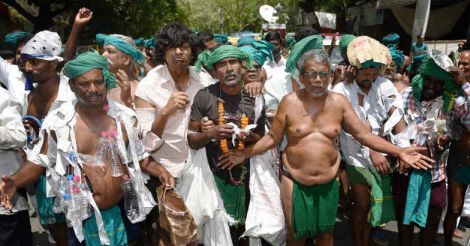 Tamil Nadu farmers during their weeks-long protest in New Delhi. PTI
India has had a chequered history of peasant rebellions mostly related to moneylending and forcible acquisitions. Even a century ago, in 1917, Gandhiji was in Champaran handling the ryot-tenant issues. The Santhal rebellion, Indigo revolts, Pabna revolt, Maratha peasant uprising, Champaran, Bardoli, tenant struggles in United Provinces (UP and MP), Ayyankali's struggle in Travancore, the Telengana communist uprising, the Mappila rebellion of Malabar, Tanjavur communist uprising etc are fine examples of how the normally docile farming communities (whether they are farm hands or land lords) took to rebellion in the face of most oppressive situations. On the other hand, one can see that the various armed forces that served under different masters had only served the purpose of subjugating every such revolt or uprising. The popular fanciful notion of patriotism has been bandied about by every regime which, as a matter of course, makes spending large on the military establishment their matter of pride. And, purchase of military equipment, arms and ammunition always carry the stigma of corruption. This trend has not changed till date.
The recent revolts by the Tamil Nadu, Maharashtra and the Madhya Pradesh farmers once again highlight this issue. The Tamil Nadu farmers who demonstrated in Jantar Mantar, Delhi, for a month even tried new forms of agitation like rolling on the road naked and eating shit to press their demands. In Madhya Pradesh, ruled by the BJP, four farmers were shot dead. The CM went through a highly publicized drama of fasting which ended after 28 hours. In Maharashtra, all the demands of the farmers have been accepted by the BJP/Sena Government when even Shiv Sena threatened to join the agitation.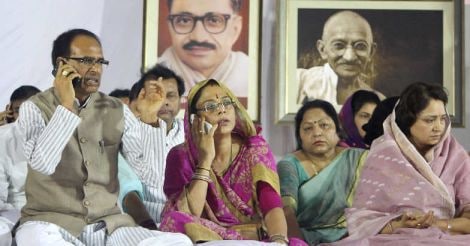 Madhya Pradesh CM Shivraj Chouhan during his fast for peace. PTI
The issue is always related to moneylending and loans. The method adopted earlier was to lend money and create a situation where it cannot be repaid. Then, move in for the kill by attaching the land. The various banks now in operation are no different. The main demand of the farmers is consistently the same – waiver of loans. To some extent, after many struggles, they achieve it partially.
But, the governments have other ideas too. Hectares of cultivable lands are acquired from the farmers for building industries or townships or even cities or technoparks. They are paid a pittance as compensation and on the same land they owned, they become wage labourers. This is a recurring pattern. This is something that the prevalent notions of development or Vikas demand. Destruction of agriculture, in India, is projected as development.
But, history also shows us that the governments which follow this model bite the dust. Nandigram in West Bengal is an example. When farmers are agitated, they have the ability to topple governments. And, always, the Jawan bhai will face the Kisan bhai on the battle front. There is little chance that the twins, who got separated in the Indian Mela of Vikas, will meet each other again and embrace in peace.
(Ravi Shanker is a poet, translator and columnist. He is the author of "Architecture of Flesh", a collection of poetry. Views are personal.)