Cyber games abetting suicides and killings always sounded foreign to us. We thought such incidents are too alien to happen in our part of the world. But early this week, we woke up to reports of a teenager apparently giving in to the challenge set by an online game to commit suicide by jumping off his high-rise apartment. Police have started investigation of the case. While the link between the case and the online game is yet to be proved, it's a warning bell that cannot be ignored. It's high time we woke up to the dangers of increasing addiction among youngsters to online games.
The discussions about addiction should not be limited to substance abuse. Anything that urges you to go back to it repeatedly, compromising on the time you might otherwise spend on work or social interactions, is an addiction. If you are finding time for it first thing in the day and can't resist doing it whenever possible, it is a sure of addiction no matter what it is. Mobile phones and online games are then potent drugs.
Even if you are convinced that you have much control over your interaction with the virtual world, it may not be so. Be warned if you have difficulty limiting whatever form of engagement you have with the cyber space, especially if you feel mentally and physical cheerless when deprived of it.
Read | Parents beware: a deadly blue whale may swallow your child
Our sense of happiness is controlled by the dopamine levels in our brain. This chemical messenger of happiness gets a boost when we indulge in pleasurable activities, which could be the time spent with friends, a long drive or a game.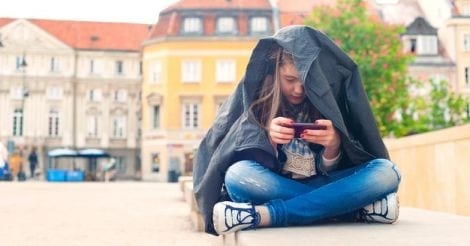 Blue Whale is apparently a game. Though we know precious little about it yet. And the veracity of the information circulating about it remains uncertain. But whatever has come to be revealed warns us of a dangerous and manipulative online trap. We sure cannot take a chance with our children stumbling across the likes of Blue Whale in cyber space. It is of little significance that the game originated in Russia as the Mumbai incident proves. Geographical distances dissolve in the virtual world and your child is just as exposed to the dangers out there as children in any part of the world.
If there is one thing common to those who set up cyber traps and those who fall prey, it is an unhealthy mind. Dysfunctional families, isolation, lack of social interaction are all factors contributing to increased behavioral and psychological disturbances. Those who seek help with anxiety disorders are increasingly found to have split personalities. The virtual world becomes the refuge of most such people. The false sense of anonymity and total freedom encourages them to live out an alternate life in the cyber space. So often in clinics, we are stumped by the mismatch between who somebody is in real life and what they are capable of in the virtual world.
It is important to teach our children to say no and to trust their instincts. Cyber traps work through emotional manipulation and take advantage of a person's inability to take strong decisions by themselves. The victims are primed over time to carry out tasks without questioning and to keep secrets.
In most cases where children fall prey to cyber crimes, it is found that parents were not keeping a tab on the child's online activities. The time that your child spends online should be strictly monitored and precautions like enabling restricted mode on computers should be taken without fail. In cases where you suspect foul play or in the unfortunate event of falling prey to cyber traps, it should be ensured that it is reported. A collective effort is needed to protect our children from the dangers lurking in the virtual world.
(The author is the RMO of Thiruvananthapuram Medical College and assistant professor at Psychiatry department.)