Kochi: Biodegradable waste generated in Kochi Corporation will be moved to the waste management facility at Brahmapuram for two more months.
The decision has been taken considering the delay in fully implementing the plan to dispose of biowaste with the help of private agencies.
The decision was taken at an online meeting attended by Local Self-government Minister M B Rajesh and Industries Minister P Rajeeve.
Kochi Mayor M Anilkumar had recently sought permission from the ministers to shift the bio waste to Brahmapuram as there was no other option to manage the waste crisis of the city with the onset of the monsoon.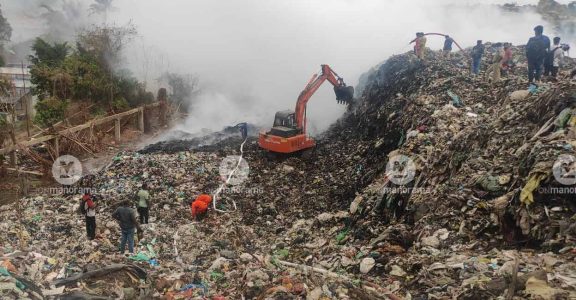 Movement of biowaste to Brahmapuram was suspended following the massive fire at the facility there in March.
As per the decision taken on Friday, only a maximum of 50 tonnes of biowaste is allowed to be taken to Brahmapuram a day.
A task force will be deployed to ensure that the limit is not exceeded. Dumping of garbage will not be allowed as in the past. The existing shed and RRF building will be renovated and used for waste management, an official statement issued after the meeting said.
The corporation has been tasked with finding more private agencies to solve the crisis within two months. Two companies are already engaged in this.
The meeting decided to identify apartment complexes that do not have a legal waste management system and slap them with hectic fines.
MLAs T J Vinod, P V Srinijin, K J Maxy, Uma Thomas, District Collector NSK Umesh, and Kochi Corporation Secretary M Babu Abdul Khader also attended the meeting.