» Renowned Malayalam playback singer K.J. Yesudas gets Padma Vibhushan, India's second highest civilian honor
» Five Keralites win Padma Shri 
» Indian hockey captain P.R. Sreejesh gets Padma Shri
» Kathakali maestro Guru Chemancheri Kunhiraman Nair also gets Padma Shri
» Malayalam poet Akkitham Achuthan Namboothiri and Carntaic musician Parassala B. Ponnammal too win Padma honor
» Kalaripayattu practitioner Meenakshi gurukkal, 74, gets Padma Shri. She was picked under the category 'unsung heroes'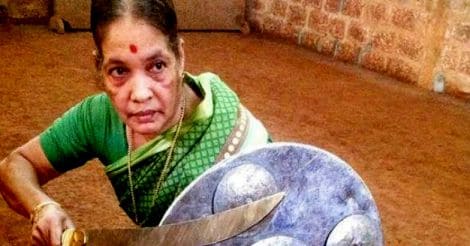 Meenakshi gurukkal
» Meenakshi gurukkal, who hails from Vadakara, has been practicing Kalaripayattu for decades
» Olympian gymnast Dipa Karmakar, Paralympic gold medalist Mariyappan Thangavelu and Shekhar Naik, captain of India's blind cricket team, are also among Padma Shri awardees
» The Padma award list comprises of 7 Padma Vibhushan, 7 Padma Bhushan and 75 Padma Shri Awardees
» This year, 19 of the awardees are women and the list also includes 5 persons from the category of foreigners, NRIs, PIOs and 6 Posthumous awardees.
» Padma Awards - one of the highest civilian Awards of the country, are conferred in three categories, namely, Padma Vibhushan, Padma Bhushan and Padma Shri.
» These awards are conferred by the President of India at ceremonial functions which are held at Rashtrapati Bhawan usually around March/ April every year.
Here is the list of other winners:
Padma Vibhushan
1. Sadhguru Jaggi Vasudev (Others-Spiritualism, Tamil Nadu)
2. Sharad Pawar (Public Affairs, Maharashtra)
3. Murli Manohar Joshi (Public Affairs, Uttar Pradesh)
4. Prof. Udipi Ramachandra Rao (Science & Engineering, Karnataka)
5. Sunder Lal Patwa (Posthumous - Public Affairs Madhya Pradesh)
6. P.A. Sangma (Posthumous - Public Affairs, Meghalaya)
Padma Bhushan
1. Vishwa Mohan Bhatt (Art-Music, Rajasthan)
2. Prof. (Dr.) Devi Prasad Dwivedi (Literature & Education, Uttar Pradesh)
3. Tehemton Udwadia (Medicine, Maharashtra)
4. Ratna Sundar Maharaj (Others-Spiritualism, Gujarat)
5. Swami Niranjana Nanda Saraswati (Others-Yoga, Bihar)
6. H.R.H. Princess Maha Chakri Sirindhorn (Foreigner - Literature & Education, Thailand)
7. Cho Ramaswamy (Posthumous - Literature & Education –Journalism, Tamil Nadu)
Padma Shri
1. Basanti Bisht (Art-Music, Uttarakhand)
2. Aruna Mohanty (Art-Dance, Odisha)
3. Bharathi Vishnuvardhan (Art-Cinema, Karnataka)
4. Sadhu Meher (Art-Cinema, Odisha)
5. T.K. Murthy (Art-Music, Tamil Nadu)
6. Laishram Birendrakumar Singh (Art-Music, Manipur)
7. Krishna Ram Chaudhary (Art-Music, Uttar Pradesh)
8. Baoa Devi (Art-Painting, Bihar)
9. Tilak Gitai (Art-Painting, Rajasthan)
10. Dr. Prof. Aekka Yadagiri Rao (Art-Sculpture, Telangana)
11. Jitendra Haripal (Art-Music, Odisha)
12. Kailash Kher (Art-Music, Maharashtra)
13. Sukri Bommagowda (Art-Music, Karnataka)
14. Mukund Nayak (Art-Music, Jharkhand)
15. Purushottam Upadhyay (Art-Music, Gujarat)
16. Anuradha Paudwal (Art-Music, Maharashtra)
17. Wareppa Naba Nil (Art-Theatre, Manipur)
18. Tripuraneni Hanuman Chowdary (Civil Service, Telangana)
19. T.K. Viswanathan (Civil Service, Haryana)
20. Kanwal Sibal (Civil Service, Delhi)
21. Birkha Bahadur Limboo Muringla (Literature & Education, Sikkim)
22. Eli Ahmed (Literature & Education, Assam)
23. Dr. Narendra Kohli (Literature & Education, Delhi)
24. Prof. G. Venkatasubbiah (Literature & Education, Karnataka)
25. Kashi Nath Pandita (Literature & Education, Jammu & Kashmir)
26. Chamu Krishna Shastry (Literature & Education, Delhi)
27. Harihar Kripalu Tripathi (Literature & Education, Uttar Pradesh)
28. Michel Danino (Literature & Education, Tamil Nadu)
29. Punam Suri (Literature & Education, Delhi)
30. VG Patel (Literature & Education, Gujarat)
31. V Koteswaramma (Literature & Education, Andhra Pradesh)
32. Balbir Dutt (Literature & Education-Journalism, Jharkhand)
33. Bhawana Somaaya (Literature & Education-Journalism, Maharashtra)
34. Vishnu Pandya (Literature & Education-Journalism, Gujarat)
35. Dr. Subroto Das (Medicine, Gujarat)
36. Dr. Bhakti Yadav (Medicine, Madhya Pradesh)
37. Dr. Mohammed Abdul Waheed (Medicine, Telangana)
38. Dr. Madan Madhav Godbole (Medicine, Uttar Pradesh)
39. Dr. Devendra Dayabhai Patel (Medicine, Gujarat)
40. Prof. Harkishan Singh (Medicine, Chandigarh)
41. Dr. Mukut Minz (Medicine, Chandigarh)
42. Arun Kumar Sharma (Others-Archaeology, Chhattisgarh)
43. Sanjeev Kapoor (Others-Culinary, Maharashtra)
44. Genabhai Dargabhai Patel (Others-Agriculture, Gujarat)
45. Chandrakant Pithawa (Science & Engineering, Telangana)
46. Prof. Ajoy Kumar Ray (Science & Engineering, West Bengal)
47. Chintakindi Mallesham (Science & Engineering, Andhra Pradesh)
48. Jitendra Nath Goswami (Science & Engineering, Assam)
49. Daripalli Ramaiah (Social Work, Telangana)
50. Girish Bhardwaj (Social Work, Karnataka)
51. Karimul Hak (Social Work, West Bengal)
52. Bipin Ganatra (Social Work, West Bengal)
53. Nivedita Raghunath Bhide (Social work, Tamil Nadu)
54. Appasaheb Dharmadhikari (Social Work, Maharashtra)
55. Baba Balbir Singh Seechewal (Social Work, Punjab)
56. Virat Kohli (Sports-Cricket, Delhi)
57. Shekar Naik (Sports-Cricket, Karnataka)
58. Vikasa Gowda (Sports-Discus Throw, Karnataka)
59. Deepa Malik (Sports-Athletics, Haryana)
60. Mariyappan Thangavelu (Sports-Athletics, Tamil Nadu)
61. Dipa Karmakar (Sports-Gymnastics, Tripura)
62. Sakshi Malik (Sports-Wrestling, Haryana)
63. Mohan Reddy Venkatrama Bodanapu (Trade & Industry, Telangana)
64 Imrat Khan (NRI/PIO – Art-Music, USA)
65 Anant Agarwal (NRI/PIO -Literature & Education, USA)
66. H.R. Shah (NRI/PIO - Literature & Education-Journalism, USA)
67. Suniti Solomon (Posthumous – Medicine, Tamil Nadu)
68. Asoke Kumar Bhattacharyya (Posthumous – Others-Archaeology, West Bengal)
69. Dr. Mapuskar (Posthumous - Social Work, Maharashtra)
70. Smt. Anuradha Koirala (Foreigner - Social Work, Nepal)