Kottayam: Two Keralite girls have been allegedly denied admission tickets to appear for entrance examination in English and Foreign Languages University (EFLU), Hyderabad, for taking part in protests seeking justice for late dalit research scholar Rohith Vemula.
Kavyasree Reghunath and Manasi Mohan, both hailing from Kozhikode and MPhil students of Hyderabad Central University (HCU), said they were told by Prakash Kona, the procter of EFLU, that vice-chancellor Sunaina Singh was not in favor of giving admission to candidates like them for they have been actively participating in several protests following the deaths of Vemula and Mudassir, a Kashmiri student who committed suicide on EFLU campus in 2013.
Kavyasree and Manasi were MA students of EFLU during 2013-15. At present, they are general secretary and cultural secretary of the Ambedkar Students Association (ASA) in HCU, respectively.
The students got the bizarre explanation from the procter when they approached the EFLU authorities to enquire about their admission tickets for writing entrance exam for admission to PhD in cultural studies. The last date for issuing admission tickets is 18, Feb (Saturday) while the examination is scheduled on February 25.
The procter told the students that he had several photographs of them taking part in strikes in HCU and EFLU.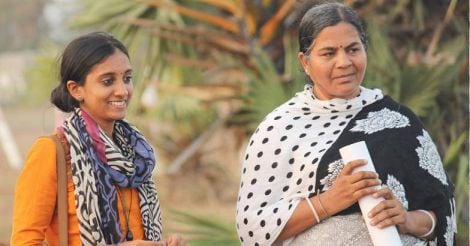 Kavyasree with Rohith Vemula's mother, Radhika. Photo: Facebook
Reports quoted Kona as saying that EFLU usually does not allow students involved in indiscipline actions to appear for exams. However, the girls said there have not been any disciplinary action taken against them when they were students of the varsity. Onmanorama could not contact procter Kona despite repeated attempts.
"We have written a letter to the VC stating that we have not had to face any disciplinary action when we were students of EFLU and requesting for a chance to appear for the entrance, but we have not received any reply so far," Kavyasree told Onmanorama over phone from Hyderabad on Saturday.
She said they chose to approach the EFLU authorities after it was found that their friends who had applied for the same examination had already been issued admission tickets.
It is alleged that EFLU, one of the pioneering institutes in the country in the field of linguistics and cultural studies, had a history of targeting students who take part in protests. Some students were allegedly denied hall tickets last year for criticizing the varsity authorities on social media.