Detroit: Fiat Chrysler Automobiles on Monday will take the wraps off its next-generation minivan, betting that a sleeker design and a plug-in hybrid model will appeal to a wave of young Americans having babies and revive a product line that suffered a 30 per cent sales slump last year.
The new Chrysler Pacifica minivan is targeting two main buying groups: the 75 million or so millennials - born in the 1980s and 1990s - which are starting to form families, and baby boomers eager to haul around grandchildren. The U.S. Census Bureau forecasts that by 2025, the United States will have 4 million more children under 13 years old.
"Once families get to that second child they realize a minivan would be so much better" than an SUV (sport utility vehicle), Chrysler marketing executive Bruce Velisek said. A key selling point is that the Pacifica will still have sliding side doors, the better to wrestle baby seats in and out.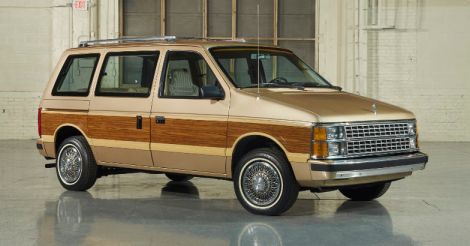 Fiat Chrysler Automobiles shows the 1984 Dodge Caravan minivan. Chrysler introduced the minivan 33 years ago, and it took the suburbs by storm. The sliding doors and roomy interior in the Chrysler Town and Country and the Dodge Caravan were perfect for shuttling kids and their sports gear. Photo: AP
Demographics rather than sex appeal have driven minivan demand since the first Chrysler minivans were launched in 1984, hitting the U.S. baby boom generation - born between 1946 and 1964 - at its child-raising peak. The segment's sales hit 1.8 million vehicles in 2000, then fell as families opted for SUVs.
Fiat Chrysler, Honda Motor Co, Toyota Motor Corp, Nissan Motor Co and Korea's Kia Motors Corp sold just over 500,000 minivans in the United States last year.
"The pie is a lot smaller than it once was, but there are fewer (manufacturers) taking pieces of the pie," said Dave Sargent, vice president of global automotive for research firm J.D. Power.
The Pacifica line-up will include Fiat Chrysler's first plug-in hybrid vehicle in a high-volume model line. The plug-in Pacifica system can operate on batteries for about 30 miles (48 km), and deliver the equivalent of 80 miles per gallon, the company said.
"Hybrids are absolutely essential for the future development of vehicles," Fiat Chrysler Chief Executive Sergio Marchionne said recently. Most of the company's fleet would be using that technology by 2023, he said.
Fiat Chrysler's fleet fuel economy trails U.S. rivals General Motors and Ford, according to WardsAuto, which provides data used by the U.S. government for economic analysis. The company offers only one electric vehicle and Marchionne regularly jokes about selling the battery-powered Fiat 500 at a loss to satisfy California regulators.
(With inputs from agencies)