When the philanthropic arm of Facebook co-founder Mark Zuckerberg and his wife Priscilla Chan decided to invest in an Asian firm for the first time, it was not by chance that they chose 'Byju's'.
Byju's is India's largest learning app in the primary and secondary education sector, with 5.5 million downloads and 250,000 paid users.
Byju Raveendran, founder CEO of Byju's, told Onmanorama that it is extremely encouraging to be the first company in Asia to be backed by the Chan-Zuckerberg Initiative. "The new investments will definitely boost our aim to revolutionize the way students are learning across the world today by making them fall in love with learning," he said.
Please tell us about your early days in Kerala
I did my schooling in a Malayalam-medium school in Azhikode, Kannur district, where both my parents worked as teachers.
I used to miss a lot of classes because of my interest in sports. I played six sports in school and pursued my interest up till the university level. The sports schedule forced me to start learning on my own by asking questions.
Life skills: how a Kerala-TN couple teaches English for social change | pix, videos
Also read: Insensitivity, thy name is teacher

I did pre-university at S N college and B.tech from government engineering college, Kannur.
How did you start Byju's?
After my graduation, I started working as an engineer abroad. During one of my work breaks, I visited Bangalore to meet friends and ended up sitting for the CAT exam alongside them. I was surprised that I scored 100 percentile, without actually having prepared thoroughly.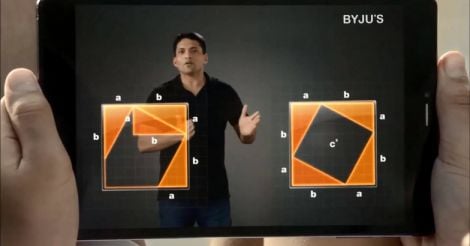 Photo: Facebook page
After this, my friends encouraged me to teach and prepare them for the exam. Slowly, my friends started getting their friends, and soon what started with a small group became a large auditorium packed with students.
Eventually, I quit my job as an engineer and took up teaching full-time, even traveled to other cities to reach as many students as possible. But teaching in batches and workshops helped reach only a few students and I wanted to help more and more students fall in love with learning.
We launched our flagship product (Byju's-The Learning App) in August 2015. This was a turning point because smartphone as a learning device, and app as a medium, gave us infinite reach.
How 'Byju's' works for students?
The main idea behind starting Byju's is to make learning accessible, effective, engaging and personalized for everyone.
Online learning is not just offline learning taken online, by simply digitizing content. We have made learning contextual and visual, and not just theoretical. Technology can help innovate the way in which concepts are taught, and also personalize it based on the capability of the student.
We follow a freemium model whereby students get access to the content for free about 15 days, post which they can subscribe for advanced levels.
How was it getting investments to scale up?
I didn't plan to start this as a business; I just pursued my passion and capitalized on my strengths, it later turned out to be a business. There is a solid foundation for the model and I think investors are interested when they see that. From the beginning most investments have been through inbound interest.
The first investment came when they saw hundreds of students attending a video class on a campus. We were not looking for investment at that time, but once the investment started coming in we used it to increase the number of products.
There was no seed funding at all, from day one it was a profitable model. Later, we raised funds to accelerate the product development and increase our reach.
Apart from the fact that there are large numbers of student users not just in cities but also in small towns, what attracted the Chan-Zuckerberg Initiative was how we use technology as an enabler and personalize according to the learning style of the student.
Please tell us about your future plans
We see huge potential not only in India but all over the world. Going forward, our key focus will be to expand internationally – especially in the English speaking countries.
In addition to this, we are continuously working toward developing a world-class product which will cater to students with every educational requirement in the primary and secondary education segment.
What is the kind of competition you have faced?
We are creating a new segment of millions of self-paced learners where teachers and parents take up supporting roles. When you are creating a new segment, it's important to compete with yourself. We are constantly innovating on how to make learning more engaging, effective and personalized.
What are the challenges you see ahead?
In our system, we are all getting trained to solve questions but not to find them. Learning is driven by the fear of exams rather than the love of learning. The focus is more on spoon-feeding, rather than encouraging children to learn on their own. The challenge has always been around changing this perception.
Tell us about your team
Most of the team members have been themselves students at 'Byju's' and this creates a strong bonding.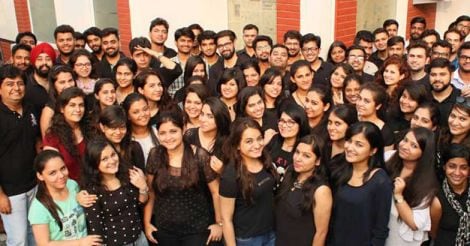 The Byju's team in Delhi. Facebook page
The content & media part of the R&D team is filled with toppers, teachers and academicians, who love teaching.
We even have an in-house band that creates the music for each and every video. The tech team has been put together by bringing together some of the rockstars with gaming, educational and IT backgrounds so that the blend of expertise allows brainstorming of ideas and puts together a one-of-a-kind learning program.
We have a strong R&D team of 500 people across content, media and technology. Our entire team, across all departments, has close to 1,000 people today.
On choosing the simple name 'Byju's'
Since we were already a very successful brand based on my name as a teacher, we just moved from Byju's classes to Byju's learning app. We didn't want to lose the already existing brand popularity. I don't think there has been any particular positive or negative impact because of the name.