Thiruvananthapuram: Kerala General Education Minister V Sivankutty announced the results of the Higher Secondary and Vocational Higher Secondary examinations on Thursday.
A total of 432436 students appeared for the Plus Two exam and 28495 appeared for the VHSE exams. 82.95% of students are eligible for further studies.
33815 students scored A-plus for all subjects. Ernakulam has the largest pass percentage, 87.55% and Pathanamthitta has the least with 76.59%. 
Compared to last year, the pass percentage in the exam dropped by 0.92 %. Out of the 37,6135 students from Higher Secondary regular category, 31,2005 have qualified for higher studies. A total of 77 schools recorded 100% victory in the examination.  In the Science stream, 87.31% (168975) students cleared the exam while Humanities and Commerce recorded 71.93 % (53575) and 82.75 %  (89455) respectively.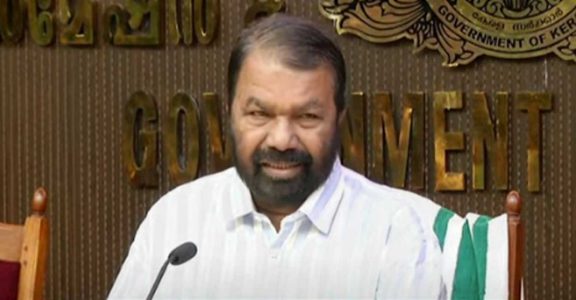 Out of the 28,495 students in the VHSE category, a total of 22,338 students cleared the exam. With 78.39 %, VHSE's pass percentage rose by 0.13 % compared to last year's pass per cent of 78.26 %.
SAY exam on July 2
Students can apply for the SAY (Save a Year) exam till May 29. The exam will be conducted from June 21. Applications for re-evaluation will be accepted till May 31.
Plus One Admission
The online admission for plus one in Higher Secondary and Vocational Higher Secondary will commence on June 2. Students can submit their applications online till June 9. The trial allotment and first allotment will be held on June 13 and 19 respectively. The final allotment is scheduled for July 1.
Plus one class will commence on July 5 after confirming admission in the majority of seats through the three allotments. Vacant seats will be filled through supplementary allotments and the admissions will be closed by August 4.
How to check results:
Students can check their results online from 4pm onwards on the following websites- www.keralaresults.nic.in, www.prd.kerala.gov.in, www.result.kerala.gov.in, www.examresults.kerala.gov.in, www.results.kite.kerala.gov.in

Steps to download results

Step 1: Visit keralaresults.nic.in
Step 2: On the homepage, click on the link showing Kerala DHSE Plus Two Result 2023.
Step 3: Enter your login credentials and submit.
Step 4: Your Kerala DHSE 12th Result 2023 will be displayed on the screen.
Step 5: Download the same and print a hard copy for further use
Mobile apps
The results will also be available on mobile apps SAPHALAM 2023, iExaMS - Kerala, PRD Live.

The examinations for the Higher Secondary Education (HSE) and Vocational Higher Secondary Education (VHSE) streams are conducted by the Kerala Board of Public Examination.
Plus two and VHSE exams were conducted from March 10 to March 30 this year. Around 9 lakh students appeared in the Plus One and Plus Two exams, and 60,000 candidates appeared in the VHSE exams.