It was yet another busy evening at 'Car n cafe,' a popular art cafe at Kochi. People rushed in to grab their seats; many had booked their cup of coffee in advance. No later, a man in his early 40s emerged with a projector and introduced himself as the director of the movie he was going to screen. As the audience looked at each other in wonder, he mounted his projector on a table and turned the big white wall of the cafe into a projector screen. When the lights went off, the title faded in showing Shreelancer in bold.
Shreelancer is independent filmmaker Sandeep Mohan's third movie, the first two being Love Wrinkle Free and Hola Venky. At a time when movie makers refuse to get out of the comforts of mainstream cinema, Sandeep experiments with his medium and audience. Alternative spaces amid urban jungles such as art cafes, bookshops, art galleries and the like make perfect venues for Sandeep's movies. Yes, the great Indian traveling cinema, which once confined itself to the rural audience, is now slowly perching on to urban spaces.
The beginning of Sandeep's traveling cinema
"My first film Love Wrinkle Free got an adult certification for some harmless jokes, which we use in our daily life," says Sandeep, "I realized that many good movies are denied of their audience in the same unfair manner. After that, I refused to take the censor board certification."
Sandeep says that film festivals are necessarily the place as he doesn't make art house films. Hence, this passionate filmmaker merged his second love for the sake of his first and combined traveling with cinema.
"I find various alternative spaces around the nation like art galleries, cafes, pubs, and even your home if you want to. I screened my second movie Hola Venky in 92 alternative spaces around the world, including US," he says.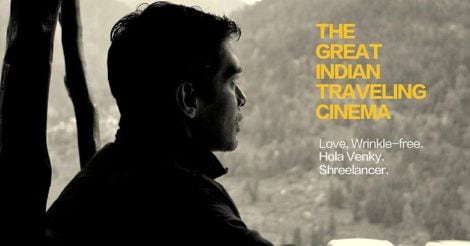 Sandeep's topics
Sandeep's works deal with the complexities of urban life, corporate work pressure and other new-gen themes. "My idea is to keep my audience engaged through 90 minutes and tell them something worth listening to," he says. Sandeep is traveling with his third movie at present, which is named Shreelancer' "This is our much awaited travel movie.
How the 'traveling cinema' works
I had around 45 people on the set of Love Wrinkle-free. Most of them were simply hanging around while there were a few who worked really hard. So I did my second movie with a three-member crew. My sound recorders, camera person and I – apart from the actors. The whole movie was shot within a budget of Rs. 10 Lakhs. Some parts of Hola Venky was shot in San Francisco, Sandeep says. "I had a little larger crew for 'Shreelancer,' we were nine altogether." (Laughs.)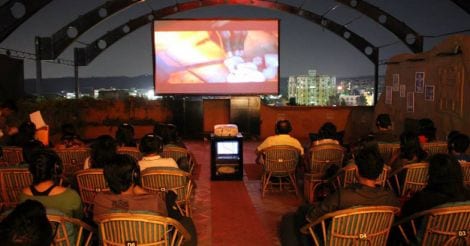 Sandeep says that film festivals aren't the right place for his movies as they are not the conventional entertainers
Sandeep minimizes his expenses in all possible ways, by traveling in buses and trains, and by scheduling shoots in natural lights. After each screening, the filmmaker comes out in front of the audience and addresses all their doubts and concerns regarding the work. "I step out and tell my audience that yes, this is my movie and thank you for watching it. Then I go on addressing every doubt my viewers have. Because they just viewed my artwork," he says.
Later, he keeps his bag wide open before his viewers and requests them to pay whatever they like, if they were impressed by the movie. "I just want what my movie deserves so that I can cover my traveling expenses. Websites like Netflix and Amazon are also interested in buying such movies at the end of the day because they are engaging and people watch them. I don't want to go behind PRs and other promotional stuff. If the movie is good, it will collect organically. After each show, I count the money and see how well the movie turned out to be," he adds.
Before 'The Great Indian Traveling Cinema' was born
Sandeep, 42, started off his career as an assistant director of acclaimed Bollywood filmmaker Sanjay Leela Bansali, when he was all of 21. He has also worked with some popular television channels and advertising companies before he moved into traveling cinema. "I realized that there is a whole wide world ahead of me and I have to explore it. I kept on experimenting till the age of 30, and then started off with my first project," he says.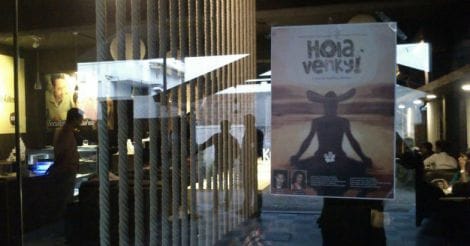 The poster of Sandeep's movie 'Hola Venky' outside the Cafe in Coimbatore
Finding venues
Until a couple of decades ago, the Indian traveling cinema had never seen venues other than rural festival gatherings, literacy or health mission campaigns and public service messages. But lately, it has moved on to social media platforms and ultramodern communication spaces. "My venues happen through Facebook," says Sandeep.
"I get invitations through Facebook. I am not the first guy to do traveling cinema. John Abraham is one of the pioneers in the field. Maybe in the urban setting, I am one of the few proponents. My films are urban-centric films. In fact, that's the reason why I choose my venues in the cities," he adds.
Sandeep deconstructs the conventional film-viewing experience by presenting himself before his audience. Unlike the usual one-way communication in theaters, Sandeep takes the whole responsibility of his piece of work and breaks all barriers with viewers. "In a conventional cinema hall, you cannot meet the director. You cannot have an effective Q and A session. Director is someone like God. You cannot interact with him. I just wanted to break all these," Mohan says.
The future of traveling cinema
Sandeep believes traveling cinema is one of the most cost-effective and practical means to be an independent filmmaker. "Production cost of mainstream conventional cinema is increasing day by day. And then you have to address the concerns and interests of people who fund your project," he says. "However, in traveling cinema, you don't have to make movies to impress your producer or the censor board. You don't have to run behind PRs and promotional campaigns. If people like your movie, venues and communities will discover you."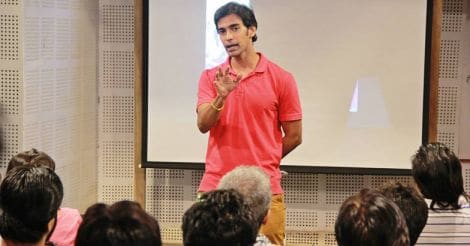 Sandeep deconstructs the conventional film-viewing experience by presenting himself before his audience
The young man has no other plans than traveling around the nation over and over again with his cinemas. He chooses to take forward traveling cinema by discovering more spaces, venues and communities across the geographies. "I intend to do a 100 screenings of Shreelancer. That will make me meet more people, conceive more concepts, do more films and so, Sandeep says. Because sitting with your audience and see how they react to your art work is just an incredible experience.
Of Nalini, Amelie and more...
Sandeep's love of life Nalini is an corporate professional from Mumbai. The couple is also blessed with a beautiful daughter, whom Sandeep named after his favorite movie - Amelie. Speaking of their love and support, Sandeep goes out of words. "Traveling looks very romantic, but is quite tough. To stay away from your family for 10 or 15 days, traveling in buses and trains with all your equipment, is hard," he says, "Hadn't they been so supportive, I wouldn't have sought my passion."
The young filmmaker requests more passionate youngsters to venture out to the wonderful realm of traveling cinema. "It's all about being on your own and taking forward this amazing tradition with vast opportunities," he says.