'Effortless' is the term that best describes Aparna Balamurali's noteworthy performance in Maheshinte Prathikaram. She made acting look very easy in it. Aparna debuted as a singer and quite smoothly made the transition to being an actor through the character of 'Jimcy' in the movie Maheshinte Prathikaram. She has plenty to share about her unexpected windfall, matters that are as lovely as the Idukki landscape in the movie.
Also read: 'Maheshinte Prathikaaram' movie review
How did you become part of Maheshinte Prathikaram?
Shyam Pushkar's wife Unnimaya is my teacher. It was at teacher's insistence that I went for the film's audition. I came to know of my character just two days before the shooting of the film commenced. It was a pleasant surprise for me, the character that came my way when I least expected it.
Did you get tensed when you came to know that you were to be Fahadh's heroine?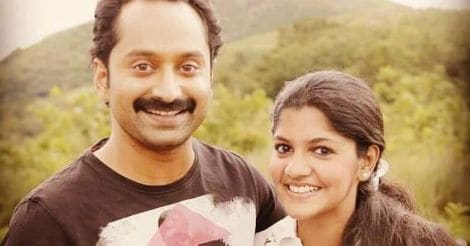 Fahadh Faasil with Aparna Balamurali
There was no tension. On the other hand, I was thrilled. Becoming Fahadh's heroine is something that gives me enormous happiness. I am a huge fan of his as well. Even though I felt slightly tensed when I started acting, it soon dissipated thanks to the tremendous support of the team.
What was the secret that transformed Aparna into Jimcy?
There are no secrets! The credit goes solely to the director. Dileesh aettan made me feel totally free by boldly giving me the freedom to do whatever I wanted without bringing in any extra baggage of stress. That helped me execute the role to my satisfaction. I consider the role a tribute to Dileesh aettan.
What was a surprising comment that you got?
Those who saw the movie had only good things to tell me about it; I'm not sure if they are shying away from giving me negative feedback. A totally unexpected message came from Rima Kallingal. That boosted my confidence even more. Truth be told, I have not yet been able to catch the movie due to some pressing engagements.
None at home saw the movie?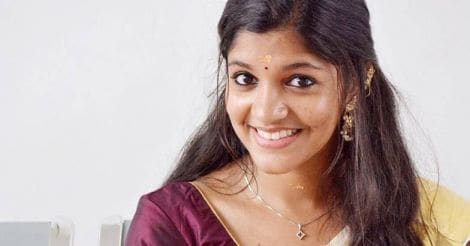 I consider my role a tribute to Dileesh aettan, says Aparna
My mother went and watched it twice. She said the audience received the movie well and that theatres were ringing with applause. I want to enjoy that experience too. My father lacked the courage to go watch the movie during the initial days. Therefore he hasn't seen it yet.
The dialogue 'chettan super aan' is already a hit…
True. That dialogue was the most difficult one to be okayed when we went for the take. The director wanted it to be said to Mahesh aettan most realistically. For this reason, it was also the scene that got me a bit nervous. I was anxious if my dialogue delivery would bring out the desired result. Dileesh aettan must have foreseen that the scene could go on to become the best one in the movie. That must also be the reason he took repeated takes until he achieved what he had on his mind.
Did Aparna expect the movie to be a hit?
I'm not in a place to be expecting such things. This is a simple movie sans the frills, targeted at all kinds of audiences. Hence it was expected to be liked by all. I am extremely happy to learn that the movie became a success.
You must be the only heroine to have acted sans makeup in a movie?
That movie demanded such a face. Cameraman Shaiju Khalid ikka used to say that it will come out good. That lent me the confidence to go ahead without makeup. And I tried to give the role my best, that's all.
Studies, family…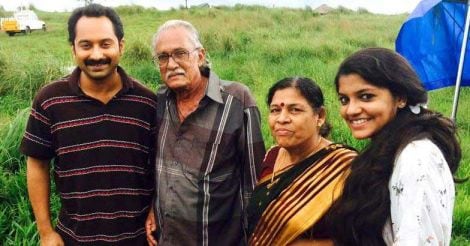 Aparna on the sets of the movie
I study Architecture at Palakkad Global Institute. My father Balamurali is a musician. My mother is an advocate as well as a singer.
Aparna has sung in this movie as well…
Yes, Vijay Yesudas and I sang the song 'Mounangal'. Maheshinte Prathikaram is my lucky movie in many ways. I got an opportunity to sing. I became an actor; I was also able to sing a romantic song, the first of its kind for me, with Vijay Yesudas.
Were you informed at the outset that you'll be required to sing in the movie?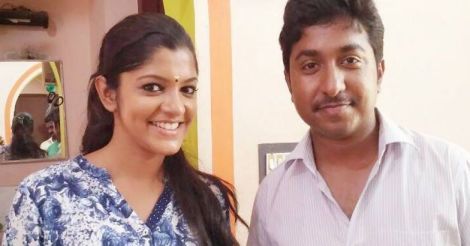 Aparna with Vineeth Sreenivasan
No, it was yet another big surprise for me. Unnimaya teacher knows that I sing. So they made me sing when I came for the audition. I was made to sing while at the set quite frequently. Later, it must have struck them that it is a good idea to give me a song. I sang the track and sent it to Bijibal sir. It all happened rather quickly. My parents' wish was for me to become a playback singer. I was hence able to fulfill their ambition and mine through this song.
How was the journey from Oru Second Class Yatra to Maheshinte Prathikaram?
I had become part of Oru Second Class Yatra after an audition. I was a lot more tensed while acting in it. After all, it was my maiden film. I got a wonderful entry, working with Vineeth aettan. It was indeed my good fortune, even though it was a small part. It was through Maheshinte Prathikaram that the audience started to recognize me once I donned the heroine robe. On top of that, this movie also made me a singer.