Much has already been told about the Kottayam connections of Leela, which shocked its "readers" and "viewers" alike, both in print and on screen. The Biju Menon-starrer, an adaptation of Unni R's short story with the same title, has Kottayam in its core. Not only its writer's hometown, but the characters, their dialect, mannerisms - everything is characteristic of the western parts of Kottayam. And here is one more Kottayam link of the film - the hands behind those beautiful sketches that are a visual translation of the popular folk tune in the voice of Biju Menon which lists out the persons, places and tastes of Kottayam.
It was Ambish Kumar, a native of Kottayam and a freelance artist who did the cover of Unni R's Kottayam 17, an anthology which featured Leela among other stories. Ambish believes that it must be the reason why Unni called him to do the sketches for Leela's title song.
Ambish was asked to draw sketches of landmarks in Kottayam such as collectorate, Thirunakkara temple and ground, Anaswara theatre, market junction, public library, etc. and famous persons like filmmakers Aravindan, John Abraham, dramatists N.N. Pillai and N. Sreekantan Nair who were closely associated with the land of lakes and letters.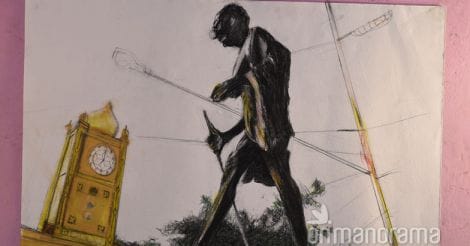 "There was little time to complete the works and also only 20 title cards were needed. So I could not draw all that we wanted. In some cases, I took the freedom of an artist and compiled some images," says Ambish. Watch the movie, you will find John Abraham, the apostle of anarchists standing at the Kottayam boat jetty. It is one such occasion of Ambish's artistic freedom and creativity.
The man in his thirties, a graduate in fine arts from Mavelikkara Fine Arts College, is a master of designing book covers. For major publishing houses including Chintha, DC and NBS, Ambish has done over 100 book covers, which are noted for his unique style.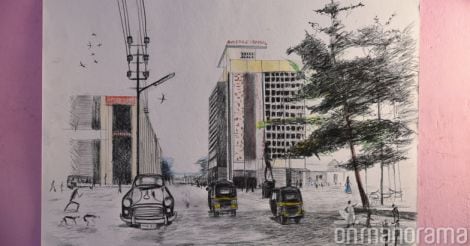 The opportunity to work for big screen came Ambish's way soon after he finished a giant public sculpture on a campus in Kottayam district. The sculpture in cement which embellishes the front yard of St. Joseph's College of Communication, Kurisummood, Changanassery, is a work which the artist holds close to his heart.
The 20-feet sculpture, on the campus where Ambish teaches sculpturing and environmental arts as a visiting faculty, is a representation of everything that is youthfulness. The work, white in colour, features a huge egg on the base from which several birds, plants and a man and a woman emerge.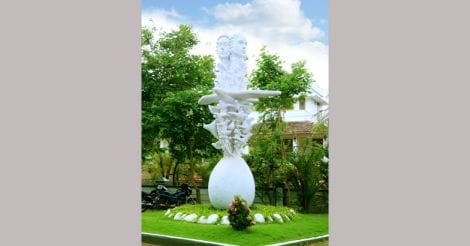 The sculpture in cement which embellishes the front yard of St. Joseph's College of Communication, Kurisummood, Changanassery, is a work which the artist holds close to his heart
"Since it's a campus, I had no doubt that I should create something that reflects youthfulness. When I was working on the sculpture I used to think of emotions like love, care and freedom which fill a campus. Such emotions would have reflected on the work," he says.
On the process of work, Ambish says he was only copying images from the surroundings. And the leaves on the work which resembles the leaves of a 'mandaram' grown up next to the sculpture stand testimony to the artist's words.
Father Parackal, the principal of the college, echoes Ambish's views and adds to it. "It was totally Ambish's concept. However, we had suggested that the work should reflect the co-existence of nature and human beings. The work features human beings on the top. But that does not mean that man is above all. He is only the protector of nature," he said, expressing absolute satisfaction over the artist's work.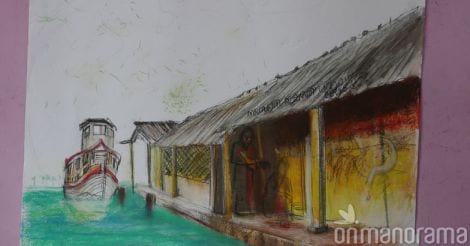 In 20 feet, the sculpture, a blend of traditional and modern art, is one of the biggest sculptures on campuses in India. Another major work by Ambish can be found in the public park in Kollam. His paintings were featured in several solo exhibitions.
Asked about coming projects, Ambish says he wants to do a solo exhibition of his paintings, a dream he has been nursing for quite sometime now. Ambish lives at Thiruvathukkal, a few kilometers from Kottayam town, along with wife and daughter.