John Kaippallil - the name might not be familiar, but we bet you still remember 'Imtiaz' and his six-pack abs in Thattathin Marayathu. Back in 2012, when Vineeth Sreenivasan created a wave with the film, Malayali audience couldn't help but notice a slew of newcomers in the movie. Meanwhile, John, an engineer who hails from Pathanamthitta, was busy convincing his parents that acting is in his lifeblood.
However, opportunities didn't come knocking on his door. But persistence prevailed, says John, who is determined to make a mark in the film industry, with his anti-hero role in Ann Maria Kalippilaanu by Midhun Manuel. In a free-wheeling conversation, the handsome guy talks to Onmanorama about his latest venture, dreams and a lot more.
The road less traveled
After a degree in mechanical engineering, I was working at the Cochin Shipyard. After a point, when I felt my interest lay somewhere else, I quit my job and decided to foray into modeling. Since I neither had a background in acting nor a godfather in the industry, I needed a back-up plan before entering the industry. (Giggles) You won't believe, I even took a rented house in Kochi so that I could easily connect with people from movie industry.
In the meantime, I did all kinds of modeling works covering different fashion events, photo shoots and TV ads. I had been the model for Basics life India and Genesis India. And now, it's been almost six years of waiting.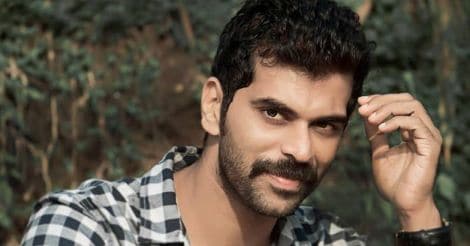 A friend indeed!
I've known Midhun ever since he started working on Om Shanti Oshana. I must say, it was the friendship with Midhun that brought me till this point of my life. He knew I was looking forward to doing a good role and that's when he rang me up one fine morning and asked me to grow a beard and show up for an audition. Fate turned around to smile at me, for there I was declared the villain of the movie.
Who is Ann Maria really angry with
In the movie, Ann Maria Kalippilaanu, I play the negative character of David, a PT instructor. That's all I can say about the character. While everyone in the movie manages to exhibit positivity, mine has an out-and-out negative quality. The one with whom Ann Maria is angry with is my character. It will be a feel-good movie with a cute subject and I am sure the movie will be a delight for the audience.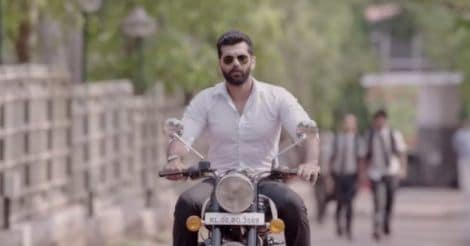 A still from the movie 'Ann Maria Kalippilaanu'
Family matters
Although initially my family was not really happy with me doing films, they have now put their entire faith in my choice. It was really touching to see my father watching Thattathin Marayathu to see me in the small role that I had essayed in the film.
When I told them about the villainous role in Ann Maria Kalippilaanu, my mom was worried about how it's all going to work out. Now, all of them are eagerly waiting to see the film. Let's see how it turns out to be.
Switching roles
There's nothing special about doing negative roles or the hero character; I am always open and ready to accept whatever that comes my way. Ultimately, it's the work that should be noticed.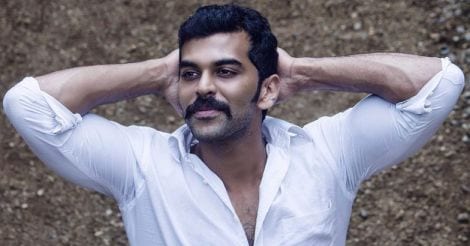 From modeling to acting
There's a big difference in each of the professions although modeling and acting belong to the world of glitz and glamour. Modeling is more or less like a hanger set to display a range of things. While on ramp, people notice the dress; while doing commercials, people notice the product and people, and in cinema, people notice the characters that are created by artistes.
Cinema has now become an important aspect in one's life and it's such a good thing that newcomers are accepted in the industry. There are umpteen number of people dreaming about becoming a part of movies in one way or the other.
Venturing into other film industries
I was lucky enough to have played Tamil star Ajith's subordinate Jebin Joseph in the Gautham Menon film Yennai Arindhaal. A friend of mine recommended me to Gautham Menon and after an audition I was roped in for the role.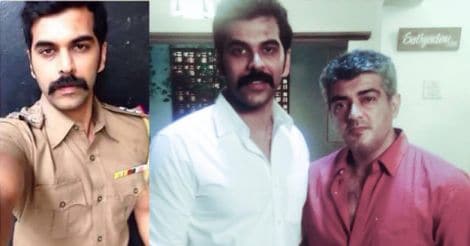 John on the sets of 'Yennai Arindhaal' with Ajith
Dream role
(Giggles) I am not sure if I can talk about dream projects. But when someone asks me about it, I'd say working in a Gautham Menon film with a solid role. To do a movie that has music done by A R Rahman is another dream.