"If you believe in god, you have to believe this," John Don Bosco the mentalist sounds convincing in Jayasurya's hands.
Pretham'has been noted as much for the look of its protagonist as its eerie title. The actor says he imagined the role as it turned out to be, clad in a loose kurta and shrouded in mystery. The bearded baldie could not be anything else.

Jayasurya has a target when he takes up each project: To keep Jayasurya out of the role. The actor is driven by challenging roles that demand extraordinary efforts.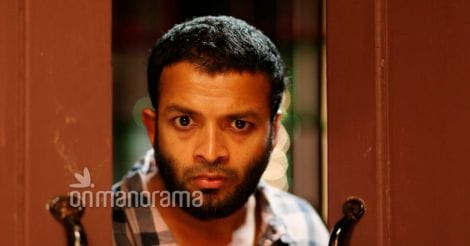 Jayasurya in 'Trivandrum Lodge'
Looks do matter
A mentalist reads minds. Even director Ranjith Sankar was not clear about the character when he conceived it. When Jayasurya put forward his plan, Sankar was hesitant. This was not how a main character was supposed to look. Then John Don Bosco is no ordinary character.

Even Jayasurya's wife Sarita was a bit taken aback by the proposed look. Jayasurya was unperturbed. He shaved his head and let the beard grow wildly. The freak mentalist in the kurta designed by Sarita has gone viral ever since the first-look posters were released. The mentalist has become a fashion statement.

Jayasurya belongs to a rare category in Malayalam cinema who goes any length to assimilate the character. He is a superstar as far as makeovers are concerned. Still the actor believes that makeovers don't sell a movie.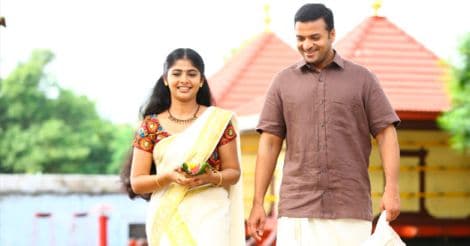 Jayasurya in Su Su Sudhi Valmeekam
"I do not change looks purposefully. I want to convince myself and then the others. If your look fails to convince the audience, the movie is designed to be a flop. Looks are a key part in character formation," Jayasurya says.
Method actor
Jayasurya portrayed a paralyzed man in Beautiful. That character had an even thicker beard. Abdu in Trivandrum Lodge had a totally different look, without a mustache and with a stubble. The actor gained weight for Shaji Pappan in Aadu and dramatically shed 13 kilos for Apothecary.
The stocky Ankur Rawther followed in Iyobinte Pusthakam. He even portrayed a stammering protagonist in three different stages of life in Su Su Sudhi Valmeekam. He essayed a polio-afflicted character in Amar Akbar Antony. He beefed up again to match the cop in Idi.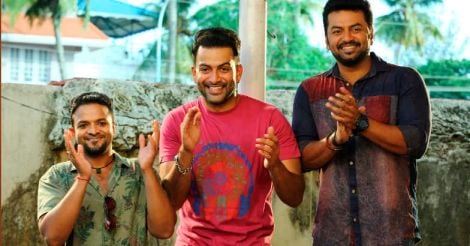 Jayasurya with his co-stars Prithviraj and Indrajith in Amar Akbar Antony
"You cannot imagine these characters in any other looks," Jayasurya says with the confidence that comes from experiments.
The actor was known for such outlandish ideas right from the beginning of his career. Characters in Three Kings and Gulumal showed this spark. He says his body is ready for any experiment after going through frequent challenges.
"The flip side of method acting is that you have to be patient. I will not be able to do another movie until my hair grows back," he says.

Has Jayasurya been influenced by the dedication of Bollywood actor Aamir Khan?
His initial response is a modest smile but he admits he has tried to study the character.

"Aamir Khan goes to any length for a character. He is a textbook for actors. He has influenced me a lot. But you have to take into consideration the time he has in hand. Any actor can assure good results if he is given a year to prepare. You can mold your body the way you want to be. You can study the character in detail. But you hardly get a month to prepare here. We will have to plan within six days what the superstars do in six months," Jayasurya says.

Be choosy

Jayasurya says he's no fan of a lengthy filmography. Actors should learn to focus on projects that yield results, he feels.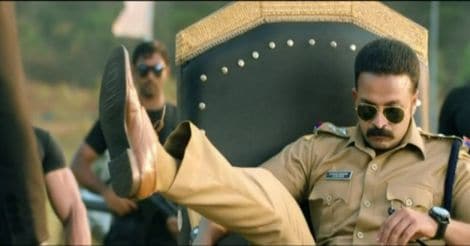 Jayasurya in 'Idi'
That focus came to Jayasurya since 'Kangaroo'. He, however, admits to occasional judgment errors. There is no foolproof method of selection, he says. "The aim is to learn from mistakes," he adds.
"I am not going to do every movie that comes my way. I want to do projects that are gratifying. They could be hits or flops but I do not want to repeat a mistake," Jayasurya says.
Jayasurya's quest for variety is evident from his choice of roles. He has appeared as a villain and in supporting roles even after his rise to stardom. His filmography up to 'School Bus' stands testimony to it.

"It is my good fortune to be able to do all kinds of movies. I do not care if I get the role of a hero or anti-hero as long as it is exciting.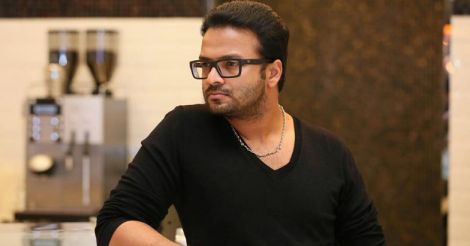 "At the same time, comedy is my forte. I feel like going for a comic outing after each performance-oriented role," he says.

Hiding Jayasurya

The role in Beautiful was not physically demanding but that took a strain on the actor. "That movie was the most taxing. Su Su Sudhi Valmeekam gave me heavy feedback," Jayasurya says.

Jayasurya fans can expect a double treat on August 12, when Pretham and Idi releases. Inspector Dawood Ibrahim in 'Idi' is totally different from the mysterious Bosco in Pretham.

Though Jayasurya has donned police roles twice before, this is the first time he gets to play the tough cop. The debut by director Sajid Yahia is a mass entertainer, in contrast with Pretham, dubbed as a horror fun movie.

Jayasurya has several projects lined up with directors Siddique, Lal and Lijo Jose Pellissery.