Director and cinematographer Rajeev Ravi has come out with vehement criticism against the Censor Board. In an interview to Manorama News, Rajeev Ravi accused the members of the state Censor Board of trying to decimate his new movie, Kammatipaadam.
The Censor Board has been facing several allegations from filmmakers. What was it that provoked you?
The Censor Board consists of people who have no awareness of cinema or politics. Most of them are imbecile. The Censor Board's recommendations were such as to annihilate Kammatipaadam. Many of those did not adhere to common sense.
What were those?
There are several. Most important was about a song which we used as background score for the character played by Dulquer during the second half of the movie. It is something traditional that we have heard often. The Censor Board wanted the part called 'Pulayan' (a caste name in Kerala) removed from it. They could not understand the meaning or relevance of that song. I had to discard the song itself. Similarly, many dialogues had to be left out. What is regrettable is that it did not even occur to them that all these omissions could affect the movie. The issue stems further from a lack of awareness of movies coming out elsewhere.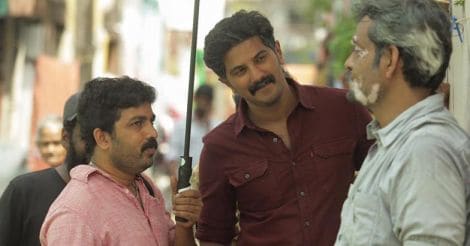 Rajeev Ravi with Dulquer Salmaan on the sets of the movie. Photo: Facebook/DulquerSalmaan
Also read: Kammatipaadam movie review
Kammatipaadam got 'A' certificate?
Yes. I still have not figured out why. Please ask those who have seen the movie. We are told that the film is given 'A' certificate due to the violence in it. What do they mean by violence in Kammatipaadam? They do not have an explanation for it. I learnt that a family, including children, was sent back by a cinema hall at a mall in Kochi. Whose fault is this?
Your take on the Shyam Benegal panel's report on revamp of the Central Board of Film Certification?
He had prepared a report with a very clear perspective. After it was submitted, the concerned people were not even ready to give it a consideration. Most are interested in clinging to timeworn and decadent laws. The productive transformation of cinema is hardly their concern.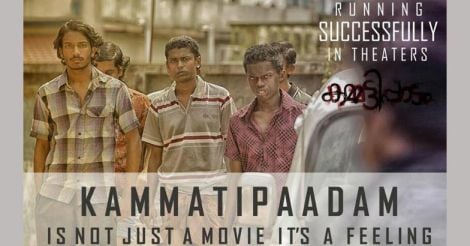 'Kammatipaadam' has opened to positive reports everywhere. Photo: Facebook/Shihas
Don't you think that Kammatipaadam will be discussed in the changed political scenario?
I hope that the scare about the notion of development that Kammatipaadam puts forth will be widely discussed. Even as our land and rivers are disappearing fast, there are some attempts that give us hope. An example is the work of CPM leaders like Thomas Isaac. It gives us hope to see youngsters involved in Periyar conservation and Athirappilly issue. Kammatipaadam is an attempt to remind ourselves that it is high time we did it.