Sanal Kumar Sasidharan, one of the most talented young filmmakers in Kerala, calls social media a "closed media". And he has a reason, backed by personal experiences, to do so. Up until a few weeks ago, Sanal was social media's darling. The keyboard warriors saw in him a filmmaker of a new kind of sensibility after his two films – "Oralpokkam" and "Ozhivudivasathe Kali" – garnered much critical acclaim.
His progressive stances also made him a popular figure on social media.
However, it took only hours for many of his virtual-world friends to turn foes after Sanal openly supported the central government's demonetization drive.
What followed was a barrage of criticism. While a few tried to put up a healthy argument, most of them resorted to name-calling, branding and demonizing. "I still hold my stance on demonetization, though I have my own doubts about the way it is being implemented," Sanal tells Onmanorama in this exclusive interview.
Speaking on the sidelines of the recently concluded NFDC-Film Bazaar in Panaji, Goa, this lawyer-turned-filmmaker touches on a wide range of topics, including his new film "Sexy Durga", freedom of expression and burden of imposed celebrityhood.
Of "Sexy Durga"
"Sexy Durga" is an experimental film. It doesn't have a written script just like my previous film "Ozhivudivasathe Kali". It's made on a small budget and belongs to thriller genre. It doesn't have a proper storyline. To me, a film is an art of experience. This film attempts to create such an experience.
The word Durga is understood in association with divinity when you hear it first. But it's not so in street. She is just a woman there. The film deals with how we behave with Durga in a temple and on the street.
Is it an erotic thriller?
The nature of the film has changed a lot over time. The change happened during the process of its making. It evolves in itself.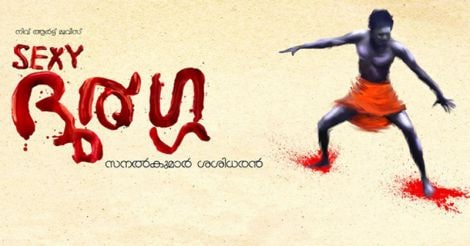 Poster of Sexy Durga
Who is Sexy Durga?
If someone has imagined something about "Sexy Durga" after listening to the name, it's not our mistake. We are not here to provide the audience what they want. Let people go to theaters and find out who she is.
Do you still support demonetization?
I don't think I should change my opinion now. I think the rumors that the program would lead to huge riots and chaos are fake. However, I have become doubtful about the way the program is being implemented. There are faults in the way it being handled. We can see it. Still I hope it will bring in a positive impact. Let's wait for at least two months to see what happens.
On the backlash on social media after pro-demonetization stance
People impose an unwarranted celebrityhood on our head. Then they dictate that now you are a celebrity and you should be careful about your opinions. Even if you have an opinion, you should wait for others to voice their views. That's not right.
Once a person makes an opinion which is not in sync with that of others, he gets branded as a follower of Hitler or Mussolini and abusive words are hurled on him. That culture is wrong.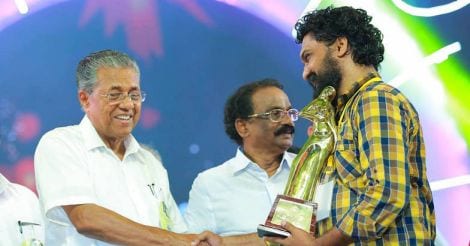 Sanal Kumar Sasidharan receives state award for best film from CM Pinarayi Vijayan. Courtesy: Sanal Kumar Sasidharan/Facebook
Why provoke critics?
The attempt to silence a person by hurling abusive words is a tactics of intimidation. To succumb to such pressure will only help the regressive forces gain strength. Personally, I choose to provoke such people by voicing my opinion more. It's important to realize the threats to our freedom and resistance should arise from even small pockets.
On criticism to Mohanlal's blog on demonetization
Be it a kid or an elderly person, one has the freedom to voice one's opinion. The attempt to suppress one's right to opinion can't be allowed. Mohanlal was a great actor till yesterday. Then suddenly he makes an opinion, which some don't like, and they call for boycotting of his films and hurl abusive words at him. That's childish.
Mohanlal's big salute to Modi and his demonetization drive
Mohanlal's remark on demonetization shows hypocrisy: Prakash Bare
When was the last time we saw Mohanlal in an ATM queue?
Social media
We think it's an open space, it's not so. It's a closed space. Social media demonize a person who raises his voice against the majority's opinion.
Why "Ozhivudivasathe Kali" was not in IFFI
It's a film that explicitly discusses contemporary politics. It's hardly surprising that such a film was not included in IFFI. In the current socio-political and cultural scenarios, everything is viewed as either black or white. There's no grey area here. You have to side with one group or the other. There's no space for voicing your independent views. It's difficult to stand independent and make independent films.
'Ozhivu Divasathe Kali' movie review: Unmasking social hypocrisies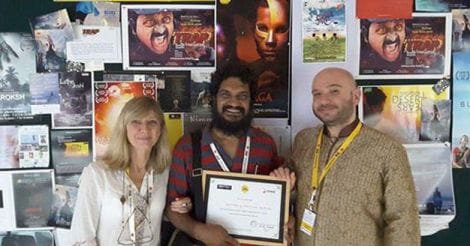 Sanal Kumar Sasidharan with an award he received at Goa Film Bazaar and the Jury Paolo Bertolin and Renata Santoro.  Courtesy: Sanal Kumar Sasidharan/Facebook
Of NFDC-Film Bazaar
It's my third year here. A lot of quality films are made in Malayalam, though I don't know how many of Malayalis know about it. Here (at Film Bazaar), we get a lot of opportunity to interact with buyers and distributors from across the world. This program helps us understand the current trends in world cinema market. I'm happy that a few buyers have shown interest in "Sexy Durga" after watching it here.