It's almost impossible to have a conversation about blockbuster movies Angalmaly Diaries and Oru Mexican Aparatha without a discussion on its epic, incredible fight sequences. And while there are certainly many who worked behind delivering the thrills – from actors to cinematographers to stunt directors – it was editor Shameer Muhammed who took all that work and stitched it together to make some of the most electrifying sequences ever to be put up on the silver screen.
Although film editing is an unobtrusive skill and it's the actors and directors who get most of the accolades when a film does well at box office, luckily for Shameer, many took notice of the powerful editing of both these movies.
A student of Chetana Media Institute, Thrissur, Shameer started his film career as an assistant to award-winning film editor late Kishor Te. Later, he worked as a spot editor with director B. Unnikrishnan and subsequently worked in most of his films.
Here, Onmanorama shines a spotlight into Shameer's cutting room.
How would you compare Angamaly Diaries and Oru Mexican Aparatha?
In terms of editing, both were extremely different. In Oru Mexican Aparatha, the edits were comparatively faster with a more cinematic approach. Meanwhile, Angamaly Diaries needed a realistic movement. In Angamaly, the story develops even through the songs. However, the other one already had a set pattern. We used slow motions in Angamaly at three places to bring in an effect, and in OMA, the focus was on building up the plot. For me, both were challenging in their own ways.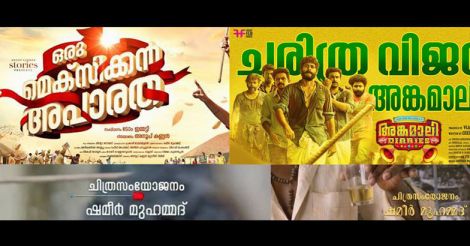 They say editing is a thankless job. What's your take on it?
It's true to an extent. When a film tells a story, an editor's job is to make it more interesting. When a director comes up with an idea, editors help in executing it well. An editor is as involved with a film, just as its director. Storytelling is an art and it gets better with practice. But unfortunately, nobody knows about an editor.
When Angamaly Diaries had it's preview show, the music director of the movie, Prashanth Pillai, came to me and said many were asking about the cast and crew of the film but nobody asked about the editor of the movie. I think that's where the success of an editor lies. If it is good editing, audience does not notice it at all.
How do you see the evolution of film editing techniques?
Earlier, gimmicks were much needed and special softwares for the same were used, but now the scenario is changing. Cinema is changing into a realistic mode and so is the editing pattern. Even audience are well aware of transitions in edits such as a jump cut, non-linear narration etc.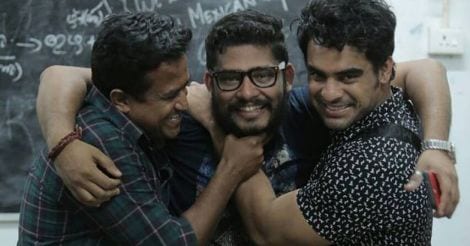 Shameer on the sets of 'Oru Mexican Aparatha' with Roopesh Peethambaran and Tovino
What exactly is the job of a spot editor?
A spot editor's job doesn't limit to the four walls of a studio, rather he works in tandem with the shooting of the movie, at different locations, trimming each day's shoot. That eventually helps the director and the main editor when they weave the frames into a final product. I have worked as a spot editor for movies like Grandmaster, Memories, Jawan of Vellimala, Ennu Ninte Moideen. I have also worked for Akshay Kumar's Gabbar is Back.
How is editing a song and a fight sequences different from each other? Also, enlighten us a bit about editing trailers and teasers.
There is a sea of difference between editing a song and a fight sequence. A fight is about creating an impact but a song is about creating a feel and setting a mood. Like music, editing too has a rhythm and it doesn't just stick to beats unless an editor brings it into each frame. In fight sequences, one needs to figure out which action should make the biggest impact and place it accordingly. The climax fight sequences of Singham 3 were done by me. Meanwhile, teasers or trailers are done after reaching an agreement with the director. In fact, we sit together and edit it. I was not the person behind the trailer/teaser cuts of neither Angamaly nor OMA.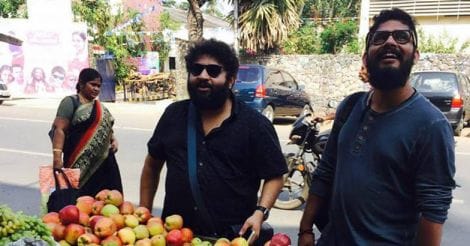 Shameer with director Lijo Jose Pelliserry
About B. Unnikrishnan who gifted you with a launch vehicle in Charlie?
Unnikrsihnan sir has always been my strength. If I am successful today, it's because of him alone. From the point where a movie begins, till the very last stage, he has made me understand things and taught me how to improvise. He was the one to go ahead with my decision to be an independent editor with the movie Charlie. It's his movie with Mohanlal that I am currently working on. The movie titled Villain will be a technical triumph for Malyalam film industry.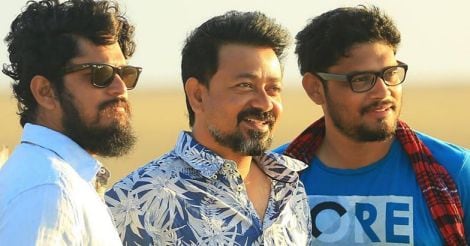 Shameer with team 'Charlie'
Is your family supportive about your career choice, considering you have to work long hours during shoots?
My family has been my biggest support. In fact, they see me working for hours and know that my job is quite tiresome. However, both my mother and wife want me to be the industry.