If you happen to have a little musical talent in you it is likely that you lead the 'thumping on desk and singing' activities during sessions with friends. It hardly matters on such occasions that you are not a reputed singer. But if you replace your friends with the Sub Inspector of the neighborhood police station, it is quite unlikely that the singing will be that smooth a ride.
But here is a man who displays hooliganism of the worst kind on the streets, lands himself in lockup for the act and still shows the guts to sit before the SI and sing - a rocking song in concert with the station's tea vending bloke while thumping on the table after getting his handcuffs unlocked. It is celebration time for Malayalis, as they make merry beating to the rhythm of the song during this scene from the Nivin Pauly-starrer Action Hero Biju.
This song is ample proof of how warmhearted is the Malayalis' acceptance of pure, unadulterated entertainment. Let us find out who he is. In short he is a little 'khiladi'.
From head load worker to the movies
Many of you might have spotted this face among the head load workers of Aristo Junction in Thiruvananthapuram. You must have heard him sing aloud sitting by the roadside, in the teeny small town junctions or wherever friends gather to shoot the breeze. Suresh Thampanoor's artistic career has its origin in these places. Ask him to sing a song and he will oblige within minutes. Suresh will readily sing beautiful lines with a folk touch set to his own tunes for his friends. Again it was through a friend that Suresh arrived in filmdom.
Suresh's friend in Bangalore Sreejith introduced him to Bobby, a friend of the film's director Abrid Shine. Suresh who sang his way into the midst of friends in the hotel room in his characteristic style endeared himself to Bobby as well. It was Bobby who secretly recorded Suresh's song in his mobile phone and sent it across to Abrid Shine.
It did not take long for the director to confirm Suresh for that minor part in the movie. Suresh acted without incurring too many takes. Bobby says that Suresh surprised everybody in the set by acting like a seasoned actor and sans any make-up. Let us now hear Suresh Thampanoor relive the experience in his own words.
Will you turn down movie offers if you get them?
I do not know acting. But who will turn down a chance? That is all that I did too. Shine sir helped me a lot. Sir would come and sit with me and explain what needs to be done. We could complete it without too many takes. It was the same during dubbing too.
You have been duped by many…
I studied only up to the eighth. Then I went in search of work. Father is just a memory from early childhood. My mother raised us six children. I was the lone male offspring. When someone visits our home to invite us for a wedding, mother would replace the bride and groom's names in the wedding invitation with names of vegetables and dish out a song.
Maybe, I inherited the habit from my mother. I would be lying if I say that I did not expect to enter the movies. I have always loved cinema. I go to watch all the new releases. But it was not acting that I aspired to do. I write a bit. But I am not sure how good it is. I have written several scripts and approached many people with those. Some sent me back with a promise to film the scripts. Some made those into movies in their own names. I do not want to brood on those. Maybe the right time has come for me only now. I will surely do good movies if I am offered them.
A little 'khiladi' in your native place
I am 46 years old and unmarried. Marriage did not happen when my age was ripe for it. Truth is that no one was interested in me. Then I used to be involved in some fights and scuffles. Also I myself forgot to get hitched.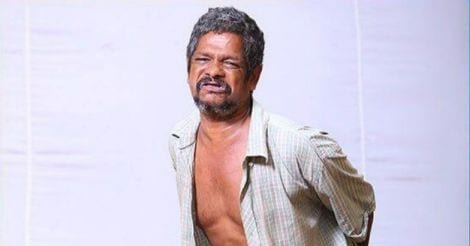 Suresh Thampanoor in the movie
Gopan and police
There are many people to be grateful to in life -- director Shine sir who helped me a lot in cinema, Nivin sir who gave plenty of good advice for doing the role well and many others like them.
Finally I am indebted to Gopan who works along with me. He handed over my song about Goddess Saraswathi to the bhajan singers of the Ganapathy temple near Thampanoor railway station. They adopted the song for their singing. This is an extremely heartening matter for someone like me. Again, songs penned by me are used for bhajans on Pongala day at Attukal Devi temple. This was my life before the movie.
Like I told you I had a little run in with the law. Now that I am in this movie, I cannot leave out the mention of two other people. Usually when I am taken to the police station after courting some trouble, I employ a tactic to escape the place. I used to lie to the police officers that I wanted to attend a TV programme or that I had to act in a play etc'. It invariably worked as they would let me go, thinking that if I could come to any good that way, let it be. But I would be going somewhere else every time. I remember Sheriffuddin sir who was SI of Thampanoor station and also Mohan sir who worked under him. I have cheated both of them several times.
Now
I will do movies if I get them. I am in Ernakulam now. I have not yet gone to meet my folks. I need to connect with my friends as well. Else won't they think that I am being a snob? They are all elated.