As Christmas release Adi Kapyare Koottamani has cinema halls reverberating with peals of laughter, it is becoming a wondrous New Year gift for a young man named Vineeth Mohan. He is none other than the bearded Koshy, who along with Dhyan Sreenivasan, Aju Varghese and Neeraj Madhav, raised laughs in theatres. Koshy's is a face not unfamiliar to Malayali audiences as it is not his maiden film; it's just that they have only begun to recognise the actor in him through Kapyare.
The real life story of Vineeth who, bitten by the film bug, chucked his banking career and went about seeking chances is the stuff of film lore. Vineeth opens out, about the path he has trod, Kapyare tidings and new projects in the pipeline:
The journey so far
I nursed filmi ambitions from school and college days itself. But I was shy and hesitant to disclose such a desire to anyone. However, I had let a few friends into it. When they started making fun of me, I stopped mentioning cinema altogether. Cinema had completely taken over my mind when I finished my degree from U.C. College, Aluva. I worked with Syndicate Bank for two years. The posting was in Wayanad and Thodupuzha. I devoured all cinema magazines those days and was even sure where all the shoots took place. The bank was off on Saturday afternoons and Sundays. I would look forward to those Saturday afternoons to rush to locations. My appeal for chances invariably met with the classic reply that I will be summoned if a role that suits me comes by.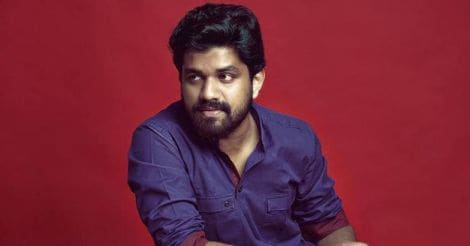 Vineeth Mohan
I felt that being in a job and looking for chances was not going to be feasible. So I decided to discontinue the job. These were trying times for my folks but they gave in when they realised the extent of my undying passion for cinema. With their full support, I quit the bank. Thiruvananthapuram has been the scene of action for stars of yore. Therefore I set out to the capital city, mentally geared up to beg for chances full-time.
Getting to acquaint actor and producer Vijay Babu proved the turning point. His first advice to me was to leave Thiruvananthapuram for Kochi in order to make any progress. He asked me to move to Kochi and learn the rudiments of film-making. I soon became part of pre-production and post-production tasks.
From Memories to Adi Kapyare
My first film was Memories, in which I had just a passing scene. A minor role in Oru Korean Padam and a part as Mukesh's driver in Peruchazhi followed. A somewhat noticeable part came in Aadu Oru Bheekara Jeeviyaanu as Moongakkuttan in Jayasuriya's tug-of-war team. It was Vijay Babu who cast me in 'Aadu' and 'Kapyare'.
Facebook 'likes'
The movie is getting rave reviews. Many people directly called to congratulate me. Hundreds of messages pour in Facebook everyday saying that my acting was good. I reply to as much messages as I can. I get several friend requests. Earlier, whenever I changed a profile picture, it hardly got fifty 'likes'. Nowadays if I post a picture it attracts 500-600 'likes' within an hour. The audience's affection gives me much joy and pride.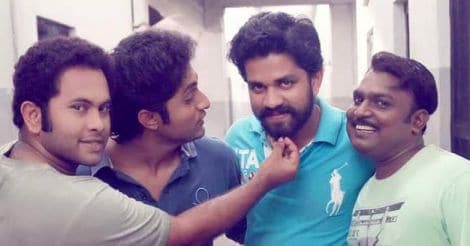 Vineeth on the sets of 'Adi Kapyare Koottamani'
Gayatri's Koshychayan
I am a diehard fan of Gayatri Suresh, the heroine of Jamna Pyari. She is also the Miss Kerala. The moment she posts a picture on Facebook, I lose no time in 'liking' it. We do not know each other. The other day I went to the Ramu Kariat Memorial Award function where Gayatri was also present. During the function I got out for something. Suddenly someone called me 'Koshychaya' from behind. It was Gayatri! It was a moment of supreme joy for me. I also see it as a recognition for my character.
Shaan ikka's words equivalent to an award
During the re-recording of 'Kapyare' I got a Facebook message from music director Shaan Rehman. He had given his phone number and wanted me to call him back. When I called him I was told that he liked my acting a lot. That, I consider as my first award for acting.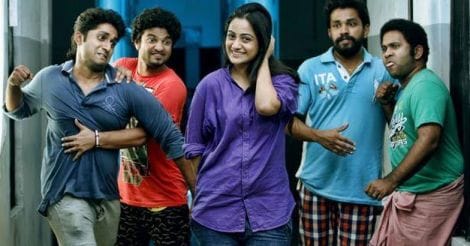 Vineeth in the movie
'Thironthoram' memories
Kapyare was shot in Thiruvananthapuram. The main location was the University hostel. I consider it a fortune that I was able to do a film in the very city where I once roamed around, looking for a chance. I had joined for M.A at University College but attended classes only for 10 days. I had stayed at the University hostel for five days. I now had the fortune to act in the same hostel where I stayed. Shooting was fun. Neeraj, Dhyan and I are of the same age group. We bonded quickly. Aju is the senior of the lot. He was very supportive. Mukesh, Namitha and all the others at the set were cooperative.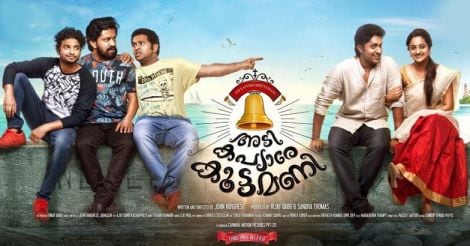 Poster of the movie
Adi Kapyare Koottamani-2
The second part of Adi Kapyare Koottamani will be shot this year itself. All four of us will feature in the second edition. Some offers are coming my way. Right now I intend to wait till good characters come up.