Most of the 80s Malayali kids would have got introduced to Ray-Ban aviators not through Tom Cruise's 1986 cult movie 'Top Gun', but through Mammootty's 1990 film 'Kottayam Kunjachan'. But then it was Bhadran's 'Spadikam' with Mohanlal as the iconic Aadu Thoma that etched an admiration for the black shades with golden frames on a generation's mind. And that sums up how I watched 'Spadikam' in 1995, as a hero-worshipping teen.
That's what makes revisiting these movies, in one way or the other, interesting. Hollywood followed up 'Top Gun' with 'Top Gun: Maverick' in 2023 and Malayalam film industry came close to a 'Kottayam Kunjachan 2' a couple of years ago through Midhun Manuel Thomas's dropped sequel. And now, 'Spadikam' gets 'Spadikam 4K'. The lovers of these movies might have evolved, however, the swag these characters and actors possess remains ageless. And 'Spadikam 4K', 28 years after its original release, reiterates the fact.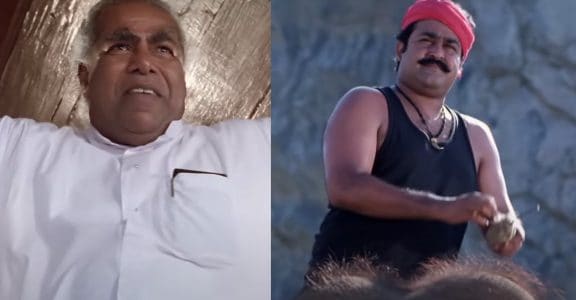 Bhadran and R Mohan understood the pulse of the audience then. And their concoction - an ever-prevailing alpha male hero who has an excuse for his malevolence in the form of his authoritarian father who expects his son to excel in academics while disdaining his creativity, a storyline that features a waltz of melodrama and action, power-packed performance from the likes of KPAC Lalitha, Nedumudi Venu, Rajan P Dev, Karamana Janardanan Nair, N F Varghese, Maniyanpilla Raju, and Spadikam George, apart from Thilakan and Mohanlal, heartless and powerful antagonists (police) and the objectification of Silk Smitha - has only aged perfectly, proves the response inside the theatre.
Even when telling the story from a male perspective alone, like many of the films of that era, in 'Spadikam', Bhadran tried something unique. Instead of going for a soft opening, the director, who is also credited for the story and screenplay, gives his protagonist a low and negative introduction, which goes on to become one of the iconic openings of Malayalam cinema.
The movie opens with a beaten-up Aadu Thoma catching a black goat from a herd and the scene cuts to a close-up of blood oozing over a dagger. A myth was being created on the screen off the screen about Thoma which will go on to give him the monicker Aadu Thoma - one who drinks the blood of a black sheep. However, the same creator opts for the easy and popular (of that time) 'ticking time bomb' climax that feels stretched beyond its blast radius for convenience. Not the prop bomb used that is the put-off factor but the climax technique engaged by the filmmakers that make the ending weak. While giving the movie a digital makeover, Bhadran could have tightened the movie instead of adding over 8 minutes.   
But Thyagarajan Master's punches and kicks land on target even after 28 years. No wonder Bhadran decided that story can wait but not the stunts. Immediately after the opening scene, the director brings Thoma to Changanassery market to take on his arch-rival Pookoya (V K Sreeraman). The market stunt is choreographed to perfection by Thyagarajan. However, in an interview given to a television channel, Bhadran gave the entire credit for making this stunt scene a dynamic one to J. Williams, one of the cinematographers of the movie.
Unlike other market stunt scenes (before and after Spadikam), Williams/Thyagarajan use props that look organically placed in the market, may that be the bamboo-laden lorry or the rice-filled gunny bags. The stunt master-cinematographer duo gives their stuntmen and the hero different levels of fighting grounds utilising the plot. The commitment from Mohanlal and other stunt artists is commendable. Now while re-watching the scene, one could not stop thinking what if they had tried to do something like the corridor fight scene from Park Chan-wook 'Oldboy'. Goosebumps!
Prof Rajendra Babu's dialogues, beyond the popular 'Bhoogolathinte spandanam kanakkilanu' or 'Bababaaaa' delivered by Thilakan in his unique style, also pack a punch. It's some of Aadu Thoma's quick one-liner comebacks that add to the character's swag, thanks to Rajendra Babu. The same goes for Fr Ottaplakkan's crutch word 'Olakka'.
At a time when political correctness is the buzzword, the viewers would find themselves at a tug of war while rewatching some of the Malayalam runaway hits and cult classics of yesteryears. It is the same for 'Spadikam', the women characters (minus that of KPAC Lalitha) lack character arc and have been placed as props for objectification and complimenting the protagonist or only to advance a scene. The toxicity of Thoma being worshipped for his utter disregard for all that represents authority, whether his father or the law, is troubling. 
What makes Aadu Thoma irresistible despite all this is the superlative performance of Mohanlal. In 'Spadikam', Mohanlal is at his entertaining best as the unruly son who returns home after 14 years of self-imposed exile. The movie along with 'Devaasuram' went on to launch a new franchise in Mollywood featuring the alpha male heroes of Mohanlal.
Bhadran signs off his magnum opus with a tailpiece presented as social media posts of toxic parents like his Kaduva Chacko, pointing to Malayalis' obsession towards acing studies and nipping their children's talents in the bud.
Bhadran's 'Spadikam 4K' is a theatre experience.