What happens when a brother who plans to elope discovers his sister has also run away from home on the same day? A catastrophe, right? However, in the hands of debutant director Achyuth Vinayak, it turns out to be more of an adventure.
Even though Malayalam cinema has had it's fair share of elopement stories – 'Oomappenninu Uriyadappayyan' is an example – most of them are sentimental and leave you in a fix, either because you become emotionally connected with the lovers or because you have highly-emotional scenes playing in the background.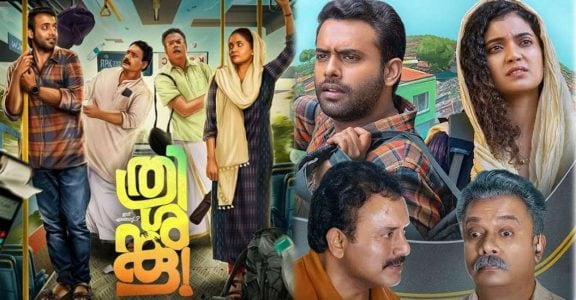 'Thrishanku' (The Puzzled State) is different that way, as it does not seem to take itself too seriously. Though there are tears and wails, especially when Sumi's (Zarin Shihab) family discovers she has eloped, the atmosphere remains cool. Sethu's (Arjun Ashokan) uncle played by Nandu is worried about the family's reputation, especially since he is part of the NSS Karayogam, but that does not hinder him from squabbling with Sethu's other uncle (Suresh Krishna) over how they will travel to Mangaluru in search of their niece. The makers try to infuse such humour in almost every situation. When you expect some melodrama in a few places, the characters surprise you with a curt or sarcastic line.
In the meanwhile, Sethu's lover Megha ( played by Anna Ben) is waiting for him at the bus stop. However, since he is forced to go with his uncles to Mangaluru, he has to leave her waiting at the bus stop. Angry at the turn of events, Megha boards the same bus. Cut to another scene, Megha's father ( played by Krishnakumar) who is a police officer is in hot pursuit of his daughter and Sudhi as he believes they have already eloped.
The songs by Jay Unnithan is quirky and blend well with the movie. Religion also takes precedence in this movie as both in Sumi, Sethu and Megha's case, the families are against inter-caste marriages. Nandu's character represents a section of people from upper caste communities who still adamantly believe family name and religion are what matters. The makers ensure the discussion on religion is never serious, but still it is something we can't overlook.
The film jumps from one situation to another, most often organically, though some situations seem forced like a scene at a pub in Mangaluru, where all the characters finally bump into each other. You wonder if that's a coincidence since there can't just be one pub in such a locality.
Since the film depends largely on dilemma to drive the narrative, not too much is expected from the performances. Despite that, all the actors, especially Nandu and Suresh Krishna who play Sethu's uncles, do a fine job. Anna Ben and Arjun Ashokan make a cute pair too.
The film definitely does justice to the title since anyone would be left in a quandary in such situations. The treatment and the premise of the film are interesting. However, 'Thrisanku' could have done better if the makers had tapped a little into the depth of emotions between the lovers.