Ok, so you are not big on veggies but keep wondering how to include them in your summer special diet? Here's the million dollar idea – toss in those nutrient- rich veggies and some of your favourite fruits into a blender and make smoothies! The rewards are many – you get to eat your fair share of vegetables, you eat the fruit too, you are fortifying your body against the dehydration of the summer months, you get fresh-looking and glowing skin for free.
How to get into the smoothie habit
- Smoothies are an excellent idea if you are trying out a meal replacement diet. If you can come up with smoothie recipes which will provide the required calories and nutrients (it is recommended that you do this in consultation with a dietitian), they can help tilt that weight loss battle in your favour in no time. Smoothies will make you feel full without piling up the calories.
- Pick vegetables that are in season. This will ensure you have a regular supply without burning holes in your pocket. More importantly, veggies and fruits that are in season are likely to be fresh and relatively pesticide-free.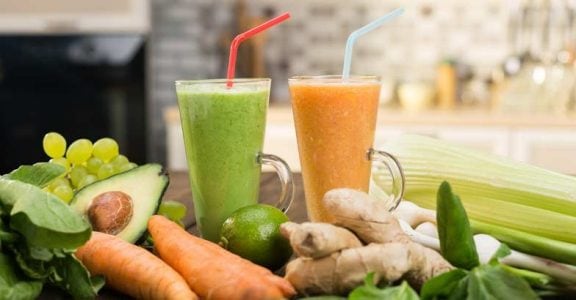 - Go for the proverbial rainbow diet, even if you are making smoothies of the ingredients. The vitamins and phytonutrients responsible for giving fruits and vegetables their colourful hues can do wonders for your health. The colours will make your smoothie look deliciously inviting too.
- Do not strain the smoothie. It's always better to keep the goods in as it will give you all the fibre that only vegetables and fruits contain. In fact, the fibre content is where smoothies win over vegetable and fruit juices.
- If you are finding it difficult to get into the habit of the all-veggie smoothie, try making it a blend of 40% greens and 60% fruit. You can choose naturally sweet fruits.
- Research proves that your body is most ready for nutrient absorption after a work-out session. Your post work-out meal should be rich in protein and carbohydrates, but low on fats. A protein-rich green smoothie is the best way to replenish your depleted muscles after work-outs.
- Palak, celery and cucumber are some of the veggies that taste great in a smoothie. Water can be used as the liquid base with all of these. But you can use other liquids too to spike up the flavours and nutrient value. Yoghurt, soya milk, badam milk and coconut water can instantly turn your smoothie into a yummy meal that will satisfy your cravings.