When you think of South Indian food, do you get the image of a plate with multiple divisions filled with three different kinds of condiments, a large dosa, and a piping hot lentil broth (aka sambar)? If yes, then you're not alone, but you might want to read on to know what you've been missing out on!
The umbrella category of the cuisine referred to as 'South Indian' originates from the four southern states of India, namely, Karnataka, Andhra Pradesh, Tamil Nadu, and Kerala. Generally speaking, this cuisine is considered to be a bit more subtle in its flavours and lighter on the stomach.
However, generalizations of any cuisine aren't fair since there is a large regional difference, and each state's cuisine has a different taste; even the cooking methodology varies.
For the uninitiated, the two most popular dishes of this cuisine are the Dosa – a crepe made with fermented rice and lentil batter, served with flavourful condiments and chutneys; and the Idli – a low-calorie, gluten-free delicacy.
But there's more to South Indian cuisine other than your dosas and idlis. So much more!
A whole heaven of umami waits to be explored! Lucky for you, we've compiled a list of what to start with on your journey of discovering South Indian cuisine:
Puttu
In Malayalam and Tamil, Puttu means portioned. The puttu is a steamed rice cake in cylindrical shapes filled with sweet or savoury fillings.
A portion of Puttu includes coarsely ground regular rice or red rice flour and grated coconut. Puttu is a popular breakfast dish eaten in Kerala, Tamil Nadu, and Karnataka.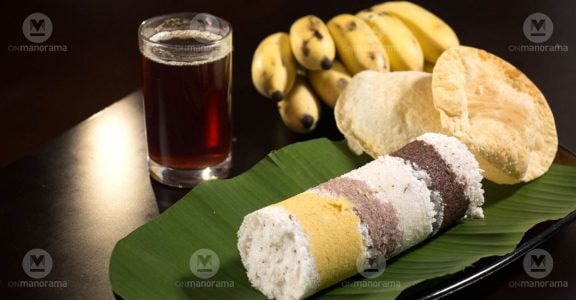 The most recommended dishes to serve with Puttu are chickpeas, mutton, or fish curry.
Appam
Appam is a steamed bread made with fermented rice batter and coconut milk in Kerala, Sri Lanka, and Tamil Nadu. The dish appeared in various Tamil Perumpanuru (old Tamil poems), which are believed to be from the ancient Tamil era.
With a mixture of coconut milk and fermented rice flour, the crispy appam is prepared in its signature bowl-like shape. Since it needs time to rise, the cooking process is a bit lengthy.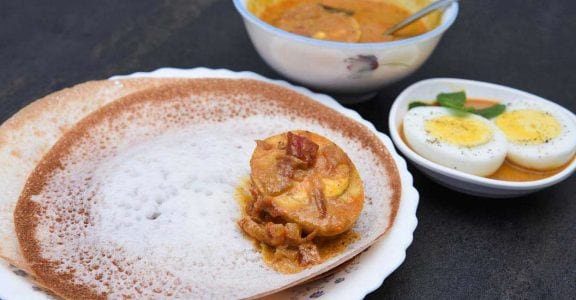 Appams are most traditionally served with a spicy coconut milk curry.
Pongal
Pongal in Tamil means "to boil" or "bubbling up." In Telugu and Kannada, Pongal is a rice dish mixed with boiled milk and sugar. The two different varieties of Pongal are Chakkarai pPongal (sweet) and Venn pongal (savory). Venn pongal is a common breakfast dish, whereas Chakkarai pongal is made during the Pongal festival.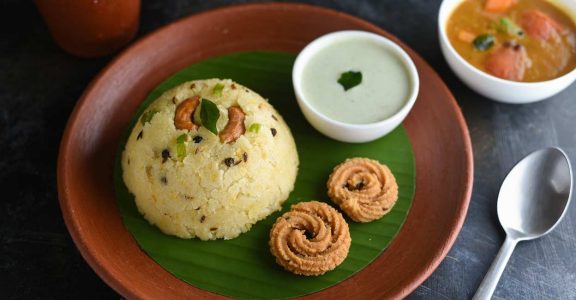 Chakkarai pongal is prepared in temples as a prasadam; an offering made to a deity. It is made during the Pongal festival in Tamil Nadu and during the Sankranthi festival in Andhra Pradesh. Venn pongal is a comfort dish for many South Indians as it is light on the stomach and easy to prepare.
Malabar porotta
Porotta (Parathas), the subcontinent's favourite bread, is a layered flatbread. It is made from maida or atta and is also known as a flaky ribbon pancake. The scrumptious Malabar porotta is very common in Kerala, Tamil Nadu, Karnataka, and Maharashtra. And has quite an international fan following as well, especially in countries like Malaysia, the United Arab Emirates, and Sri Lanka.
The Malabar porotta is available as a street food, served with freshly prepared piping hot curries, and in restaurants across Kerala, Tamil Nadu, Andhra Pradesh, and Telangana. The accompaniment is also served at weddings, religious festivals, and feasts.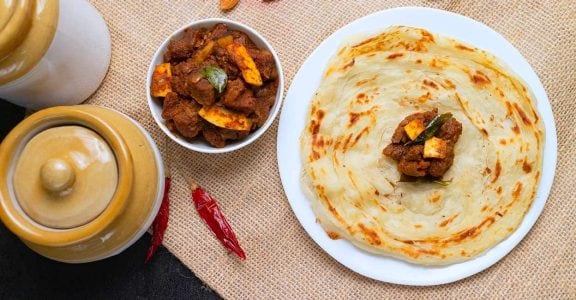 Malabar porotta is prepared by kneading maida, eggs (optional), oil or ghee, and water. The dough is stretched into thin layers and laminated with oil, just like puff pastry. The parotta was then folded and rolled into a round shape, preserving the laminated layers.
Parottas are commonly eaten with vegetable korma, chicken, fish, or mutton curry.
Kori gassi
Kori gassi is a traditional Mangalorean Bunt dish with a coconut-based red curry. Chicken is called Kori here, while the curry is called Gassi, hence the name.
Kori gassi is made with a spoonful of species, coconut milk, and grated coconut. It is traditionally enjoyed with either roti or rice. People in Mangalore love their spices and coconuts, so most curries have a mixture of wonderful spices and are based on coconut milk. The beautiful red colour of the curry comes from the dried red pepper.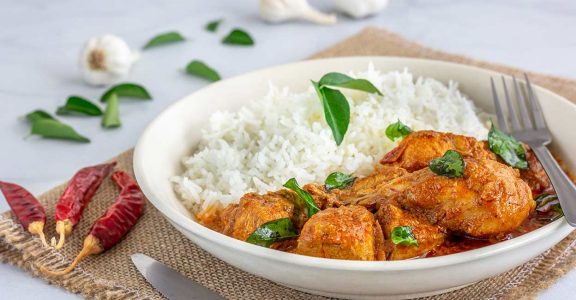 Kori gassi is commonly eaten with rice.
Coconut rice
Coconut rice is prepared by soaking white rice in coconut milk. It is made with short-grain rice and has mild flavours, given the presence of coconut milk. Coconut rice can also be made with flaked, grated, desiccated, or dry coconut.
One can enjoy coconut rice with mutton curry and vegetable korma.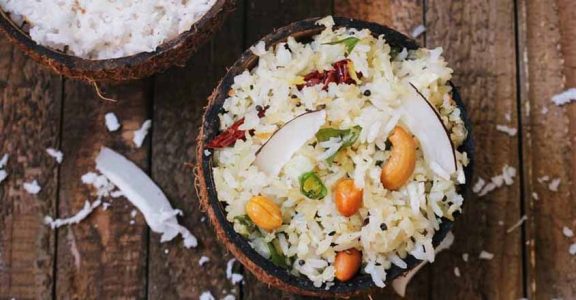 Haleem
Haleem is a stew made with meat, lentils, and pounded wheat. This dish was originally an Arabic dish, which was introduced in Southern India during the rule of the Nizams. Haleem is made with broken wheat, rice, and oats and then blended with exotic spices and herbs.
Haleem is often a central dish prepared for feasts (Iftars) taking place during the Islamic month of Ramadan. It is high in calories and thus makes a sumptuous meal for those fasting; Haleem has thus become synonymous with Ramadan.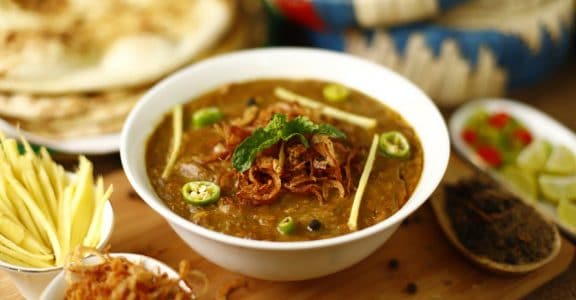 Haleem is eaten with Naan or any type of bread or rice.
The fascinating part about South Indian cuisine is its ability to continue to surprise your taste buds even after decades of exploration. Let us know about your experience with South Indian recipes.