Kochi: The Vigilance and Anti-Corruption Bureau (VACB) Saturday conducted raids at the residences of former Kerala excise minister K. Babu, his two daughters and two of his close aides in a disproportionate assets case against the Congress leader.
The raids at the residences and offices of the five persons began at 7 am.
The vigilance sleuths also swooped down simultaneously on the Ernakulam residences of two of the Congress leader's alleged 'benamis' - Baburam and Mohanan - who have no known source for running any business.
The FIR has named Babu as first accused in the assets case. Baburam and Mohanan have also been named the accused.
The searches were also conducted at Babu's residence in Thrippunithura and his daughters' residences in Palarivattom in Ernakulam district and Thodupuzha in Idukki district, officials said.
The officials also searched a private finance firm owned by Babu's aide Nandakumar.
The raids began at 7 am at at least seven places in Kochi and Thodupuzha. Babu was present when the sleuths arrived at his home in Thrippunithura.
However, Babu denied the charges and termed the raid and case as an 'act of vengeance' by the LDF government.
Vigilance seizes Rs 8 lakh
The officials have seized Rs 8 lakh in total so far – Rs 1.5 lakh from Babu's house and Rs 6.5 lakh from the house of Mohanan, owner of Royal Bakers in Thrippunithura. However, it is not yet confirmed whether this sum is part of the illegal assets.
Five teams, headed by two DySPs from vigilance special cell, Ernakulam carried out the searches.
What the FIR has against Babu
Officials said the raids were conducted after a First Information Report (FIR) was registered based on a complaint filed by an Thrippunithura-based anti-corruption organization against the former minister.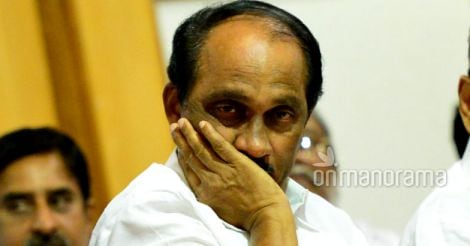 K. Babu. Onmanorama/File photo
The FIR alleges that Babu had accumulated wealth disproportionate to his known sources of income.
According to an FIR filed before the Court of Enquiry Commissioner and Special Judge, Muvattupuzha, VACB special cell submitted that Babu, "who hails from a poor family, abused his power as the Minister to accumulate wealth."
"He had illegal connections with real estate mafia, business groups and 'benamis' in Ernakulam district and outside Kerala," it alleged.
The FIR states that had luxuriously renovated his house during the UDF rule.
Babu's 'benamis' Baburam and Mohanan own luxury vehicles BMW and Mercedes Benz, the FIR adds. Babu had also made investments in a hospital and a steel firm, according to the FIR.
Babu also owns a 120-acre property in Theni in Tamil Nadu, the FIR states.
No benami business: Babu
Terming the raid as as an act of vengeance, Babu said that the charges against him are baseless.
"I have no benami business. Allegations against me are wrong. If I have any ill-gotten assets, that will be freely given to the government," Babu said.
"I have no connection with the benamis mentioned in the FIR and I have not even seen them. All that I did was inaugurating a bakery of Mohanan. I know Baburam as a Youth Congress worker and that's about it.
The FIR states that I own property in Theni, but that property was bought by my daughter's father-in-law, that too even before her marriage," Babu told reporters.
The Congress leader rubbished all the charges against him and said that he pays tax for all his assets.
"I have never made any investment in any firms, I can firmly say that," Babu said.
No need for nod from me: CM Pinarayi
Chief minister Pinarayi Vijayan said vigilance department was free to take action in such cases.
"There is no need for any nod from the chief minister to conduct searches at Babu's residence," Pinarayi told reporters in New Delhi. 
Reacting to a query on the raid, VACB chief Jacob Thomas said that 'uprooting corruption is the policy of the government' and sought support of media in the mission. 
Babu, who had a controversial stint as the state excise Minister in the previous Oommen Chandy-led UDF government, had resigned after a Thrissur court ordered the vigilance department to register an FIR against him in the bar bribery scam. He was later reinstated in the post.
Babu had lost the Thrippunithura assembly seat to M. Swaraj of CPM in the elections held in May this year.
With K.M. Mani and K. Babu now under the Vigilance scanner, sources in the know of things pointed out that a few more colleagues of Oommen Chandy could soon be subjected to similar probes.
(With agency inputs)