Kochi: There were around 100 participants at the Manorama Online media hackathon on Saturday. But only 8 of them were women.
These women acknowledge that it is the same situation at all the similar events they have visited. But these are not the kind who would give up easily.
Sagara Sasikumar, a computer science student from Government engineering college, Thrissur have participated in several tech-related events with her team. She has witnessed very less women representation at all these places.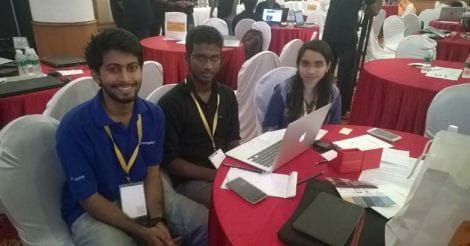 Sagara with her team
Asked about the low participation of women in such events, she said, "They have issues of time constraints, some families are also restrictive about women traveling to participate in such events."
Reshma A Vijayan, from Thiruvananthapuram, is participating in a hackathon event for the first time. She admits that she couldn't sleep all night because of the huge pressure. Her team also has another woman member, Hanna Kasim. She said, " We didn't have a proper idea of how to do things before coming here. But after coming here, it has been a great learning experience. We learned a lot. We will surely be participating in more such events."
Fify Cleetus, from Iris technologies, Kakkanad is also a first timer. She said, "Participating at Manorama Online media hackathon was a good exposure for me. After engaging with the people here I'm eager to participate in more such events."
Though there is not a single woman among the finalists at the hackathon, these women won't give up and are poised to participate in more such events as hackathons are not just about winning, but about sharing new ideas.