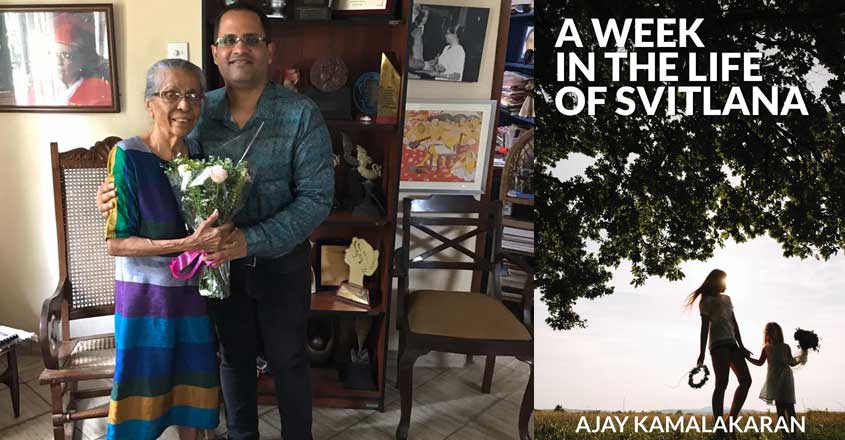 At under hundred pages, 'A Week in the Life of Svitlana' by Ajay Kamalakaran is an easy read, one that you could bolt through in an hour when waiting for the rain to stop or on your flight.
Impulsive buyers of books would be heartened to learn from the blurb that this is a story set in a contemporary Russian society, during a time when even conversations at the tea-table are becoming increasingly political. A story that is told through the brave voice of a young Ukranian woman, a single mother, who chose to live in Moscow despite the times.
I have worked in publishing long enough to know that we need more of these! And yet, we are so disappointed. You see, this is not the 'short novel' that its blurb indicated, and one which we didn't know we so desperately wanted. Instead, 'A Week in the Life of Svitlana', as the title rightly suggests, is a selected compilation of many things that Svitlana, the main character in our story, did for a week. Sure, there are other characters, there are some events and well-laid out descriptions, but none of them come together in a cohesive form as to capture our imagination or keep us engrossed enough to care. Perhaps it has something to do with how the story is structured. But the fact that there was neither an inciting incident nor a conclusive ending has us shaking our heads and reaching for our phones to while time away.
The writing also suffers from major pitfalls, which is a shocker given that the author is indeed Ajay Kamalakaran, whose column Keralaspora for Onmanorama is a trove of wonder. In the long format, however, we are told than shown the many elements of the story and on occasions, even intricate traits of a character. And often, things just happen to our characters, and very conveniently so, without there being any proper justifications. Also, unlike a conventional novel, the fast-ragged pacing of this particular format leaves little or no space for any kind of foreshadowing that otherwise would have given the story some depth and layer of complexity. Without them, the reader just waddles through 'A Week in the Life of Svitlana' like an unkind and morose stalker.
Though the author does try to weave in a lot of beguiling descriptions about the dynamic landscape of Russia, the world wherein our character resides feels like a sandbox. Except for a few 'alien' characters and their supposed links to the outside world, Svitlana's Moscow feels barren and bereft of all the bustle of a city. It seems its just Svitlana and her small clutch of people that make up this world, and without them, it is eerily silent.
We are introduced to Svitlana Khristenko very abruptly. The first thing we learn about her is that she is a dual citizen – of Russia and Ukraine – who chose to live in Moscow. So she has two passports, so what? Why should that detail interest the reader in the opening paragraph? I thought this to be a very unfulfilling way to meet the character. But on probing further, it struck me that this is also how our conversations too begin with strangers.
Where do you live? Where do you come from? We ask these questions knowing too well that the answer or the unwillingness to answer tells a lot about them. Their nature, the culture and history that envelops them, and possibly even their many likes and dislikes.
Knowing this, I emboldened Svitlana with my faint impressions of what I thought Russians were like (given my weak understanding of anything Ukrainian), and I am quickly rewarded – she is beautiful, blonde, in her mid-30s, and wanting more from life. That's not all.
The fact that she chose to live in Moscow also tells us that she is independent (or prefers it that way), that she is spirited and not easily pushed over by societal expectations of what or how one should be (in the story, however, this flicker of hope too is extinguished, and quickly). Inadvertently, it also tells us about the allure of Moscow, despite its cold hard winters.
The story, however, offers little to intrigue us, continuing on with familiar tropes as experienced when it is man writing a woman's story: women are desperately looking for that one man to change her life, and men around are but snobs who ill-treat women and try to get away with it.
Svitlana, the single mother in our story, paces in and out of a myriad of relationships with potentially-abusive men, all the while leaving her young daughter in the care of her not-too-sober, emotional-vampire friend Veronika.
In fact, all of Svitlana's close associates – from Misha, the owner of the watch boutique where she works; to Sanjeev Ivanovich, her friend from Sri Lanka who we are told is annoyingly Russian; and to Marat, the Chechen official on whom the entirety of this story rides – are emotional-vampires in one degree or another. Maybe that is the gist of this story – that all men are toxic? Surely, Svitlana would learn from her mistakes, we presume. Yet, in the final pages of the story, we see her taking the number of a random guy she met at a cafe and counting on him to brighten her future.
In 2019, I am not sure if painting women in such tropes would hold up.
Also, the reader's expectation of the author lifting the veil of a majestic Russia glistening in the dull warmth of a winter sun are but all in vain. This story need not have been in Russia. It could have been anywhere. Down the lane from us. Maybe even next door. It would not matter.
The reader is tired at the end of the reading, having to conjure a world that the author did not show, in having to deduce the story the author did not tell.
If one is looking for a quick read to while away time, then perhaps give some of Kamalakaran's stellar articles a try. 'A Week in the Life of Svitlana' certainly does no justice to what this author is truly capable of.
(The views expressed are personal)