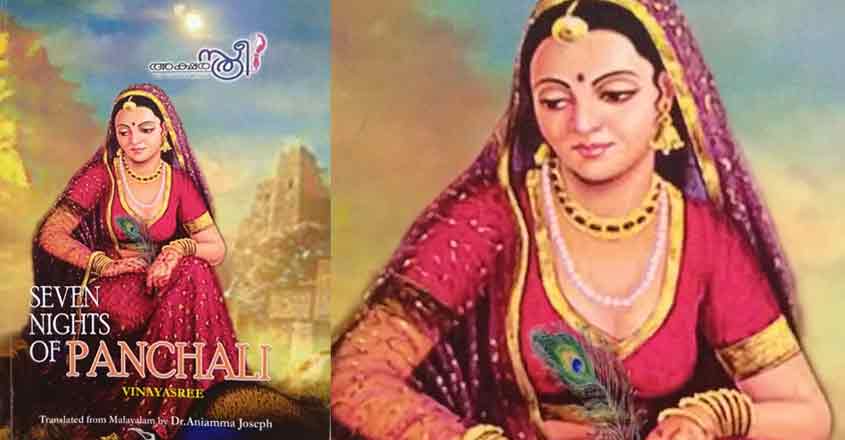 Vinayasree's 'Seven nights of Panchali', translated to English from Malayalam by Dr. Aniamma Joseph is a reinvention of events that unfolds through the eyes of Panchali, one of the most significant female characters in the epic Mahabharata.
The book begins with the horrible disrobing of Panchali by Dusshasana, the second of the Kaurava brothers and how her beloved husbands, the Pandavas witnessed her being disgraced and humiliated in front of the entire court.
Said to be born out of fire Panchali's never-extinguishing flame and sense of duty burns throughout the book. Like most women Panchali yearns to be married to someone who loves and respects her and, in her eyes, it can only be Karna, the king of Anga. But as fate has it she ends up marrying the 5 Pandavas instead, spending nights with each of them.
Night after night as she toils to please her husbands never does she stop thinking of her beloved Karna. In her mind she has already married Karna the very first time they met, her love is such that she dedicates her sixth night to Karna claiming "Panchali has six nights not five."
As the story unfolds Panchali encounters one unfortunate event after the other, her husbands proving to be mute spectators every time. Yudhishtira loves the game of dice more than her, Bhima's huge body and gluttony scares her, Arjuna is no more than a eunuch in her eyes as he pawns his wife to his brothers and Nakula and Sahadeva are like sons to her.
Arjuna's striking resemblance to Karna seduces her into loving him more among the five Pandavas but Yudhishitra's cunning and jealous nature keeps them apart.
As she loyally follows her husbands into the forest the thoughts of Krishna and Karna keep her alive. Her faith and piety for Krishna is unfailing even till her last breath. As she falls to her death Panchali remarks that her seventh night is with the dark-blue skinned Govinda.
Panchali's plight and her never – ending love for her husbands and her awe- inspiring duty as a wife pulls at the emotional strings of the readers from beginning to end.