Rennis Joseph and Imma Mary met each other on the campus of Jawaharlal Nehru University (JNU), New Delhi, when they were research scholars.
The couple -- Rennis hails from Kanjirappally in Kerala and Imma from Chennai -- espoused critical thinking and believed in uplift of the poor and the marginalized through quality education.
The couple runs Ignis Careers, an educational organization based in Hyderabad, which experiments with new ways of teaching English and life skills.
With an aim to make learning fun and purposeful, they created a customized syllabi according to the cultural context of the schools with which they collaborate and the learning level of the kids there.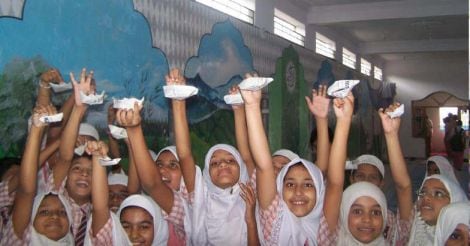 Children attend a training session by Ignis Careers. Photo courtesy. Ignis Careers/Facebook
The couple launched Ignis in 2009 after Rennis quit his teaching job in a reputed college in Bengaluru and later as a trainer in a large coaching institute for aspiring management students.
From both the places, Rennis learned a key lesson that would prompt him to take some crucial decisions later.
"The potential to groom youth is fully ignored in pursuit of meaningless certificates. The gap between the purpose of education and the actual practice of wasted opportunities was too big to ignore," he says.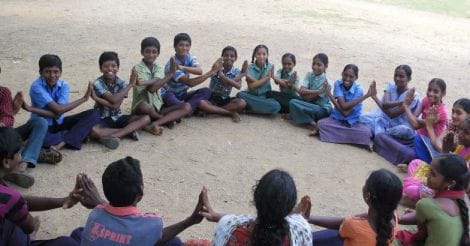 Children attend a training session by Ignis Careers. Photo courtesy. Ignis Careers/Facebook
Concentration camps
After years of closely observing the education system, Rennis feels that schools are like concentration camps where he does not want his children to go.
"Planning to educate our children is a very difficult task, after having studied the education system so closely. I would not trust my children with any of the schools. Schools are like concentration camps, even worse than colleges. Having seen the quality of teachers these days, we opted not to send them to schools," says he.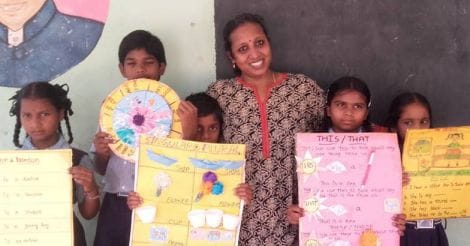 Through innovative methods, the Ignis team tries to help children overcome all the burden imposed on them by traditional approaches towards schooling.
"Students' experience comes first. Everything that they learn has to be a joyful experience. We do not pontificate; students participate, they dance, they act, they draw, they reflect on their lives. We do not teach grammar, we help them express. We do not give moral lessons in the name of life skills, we let the students discover it themselves," says Rennis.
Rennis realized the faults of the education system even when he was a student, especially at a central university deep south, where he studied a few months for his post graduation.
However, his experiments with the correctional course in education had begun during his JNU days itself.
Rennis and Imma were provoked by the plight of the dalit students who struggled with their limited English skills. "They were extremely intelligent and hardworking. But poor English skills limited their access to information, others' works and also limited their expressions," he says.
Rennis, who was also working with United Nations High Commission for Refugees (UNHCR), coordinating the English and Employment Skills programs for Burmese and Afghan refugees, started working with a few students in JNU.
After 30 to 60 days of training students started becoming confident, finding employment in reasonably good organizations, which convinced him how empowering English and Life Skills training could be.
He then quit the PhD program and started experimenting with this model.
Short stints at some colleges further strengthened his resolve to pursue the idea of Ignis. He also remembers how Fr. Kuruvila Cherian SJ's (his head master at AKJM School, Kanjirappally) emphasis on students and student-centric learning had a deep impact on him.
Ignis has worked with more than 500 schools in and around Hyderabad and other parts of Andhra and Telengana. Hyderabad was chosen as the base to implement the Ignis model, because in most of the low-income families in Andhra and Telengana, the school-going kids are the first generation to get institutionalized education. Most of the parents send their kids to low cost private English medium schools.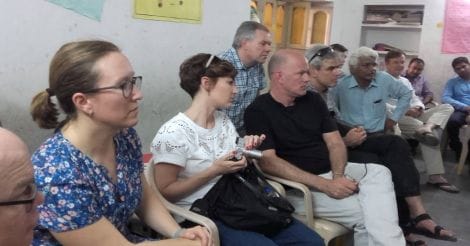 Acumen team watches a training session by Ignis Careers.
"Though they claim to teach in English medium, the standard of teachers in most of these schools is not up to the mark. And we try to bring a change in the situation evolving them as education mentors," says Rennis.
Ignis sets up English and Life Skills Labs in schools, offering training to selected batches of kids and teachers through participatory experiential learning, who, in turn, support the rest of the students. This builds the culture of collaborative learning culture at schools. It also supports some NGOs for programs like the one aimed at providing life skills to girls and working women.
Ignis has been conducting year-long training program for students of a government-run school at Banapuram, a remote village in Khammam district of Telengana for the last six years. This model has been expanded as a Rural Teacher Fellowship program working with 10 more villages.
Years of struggle
Ignis evolved over some 14 years. And having invested all their faith and social and monetary capital in an experimental venture that can't be profit-greedy, the young couple's life throughout these years was not an easy affair.
"The struggle that we have put in cannot be quantified by any investor. Imma was also passionate about working to alleviate poverty. That was the best support. We have our differences, but they are not regressive. We learn from each other." he says.
Rennis and Imma pose for a photo with a chocolate gifted to them by children after a training session.
Apart from Rennis and Imma, Ignis has a dedicated team spread across five branches, engaged in training and syllabus development. Ignis raised investment from Acumen Fund two years ago. The organization also has a team of part-time trainers, especially students from major institutions, including the English and Foreign Language University in Hyderabad.