Watching Meenakshi gurukkal (teacher) move and wheel her agile form around, hit and block with practiced confidence as she takes on her opponent, a man less than half her age, one finds it hard to believe she is 73.
But for this expert in Kalaripayattu, the traditional martial arts form of Kerala, age is just a number. A recent Facebook video of her practicing Kalariypayattu has made her an Internet sensation.
Every year, some 150-160 students learn the martial arts in her school Kadathanadan Kalari Sangam where she herself mastered Kalari and has been teaching for no less than 56 years.
Meenakshiamma is a true inspiration in many ways for a generation that has only heard of the great warriors of Kadathanadu (a region in north Kerala known for Kalaripayattu) through Vadakkan Pattu (ballads). Her real life reminds us of the stories of warriors like Unniarcha, Aromal Chekavar and Thacholi Othenan.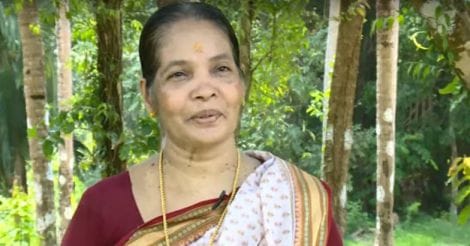 Meenakshiamma
Her life unravels like a classical movie with a combination of love, passion, fight for survival, drama and glory. Let's hear it from her own words.
The beginning
I was seven when my father brought me here for learning Kalaripayattu and I was practicing classical dance along with it. I was trained under my guru Raghavan master for 10 years and at the age of 17, he married me. But it wasn't a love marriage. I decided to stop learning classical dance as it was difficult for me to practice Kalaripayattu and dance simultaneously. Unlike me, most of the girls stop practicing Kalaripayattu at teenage level.
Birth of Kadathanadan Kalari Sangam
Raghavan master was passionate about Kalaripayattu and he learned the art from his childhood. Later he got rejected from some Kalaris because of his caste. The Nair community had raised objections to permitting Thiyyas, the community to which Raghavan master belonged, in the Kalaris. The issue brought many community members together and Raghavan master, with help from local people, started Kadathanadan Kalari Sangam in 1949.
Together, they built up this dream. He was only 14 then. As Raghavan master wished, this is a place without any discrimination and anyone with a passion for the martial art is welcome.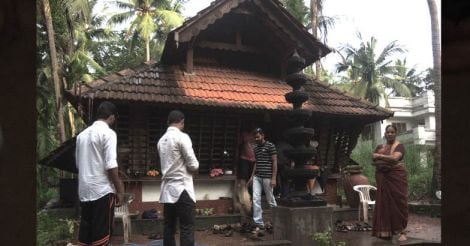 Kadathanad Kalari Sangam's 'Kalari', where students learn and practice the martial art, at Puthuppanam near Vatakara in Kozhikode district.
Currently, more than a third of the students here are girls. There is no age bar and some students' parents are also learning Kalaripayattu here. However, it is recommended to start early.
Women at the Kalari
Kalari Sangam had very few girl students when I joined. That was a time when parents would think twice before letting their daughters learn this art. Even if they let them learn Kalari, it would be only for a few days. That has changed now. We conduct morning and evening classes so that housewives and even working women can learn the art.
Also read: It's not a baby on the floor, but it's my heart: a mother's tale moves the Internet
Routine at the Kalari
The course begins in June and ends in September every year. Classes are held three times a day, where they teach the Northern style of Kalaripayattu. It starts with uzhichil or massage for aches and pains. In the beginning, we use pacha enna (an oil) for massage. This will continue for a week. Then we apply mukkuttu enna (it's another oil prepared with medicines). Practice starts after this.
Previously, students used to go through a rigorous practice for obtaining mey vazhakkam (flexibility) which takes at least three years, and then graduate to using weapons. Nowadays everyone wants to start practicing with weapons. In Kalari, we use fist daggers, shields, spears, thick wooden rods, tusk-shaped ottas and urumis (long, flexible blades). A student starts with wooden rods and then moves on to weapons. After finishing weapons, we will train him/her to defend without weapons. This is the fourth stage of training and takes years to master.
We don't charge fees from students. My master wanted this to be open and accessible for anyone from any background. So we decided not to collect fees. We only receive gurudakshina (offering for a teacher at the completion of training). Some of our students have even started their own Kalaris.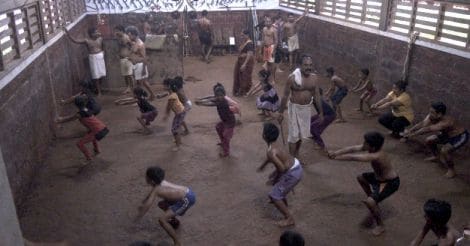 Kalari, as a medicine
Kalari itself is a medicine for health. It keeps you fit, reduces blood pressure and helps you to concentrate. We also make some medicines and oils for students here. Every year in Karkkidakam month, we do massages for men and women. And if someone gets hurt in the Kalari, we treat the injury with our own medicines. Outsiders also come here for massage and other treatments. These practices and techniques have been passed down through generations. I learned everything from Raghavan master.
Also read: Meet these Keralite siblings who have become the green warriors of Maximum City | Video
Kalari as self-defense
Learning Kalari gives one self-confidence but it should not be used to attack anyone. Offensive Kalari should be the last resort. We hear a lot about assaults against women these days. Kalari can be taught to girls for self-defense. It will be good if Kalari could be part of the curriculum. Some of the local schools approached us for teaching their students. I haven't taught at schools yet as I'm already busy here, but I welcome such initiatives. Some schools have karate classes, that's also good.
Also read: Krav Maga: A fighting chance
Kicking away life's blues and injustices: How kickboxing powered up a woman
Keep it simple to keep you fit
No strict diet. I eat simple, ordinary food. There are no health issues so far. I used to practice Kalari everyday but now I practice only when there is an event to perform. My day starts at 4 am with students at the Kalari and morning session ends around 10 am. Later I will go back to my household chores and at 5 pm students will come for the evening session.
Also read: Do you want to burn some calories in a fun way? Try these
The septuagenarian has trained around 10,000 students, including her children and grandchildren. While many complain about the new generation ignoring their tradition and culture, Meenakshiamma has no such complaints. "No doubt, Kalari is good for fitness, mind and body, but they always have to give priority to studies and career," she says.
"I'll be happy if they can manage both," she adds.