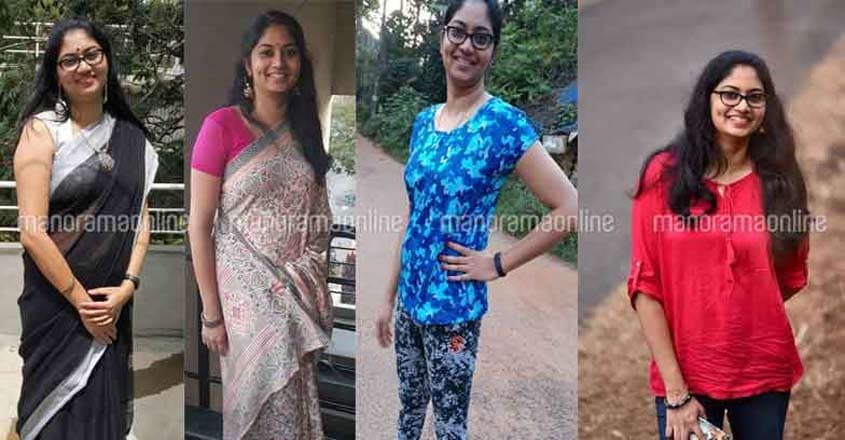 Thrissur native Rathi, who works as a counsellor and trainer at Bengaluru, has an amazing tale of weight loss to tell. Interestingly, she had a thin body in the childhood and her relatives often made fun of her for looking unhealthy. She didn't put on weight even after getting married. Rathi recalls that she gained some weight after giving birth to her first child. However, she put on lots of weight post her second delivery. Her weight jumped from 59 kilos to 70 kilos. "I became upset whenever I saw myself in the mirror. I couldn't even wear some of my favourite clothes. All these had troubled me and my confidence took a beating," says Rathi.
Though she tried to workout, it didn't yield any results. She had, meanwhile, noticed Habeeb's weight loss challenge online. Rathi thought that doing work out with a group would be better than trying alone. She had weighed 70 kilos then and had TSH (thyroid) as well.
Rathi admits that it was extremely difficult in the initial days of her workouts and dieting. Though she was residing in Bengaluru, the family cooked Kerala cuisine at home. She used to have a heavy breakfast comprising of puttu, idli or dosa, and loved to have a bowl full of rice for lunch. Sweets and non-vegetarian dishes were her favourites. However, after taking up the weight loss challenge, she began to eat just 100 grams of rice. "In the beginning I became sad when I saw the amount of rice in my plate. I wasn't sure how to fill my stomach with so little amount of rice. Though I was eating enough proteins and carbohydrates, I was only worried about the rice. Soon I found a way to eat more rice. I would take food from my children's plates as it wouldn't give the feeling that my plate was filled," smiles Rathi.
After one and a half months Rathi had lost 4 kilos and she felt more happy and confident. She says that even if she, on some days, felt lazy, she would be motivated by the updates on the group. Though slight changes were made in the diet when her kids were not well, Rathi had never given up working out. She credits the group's admins for inspiring and motivating her whenever she felt low. Any doubts about the workout plan or diet would be clarified immediately by the admins of the group.
Rathi excitedly admits that the work out regime has helped to make significant changes in her lifestyle as well. She was someone who didn't drink enough water as the climate in Bengaluru wasn't overly hot. In the beginning she kept alarms and reminders on her phone to remind herself to drink water at intervals. Now she drinks at least 3 litres of water a day. She began to eat food calculating the amount of proteins or carbohydrates in it. "I think I have been able to find an order in my lifestyle. In the beginning my husband Manoj and his mother used to say that I must eat enough food to fill my stomach. However, after seeing significant changes in my weight, it was them who motivated me the most. I haven't gone to a fitness centre until now. But I have begun to work out at a fitness center from January onwards as I gathered confidence due to my weight loss. Fitness has now become a part of my life. My weight got reduced to 63 kilos within just 4 months. Significant changes could be seen in my thyroid levels as well. The TSH level dropped down to 2 from 11, and the abs reduced to 85 from 97. As far as I am concerned, I have achieved my weight target. Now I have to tone my body," concludes Rathi.