For many women, logging on to Facebook after dark is the online equivalent of getting stranded in a dark street at night. Abusers and tormentors are direct in their approach. Helpers and preachers pose no less a threat. They advise her not to hang around here for long and try to find an opening in their sympathetic garb. Some others simply cannot digest the fact that a woman is awake to speak at night. They use all possible means, even crueller than the pavement harasser's, to silence her.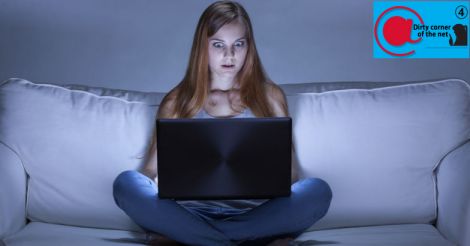 For many women, logging on to Facebook after dark is the online equivalent of getting stranded in a dark street at night. Photo: Istock
Any woman logged in to Facebook after dark is deemed a low-hanging fruit. Many men make it a point to give it a try when they find a woman online late into night. There is a well-defined route to turn chatting into sexting.
An innocent "hi" would have assumed overt sexual tone by the 10th or 12th question. A typical chat that started with a "hello", and a "hi" in response, changed tone at the sixth message:"How old are you?"
"28"
"I am 30. So it's alright. We know everything at this age.""Like what?""We know all about sex at this age."
"Is that all you know at 28?" "Sorry, It's not an age to know. It's an age to do. By the way, what are you wearing now?"
Some others take a roundabout way to their destination:"What are you doing?" "Checking messages."
"You are funny... What have you on now?" "Why do you want to know." "Just like that. Tell me, no?"It is hard to find a woman who has not faced a question about her dress at least once in her online life.
That question is an invite and an attempt at the same time. The rest of the affair hinges on that question. The moment a woman comes online, her inbox is filled with messages from men. Most of them are between 20 and 25.
Some of them are quite candid in their approach - "Can we talk sex?" Some others play the naive - "I don't know anything. Can you teach me?" There are shockers too – "Sex chatting has become a habit for me. So I feel this way to all women."
Could not help asking him back if that applied to the women in his family as well. Many men seem to have a notion that women get online only in search of love or lust.
They weave a web of deceit around women to trap them and abuse them. The online seducers look for any trace of discontent in the woman's family life. They offer her a shoulder to cry on. If she falls for it, they go the next mile and ask to see her naked – "Just for me".
The woman is compelled to send her naked photos and videos. Those who oblige the seducers do so at their own peril, as proved by the numerous videos doing the round in WhatsApp groups. Women who come online at night frequently get Messenger calls without seeking her permission.
This is a way for the night birds to ensure that nobody else is tricking them by using a fake id.
Guardians of morality
Another section of men are enraged by the presence of women online during late hours. These moral goons of the cyber world seem to think that women should log out of Facebook at 10 pm. They do not have the slightest of idea that many women work night shifts and they may be online as usual. Software engineer Nima said she was recently chided by a morality preacher on Facebook. He had apparently noticed that Nima was continuously coming online at night. This was very unbecoming of cultured Indian women, she was told. The culture vanished in thin air as the preacher stepped up his tirade into verbal abuses.
A writer in north Kerala was surprised to see her friend angry one fine morning. "You were online at 10:30 last night. You are back in the morning. Don't you have any work at home? Don't you have any responsibilities towards your husband and children?"Women are constantly being subject to moral policing even for posting a selfie. They remind the women about the possibilities of misusing their photo and bombard them with pictures of dead women who they claim have committed suicide after being betrayed on Facebook. They expect a married woman to be with her husband or children in her profile and cover photo. If a woman decides to go solo, it means she has problems with the family, they assume. Advices in the inbox follow.
If the woman stands her ground, advisers turn abusers. Someone started chatting to a girl with an assurance to be like a brother. Ultimately his curiosity led to the woman's experiences in the first night. The enraged woman warned of uploading the entire chat history on his Facebook profile. His voice changed and he started apologising profusely – "Please don't do that. My family will be shattered if my wife comes to know about it."
The woman dug deeper and found out that the perverse man was a government employee. When threatened with a police complaint, he started crying again – "I will lose my job. I will do whatever you say."A woman is still not allowed to express her opinions about social, political or religious affairs. The response comes in obscenities aimed at her entire family.
This is an attempt to condition women to limit herself to the interiors. A woman is still facing a barrage of obscenities on her Facebook wall for a comment she made in favour of co-education. A college student who advocated women's liberties were branded as someone who was not "trained properly" at home. Women who speak their mind initially face sympathetic advices to mend their ways.
If she stands her ground, horrid attacks would follow. Even her family members would not be spared. If the woman is particularly steely, the abusers deploy the last strategy – body shaming targeted at her size and colour and whatever.
Gender confusion
A girl accepted a friend request from an unknown woman because the stranger identified herself as a teacher in Thiruvananthapuram. She had the shock of her life when they began to chat:"Are you married," the teacher asked."No." "Looking?" "Yes" "Don't you have to work today?" "No. I am on leave." "Hm. Are you at home?" "Yes" "I am not a teacher, you know. I am a sperm donor" "WHAT?" "Donating sperm to women who can't conceive… "What followed next was an obscene picture. Many of the dubious profiles are claimed to be those of women. But when you start chatting, they reveal themselves to be men. They have no insistence that their calls be attended. It is a take-it-or-leave-it attitude. Some of them would keep sending voice messages in obscene language.
An 18-year-old who sent a friend request to a social activist received back a straight and natural question? "Do we know each other?" He then gave her a lecture on the pitfalls of befriending strangers on Facebook and apologised for not being a friend because he did not know her personally. The second day, the girl received a friend request and a message from an unknown woman's profile. The activist who lectured on online etiquette introduced himself as the owner of the fake profile.
He said his real profile was sometimes checked by his wife and he could not use it to talk to other women. When the girls protested that she did not have anything to say that his wife would take offence to, he said not everything can be told there. Dirty messages and pictures followed. A woman's profile picture that was not clicked along with her husband is seen as a secret invitation.
"Do you have any problems with your husband?...Doesn't he suit your looks?..." Such questions crop up often if a woman says she is married and still post only her picture. The questions gradually lose its respectful tone until they reach uncomfortable familiarity. Requests for phone numbers follow. Then requests to meet in person. A woman responded to repeated requests by a man who was 10 years her junior. She agreed to meet him in a restaurant. The online lover started out saying that he could not live without her and urged her to go with him to a hotel room.
That was when the man who was sitting at the next table interfered – "Which hotel do you want to go?"
The harassed woman was accompanied by her husband. Not all women are able to handle their online lives well.
A plus-two student has chatted 36,000 times with a Facebook boyfriend she had never met. She had even sent him 300 photos, including 26 nude ones. When the affair came to an end, the boyfriend published many of those. The girl attempted suicide four times but still lives in infamy.
An IT professional became close to a colleague and sent him her naked photos. When they parted ways, he shared many of them with his friends. The photos were seen by tens of thousands of people in a few days. The women went into depression. She has been under treatment for two years. A teacher in a private school in Malappuram found her Facebook page hacked.
Her wall was filled with obscene videos and photos. Her profile photo was found to be used elsewhere. Her lawyer husband encouraged her to complain to the police. An investigation unveiled a conspiracy to defame the teacher who played a pivotal role in getting laurels to the school in academics and extracurricular activities.
(To be continued; Reporting by Sandhya Grace, K Rekha, Remya Binoy, Gayathri Muraleedharan, Neetha Naveen, Gayathri Jayaraj, T S Divya, Anu Mary Jacob, Sreedevi Nambiar, K P Safeena, Juny Joseph, K Sreerekha, Ansu Anna Baby, Ria Joy, Linu Mol Chacko, Ninny Mary Baby and Shahala Kunjumuhammed)