It was 31st March, 1996 – the last day of arrack in Kerala. The day was memorable; fateful too. My friends and I were at our favorite rendezvous – an arrack shop in Olavakkod. The locally produced arrack was already being sold at a heavy discount. But as we sat in a crowded corner of a crowded bench in that crowded cabana, little did we know that we wouldn't guzzle down arrack from a toddy shop in Kerala for a long time. We only knew that all arrack shops will be closed after midnight.
Every arrack shop came attached with a small kitchen. And there was this old woman who used to serve us beef and boiled eggs on small platters. She was still serving us that day. I asked her: "Amma, what will you do from tomorrow?" She raised her helpless eyes to meet mine. They were already welling with tears. She said, "I don't know, sir! The future is bleak. I know no other job," words choked in her throat. Her tears pierced my heart like hot shots of lead. It spread to the others too. All of us there, all the drunkards, raised a storm of collective will within us and resolved then and there: "This stupid government will not come back to power."
Read: Tipplers say cheers as 60 liquor shops may reopen in Kerala
Bars to reopen as Pinarayi uncorks LDF govt's liquor policy, protest brews
Our collective willpower worked. The so-called icon of idealism, the ruling CM, bit the dust. The LDF came to power. We returned home that day with several quarter bottles of arrack, priced dirt cheap and almost given away free. I tipped that tearful woman a Rs 50 note (which obviously had more value than Modi's new 500-rupee note). Never met her again.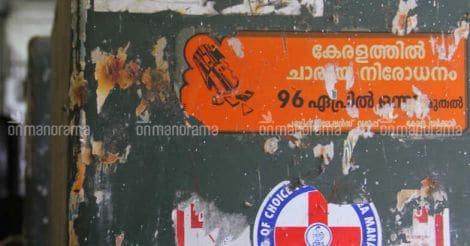 A bill announcing the prohibition of arrack in Kerala. File photo
It was incredible that another doyen of idealism would repeat the same mistake after 20 years and cause his party to bite the dust again. The LDF came to power in 2016. But, not before several people associated with the liquor bars were put to misery only to satisfy the bloated egos of some muddle-headed men.
This scenario has been repeated ad nauseam in several countries and states in India and never has it worked well for the rulers or the people. We have the shining example of the USA from 1920 to 1933 where the prohibition only led to the growth of a ruthless liquor mafia. Perhaps that was the objective. This constant moral duel between alcohol consumption as a measure of individual choice and state control over it as a sheer show of power seemingly for the sake of social concerns like health, religious morality and social costs has been going on for centuries. But, every time, alcohol managed to submerge everything in its path. As Harold Lasky opined, "When a particular statute is regarded as foolish or obnoxious by a considerable body of persons, they will rejoice in breaking it. Illegal conduct becomes a matter of even pride."
Article 47 of the directive principles of state policy in the constitution of India states that "...the State shall endeavor to bring about prohibition of the consumption except for medicinal purposes of intoxicating drinks and of drugs which are injurious to health." This is one directive principle that almost all state governments have played with negative consequences to the state's exchequer as well as the people's health.
The first, due to the obvious loss of revenue. And, the second, owing to the fact that all prohibitions were followed by bootlegging and spurious liquor manufacture, which resulted in hooch tragedies with several deaths and vision lose episodes. And, everyone knows and strives hard to break the law. A fine example is that of Gujarat, which follows the law set up under the Bombay Prohibition Act 1949, which was later applied only to Gujarat when Bombay split into Maharashtra and Gujarat. The Maharashtra part happily carried on with its permit system whereas it was a strict no no in Gujarat. And, anyone who has lived in or traveled to Gujarat knows how freely liquor is available there. The same is the case with North Eastern states such as Nagaland, Manipur or Mizoram. Tamil Nadu tried it more than once only to burn its fingers.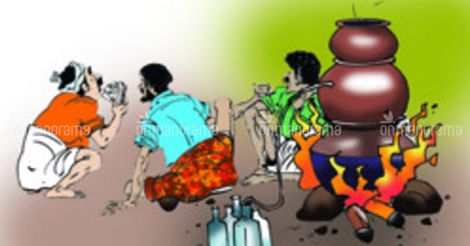 AP and Haryana tried it at various times, but only to fail miserably. When it was in force in AP, all Kerala-bound trains would be raided by liquor enthusiasts in Vijayawada Station to get hold of the army men, who would travel with their hidden stock of rum bottles wrapped in woolen stockings to be sold at premium prices. And, each of them would have at least 10 bottles with him. That paid for their to and fro journey.
When the ban was on in Haryana, policemen would be waiting at Faridabad and Palwal to catch the daily passengers carrying liquor bottles from Delhi. A few rupees exchanging hands made everyone happy. More ingenuous and affluent people used to create hidden vaults in their cars to carry liquor.
In fact, prohibition everywhere is a joke, except for those unfortunates who depend on the ruthless spirit mafia. Some methylated instead of ethylated spirit was enough to blind people, who were invariably poor folk. Bihar is the latest joker in the pack. They forget that "for every prohibition you create, you also create an underground."
There is a misconception that illicitly brewed arrack is obnoxious and toxic. This is anything but truth. In fact, the so-called Indian-made foreign liquor, sold by spirit mafias and distilleries, is far more harmful to health than the locally brewed stuff. The reason is simple. The local brew is consumed by the locals and no one would want to hurt their neighbors.
I have had pleasant sessions in the brewing centers in Chithali Mal, which has a reference in O.V. Vijayan's Khasakhinte Ithihaasam. I can vouchsafe that what I drank from there was among some of the best liquors I have ever had. I have to mention here the heavenly stuff brewed from cashew fruits in North Malabar.
When the government steps in and tries to bring everything under its control, it always creates an unsavory ambiance. Local brewing should be made legal and if possible, put under the control of co-operative societies formed for the purpose. Look at the case of toddy. The whole business has been polluted by the government's intervention turning it into a big business for mafia gangs to operate with hardly any good toddy available anywhere in the state. And, what's the harm if people brew arrack at homes for their own consumption? Forcing people to go to beverages outlets or to bars is like forcing people not to cook at home and only depend on restaurants for food.
It is good that the LDF has reviewed the liquor policy and allowed many of the bars to function again. They should also think of opening the arrack shops with the spirit manufactured in government-owned sugar mills such as the Chittur Sugar Factory at Menonpara. The ban on arrack had completely destroyed this factory and also affected the sugar crop growing farmers in that area. It threw thousands of laborers out of job. It only helped liquor barons like Vijay Mallya to prosper.
Vincente Fox has succinctly put it all in this capsule statement: "Prohibition didn't work in the Garden of Eden. Adam ate the apple."
(Ravi Shanker is a poet, translator and columnist. He is the author of "Architecture of Flesh", a collection of poetry. Views are personal.)