Last week, I was trying to soft sell Kerala to a multinational company director in Sydney and was listing out the unique advantages that give my home state an edge over Tamil Nadu for setting up an international logistics operation and an e-commerce platform. But the executive asked me bluntly: "Isn't that the south Indian state with 100 percent literacy and all those smart ones working in the Middle East and other countries? I have heard horror stories about trade union activism in that state and we don't want to get caught in such politics and mess up our business."
When I persisted, backing my arguments with facts and statistics - the largest undersea cable landing point of India, internet bandwidth strengths and path diversities, proximity to a busy shipping route and a high level of e-commerce acceptance - he asked: "How come my guys never told me about this place while they talk all the time about Bangalore, Chennai and Hyderabad?"
Also read: Pinarayi's first 100 days in Kerala CM's office: did he meet people's expectations?

I was stumped and ran for my plan B. I advised him to go to Kerala and have a chat with the newly elected government. And he said, "these days governments come to us and sell us their state's facilities to start new business and I don't think we have heard from Kerala yet. Anyway I will ask my guys to check this out."
Kerala is heavily dependent on NRI remittances and interstate tourism revenues but successive state governments and their advisers have failed to differentiate the state as the "go-to state" to set up new-gen businesses that drive the world's economy. God's Own Country does not even figure in the top 5 destinations of international tourists visiting India; the state's marketshare in the international tourism market of India is less than 5 percent.
Kerala's infrastructure facilities including surface and air travel facilities are comparable to those in Tamil Nadu, Telangana and Karnataka; Kerala ranks high on socio-cultural benchmarks and ease of doing banking and commercial transactions; reports by specialists such as Tata Economic Consulting Services continue to list Kerala as a potentially attractive investment destination.
But then, why doesn't Kerala get its due share of international tourists and business investments? The answer: because the business management of Kerala – the administrative bureaucracy entrusted with the responsibility of building the state's business -- has not changed in the last 50-odd years. While the world out there was transforming itself into an interconnected wireless global village without boundaries, Kerala's business mangers continued with conventional administration processes and sporadic promotion of the state against established IT hubs such as Bangalore and Hyderabad.
Also check: 6 reasons that prove Pinarayi Vijayan is a people's chief minister

Regardless of the color of political flags, Tamil Nadu, Andhra Pradesh and Karnataka continue to proactively market and hard-sell their strengths, leveraging their respective states' diaspora to attract investments, and making it easy for the diaspora to invest directly in productive ventures rather than illiquid, dormant real-estate assets.
My own experience of trying to facilitate a global business group's investment has taught me that doing business in Bangalore is far easier than doing it in Thiruvanthapuram. In a way it was simple: in Kerala the potential investor was made to feel that they are sort of receiving a favor from the administrators; in Karnataka there were committed resources to market the investment-destination product and to service the clients on an ongoing basis.
All the major telcos in the world know the potential of the Indian market, with its ever-growing voice and data traffic coming in and out of the country. They also know the significance of Kochi as a major landing point for undersea cables from across the world. So in 2006-07, one of the largest telecos in the world wanted to set up a point of presence in Kerala through an Indian subsidiary.
While reverse migrating to the country of my birth, I had taken upon myself to speak to the then Kerala government on behalf of the parent telco. The politicians including the concerned minister showed an uncanny ability to grasp the project's details and visualize its potential, and quickly set up a meeting with the administrative bureaucracy as well as those others entrusted with the responsibility of making the project happen.
Also read: Pinarayi Vijayan: The curt leader on a red tide

But while meeting these administrative officers in Kerala, I quickly realized the conflicting agendas of those entrusted with the state's socio-economic development and their political masters. Though I tried hard to integrate the business goals of the global telco with the narrow, dark and serpentine alleys of the state administration's petty politics and one-upmanship, the overseas company gave up and followed the advice of its Indian partner – a Kerala-based industrial group: "We are from Kerala, stay out of there."  

What I experienced was a brazen display of administrative thuggery and arrogance of the "all-knowing chosen few" who pulled the wool over the eyes of the unsuspecting elected representatives. For me it was a professionally disturbing experience, and the annihilation of a kind of ego that "I can apply my global experience" for Kerala's benefit. It also made me realize with a jolt that I was now in India and helped me to de-familiarize the state I was born into.
Later, when I was heading the wholesale and inter-carrier business at a Tata group company, I helped the said foreign telco with its point-of-presence expansion in other Indian states. This was accomplished with great speed and efficiency, which helped everyone involved -- the states, my employer and the telco – make neat profits.
The administrators who shot down the telco's point-of-presence opportunity 10 years ago are still holding positions of power in Kerala. And continue to successfully market themselves as the "go-to experts on all matters under the sun" to the elected ministers. It is a tragedy that political leaders who have successfully sold their vision and ideas to the people and got elected are forced to become captives of administrators who have never sold anything in their lives, let alone an idea or an innovative concept.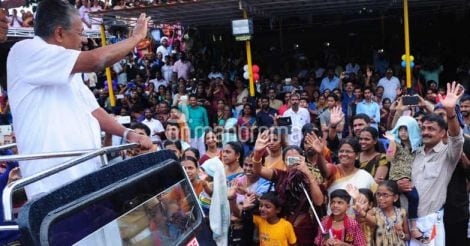 But in Kerala these administrators make sure life is a continuous struggle to overcome uncommon juxtapositions and contrasting ideas on the state's development, which is masked as the "intellectual prowess of the chosen few." Many of them have been holding the same or similar responsibilities for decades and are oblivious to the paradigm shift that is happening in the rest of the world.
Kerala's tragedy is that it has no business development managers to market its potential in national and global markets. Innovation and change are alien to the state's bureaucracy, which is primarily trained in the art of balancing socio-political equations while acting as advisory channels to ministers.
Resistance to change is an age-old symptom of the fear of unknown but change is the only sure sign of growth. During the last two decades, even after European and US corporates discovered and tapped into India's huge and growing middle-class market and its super-software power, Kerala was left out as an investment destination and left in those companies' "too hard" basket. To secure its due share of the international tourism market and the accompanying institutional investments, Kerala requires a new global business positioning.
Gods' Own Country can only be pulled out of the shadows of other south Indian states and firmly placed on the world business map by a younger breed of innovators and marketers: people who can be better brand ambassadors of Kerala and who can attract companies like Alibaba and Apple to set shop in the state. But this requires a collective, multi-partisan leadership; risk-taking; grit and above all, the capacity to embrace different ways of promoting the state in an interconnected world where what matters is innovation.
Question is, can Kerala's political leadership forge that will and play ball to attract large-scale investments to the state?
(Rajeev Sunu is an Indian-Australian business consultant and previously vice-president and head of international business of Tata Projects)