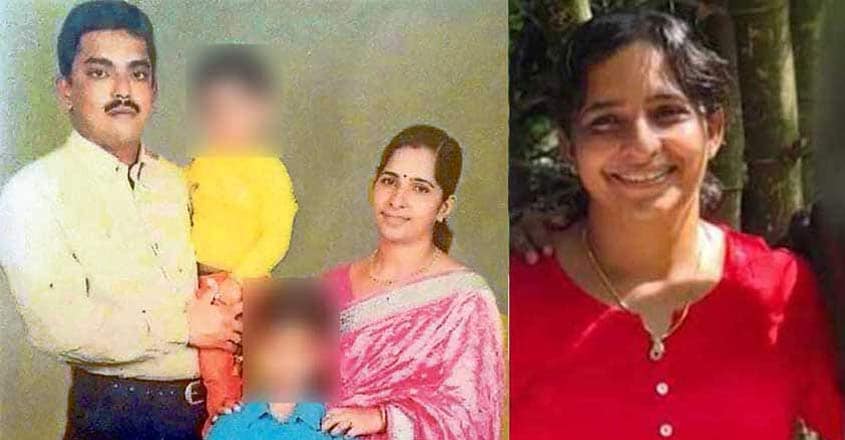 Kozhikode: More shocking details about the Koodathayi serial killings are coming out as the probe intensifies against prime suspect Jolly Joseph who is suspected to have killed six members of the family into which she was married initially. Now it has come to light that she had allegedly tried to do away with five girls as well, police sources revealed. Investigators found out that Jolly had made the murder bid on the young daughters of her relatives and friends.
It was pointed out that these children had complained of uneasiness and had froth coming out of their mouths after having food. Jolly was at their homes at these times as was during the death of six who were eliminated by her over a decade. Reportedly Jolly had laced cyanide with food or drink to commit the murders.
Though the children who escaped the bids were admitted to hospital, the cause of the illness could not be found. The police probe now has ascertained these to be cases of murder attempt.
The police came to know of the bids against three girl children during the initial investigation stage itself, sources revealed. The detailed statements of their relatives were also taken.
After Jolly was arrested over the sinister murders a few days ago, the relatives of other two children also raised suspicion. The daughter of her first husband's sister was also among them. One of these girl children is abroad.
The 47-year-old woman was arrested last week on suspicion of killing six members of her first husband's family one after the other over a period of 14 years at Koodathayi in Kerala's Kozhikode district. Her first husband and his parents as well as their kin were among her victims.
Hated girl children?
Though Jolly had allegedly killed two-year-old Alphine, the daughter of her current husband Shaju before marrying him, she did not make any attempt to kill his elder son. When asked about this, Jolly said that girls would be a liability once they grow up. Jolly also replied that she did not like girl children, a police source confirmed.
With this revelation, police raked up the evidence on five other murder attempts.
Jolly has two sons from her first marriage with Roy Thomas, one of her victims.
The probe also revealed Jolly had allegedly undergone abortion thrice. A check would be held to ascertain if her hatred towards girl children prompted her to resort to medical termination of pregnancy.
Victims so far
Retired educational department official Tom Thomas, 66; his wife and retired teacher Annamma Thomas, 57; son Roy Thomas (Jolly's first husband), 40; Tom's brother's daughter-in-law Sily Shaju, 44; her two-year-old daughter Alphine, and Annamma's brother Mathew Manjadiyil, 68, were killed between 2002 to 2016. The police initiated a probe after Tom's another son Rojo, who is in the US, filed a complaint, pointing out the similar deaths. All the victims fell unconscious and died after having food with froth coming out of their mouths.
Jolly confessed that she had given cyanide to all six of them to eliminate them. Co-accused M S Mathew, who is also her relative, had allegedly given her the cyanide. She had stored the cyanide for use later.
The police had exhumed the bodies of the victims last week to conduct scientific tests.
DNA check abroad?
Thiruvananthapuram: Kerala DGP Loknath Behera said that the DNA tests on the mortal remains of the victims would be conducted at the best laboratories in the country. "If not, then the samples would be sent to the foreign labs with the permission of the court," the top cop said. The probe team would be expanded to include cyber, forensicand DNA experts, he added.
The probe team led by Kozhikode rural SP K G Simon would be divided into six smaller teams that would be tasked to individually investigate each of the six murders.
Meanwhile, the police would move the Thamarassery magistrate court on Wednesday, seeking the custody of the accused for questioning and evidence gathering.