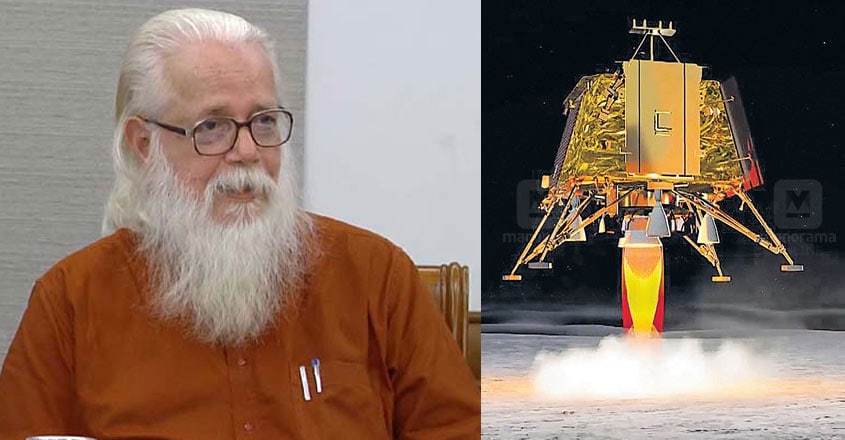 Kochi: Retired space scientist S Nambi Narayanan, who was the face of the sensational ISRO espionage case, has dubbed India's recent lunar mission a fiasco.
The Chandrayaan-2 mission by the Indian Space Research Organisation has been a complete failure, the 78-year-old claimed on Saturday, refuting the claims of the space agency. 
"The claim by the ISRO that 98% of the mission has been a success is false," he said, adding that it is time that Asian countries work together in the field of space research.
"The aim of the mission was to make a soft landing on the moon. That aim could not be achieved. Then, how can the ISRO claim before the public that the mission was 98% success," wondered Narayanan. 
It was better to treat Chandrayaan-2 as 100% failure, he remarked on the fate of India's lunar mission. 
He also sought the cooperation of Asian nations similar to that of European Space Agency, an intergovernmental organisation of 22 member states dedicated to the exploration of space. 
Cooperation in space research would benefit the whole of Asia, he said.
Early last month India's lunar craft Chandrayaan-2 had failed to touch down on the Moon. Its lander, named Vikram, which contained the rover Pragyan, lost communication with the ground station on September 7 during its final descent, just 2. 1 km above the lunar surface.
Subsequently, ISRO chief K Sivan had reasoned that the mission was 98 per cent successful as the Chandrayaan-2 orbiter had so far performed efficiently.
"Chandrayaan-2 orbiter is doing very well. Each of the eight instruments in the orbiter is doing exactly what we wanted. This mission was 98 per cent successful. Our next priority is Gaganyaan," Sivan had said last month.
Narayanan has now trashed this comment.
Last year Narayanan was awarded a compensation of Rs 50 lakh by the Supreme Court for the ordeal he had to put up with after he was framed in the notorious espionage scandal. Narayanan, who has been fighting a long legal battle of 25 years, vowed to continue his battle until 'those behind the fabricated case' were jailed.
He was arrested in November 1994, on charges of 'selling secrets to Pakistan'. He was then the director of ISRO's cryogenic project. His arrest came a month after the Kerala Police arrested Maldivian national Mariam Rasheeda in Thiruvananthapuram for 'obtaining drawings of ISRO rocket engines'.