Rajeev Chandrasekhar, the NDA's Rajya Sabha MP from Karnataka, is a relatively unknown quantity in Kerala's politics – that is, till recently. But now Chandrasekhar, who has his roots in Kerala, is the vice-chairman of the BJP-led National Democratic Front - a post key to the front's political fortunes, considering Kerala occupies an important place in the BJP's southern expansion plan crafted by prime minister Narendra Modi and party president Amit Shah.
His appointment is widely seen as a result of the BJP national leadership's realization that the NDA can make inroads among Kerala voters only if the old boys' club of the state BJP is shunted out for more acceptable and credible faces, that only such faces can break the traditional polarization of voters that favors the Left Democratic Front and the United Democratic Front in alternative elections.
In his first and exclusive interview with Onmanorama, Chandrasekhar talks about himself, the paroxysms of medieval political violence that has become the new face of God's Own Country, his investments in Arnab Goswami's Republic, and the oft-heard question of his contesting from Thiruvananthapuram against Congress MP Shashi Tharoor, among other things.
You are known better as a media mogul in Kerala than as a politician. How would you like to describe yourself?
I think I'm better known in Kerala for bringing the telecom revolution to the state - by setting up Kerala's first cellular network and paging network. My investments in media & entertainment are more recent. I consider myself an entrepreneur who has stepped consciously into public life with the sole idea of serving my country and state.
Please tell us about your Kerala roots. Also about some of your achievements in politics and business?
My grandfather C.V. Raman Nair was a self-made man; my grandmother was Unniyatil Sreedevi Amma. My mother's family home was in Kondayoor on the banks of the Bharathappuzha. My father is from Kottayi near Palakkad. His parents were Achuthan Nair and Parukkuty Amma.
As NDA vice-chairman in Kerala, what is your vision for the alliance in the next Lok Sabha polls?
I hope and indeed am confident that Kerala will elect its first NDA/BJP MP. I also expect at least 6-8 seats to be NDA MPs.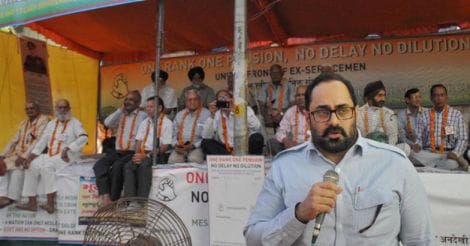 Why is the front still struggling to come across as an effective political alternative despite opening its account in the state in the last assembly polls?
I think for many years Kerala and most states in the south were not on the BJP's radar. And so there was never a credible alternate to the drift politics of UDF/LDF. It is after PM Narendra Modi's 2014 electoral victory that Amit Shah and the prime minister have made the expansion of NDA and BJP in the south a priority. These are early days but my own experience from travelling all around Kerala during the assembly elections has taught me that Kerala's politics will see tectonic changes.
The BJP brass seems to have recognized that the key to winning big in Kerala is to look beyond the old boys club in the party's state unit. You seem to fit that role perfectly. What is your vision for widening the appeal of the party with the voters in Kerala?
I think the appeal of Narendra Modi is his message of governance, development and economic progress for all. This, along with his strong appeal among the youth in particular, is really what is core to the BJP/NDA's message. My vision is the same as the vision of the BJP and the NDA - to ensure more and more Malayalis across caste, community, religion, age and sex come together to transform our Kerala and usher in corruption-free and violence-free politics and governance - where the youth can find opportunity here and not have to travel outside to find employment.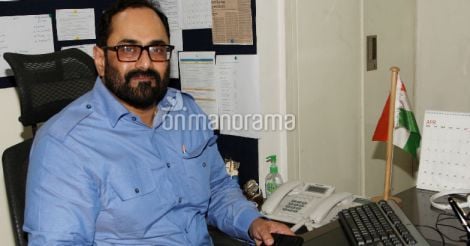 There is a perception that the NDA itself has not been able to gain traction, mainly because of the rifts in the BJP. What is your take on this?
I don't agree. The surge in vote share in the assembly elections prove otherwise. The BDJS and JSS are strong NDA partners in addition to the growing Kerala Congress (Thomas). NDA has attracted many other partners and many important political figures are talking to us. BJP's rifts are a thing of the past. Every sensible party leader and worker realizes that it is only with unity that political success be achieved.
Is there opposition to widening the NDA alliance in the state by including more political groupings/communities? Some possible ways you think the alliance can be expanded?
You will see. In the coming months, NDA will expand in ways that will make the current UDF/LDF less relevant.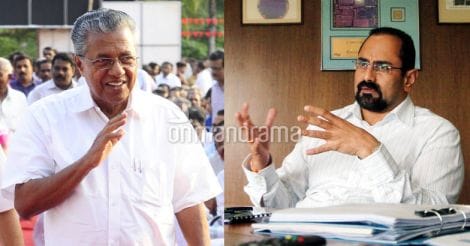 A collage of Kerala chief minister Pinarayi Vijayan and Rajeev Chandrasekhar
Kerala has recently seen a spate of violent attacks targeting BJP/RSS workers and their families? The BJP cadres have hit back with tit-for-tat violence. But beyond that, what are the practical and effective options the BJP has to counter the CPM, which is now ruling the state?
Kerala doesn't deserve this kind of medieval and brutal politics. We Malayalis deserve a democratic political system. Not violence- and intimidation-filled politics. The Marxist ideology that celebrates this kind of political violence is dead all over and in Kerala it is on its last legs. Kerala deserves better than this kind of politics and it will happen when, like in West Bengal, we remove this kind of political ideology that enshrines violence and intimidation.
There is some speculation that you would want to contest against Shashi Tharoor from the prestigious Thiruvananthapuram seat?
Not at all.
Your investment in Arnab Goswami's much-talked about Republic has attracted a lot of attention recently. What was your thought process behind this investment?
Arnab is one of India's most fearless journalists. I admire gutsy, principled journalism.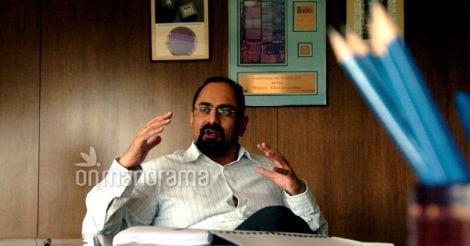 Do you see that as a possible area of conflict of interest with your politics?
I was always aware and conscious that as an entrepreneur-turned-investor-turned-MP, I will be under increased scrutiny. That is why I meticulously comply with all disclosures of interest required by Parliament. I entered politics to make people and my family proud of my work and that shapes everything I do. I disclose all my work correspondence on my website.
About your family, hobbies?
My wife Anju's family is from Thalassery and we have two children – Ved, 17; and Devika, 15.
What is your message for Keralites?
God's own country our state is. But our politics needs to be transformed for the state's full potential to be unleashed. Each and every community can and must aspire to and get their share of the economic and political progress of our state. Let's work to make that a reality.