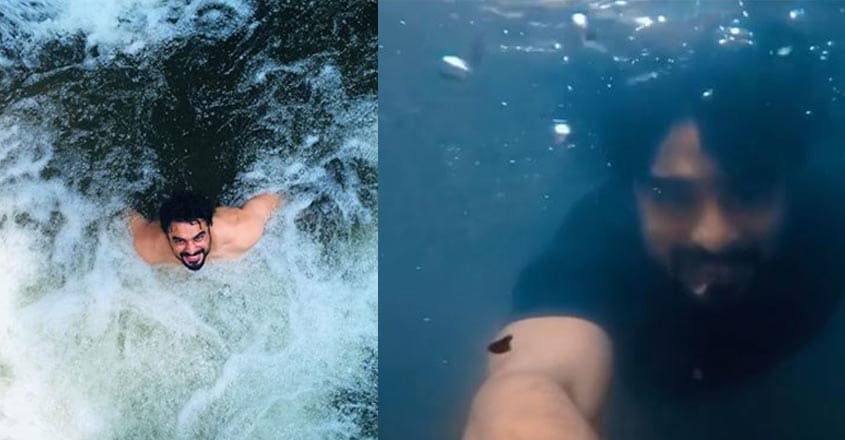 Actor Tovino Thomas has been travelling a lot recently and his Instagram page is a proof for the same. Instagram Stories of his trips to UK, Amsterdam, USA, Canada, Cambodia, Turkey, China and Saudi Arabia have already gone viral. And it also shows how travelholic Tovino is!
But his latest pictures that went viral are not from a foreign trip but from Kerala itself. He was seen enjoying a good swim in a stream in Palakkad's Karimpuzha. He was also enjoying a good time in Dhoni hills and waterfalls in Palakkad.
Tovino has also posted a video where he takes a dive into the water and gives a feeling of how it looks like underwater.
Wearing a black T-shirt and shorts, Tovino is seen sitting on a rock after a swim in the river. He captioned : "Amid the trees, crossing the river" (originally written in Malayalam).
Tovino was in Palakkad for his upcoming movie Forensic directed by Akhil Paul and Anas Khan. He is joined by Mamta Mohandas as the female lead, Saiju Kurup, and Giju John. Tovino plays the role of a medico-legal advisor in the film who is named Samuel John Kaattookaran.
Dhoni waterfalls
Just a stone's throw away from Palakkad town is Dhoni - a place which has much to offer a person who is willing to explore the hills. A livestock farm, a vegetable farm and then, if you are willing to trek uphill through the Reserve Forest for about a little over 3kms, you reach the beautiful Dhoni waterfalls.
The ideal season to visit Dhoni is from September to February. The trekking trail at Dhoni is not very difficult. It is informative and it is enlightening. And will offer a perfect break from your busy life.