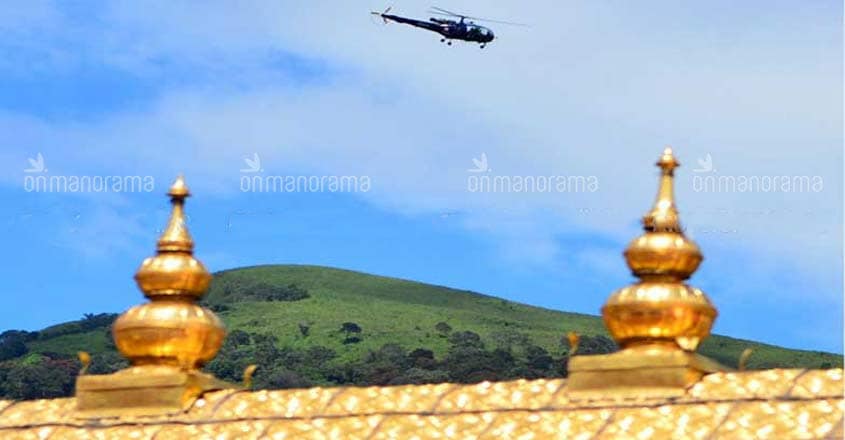 Pathanamthitta: A helicopter service would be available for pilgrims heading to the Lord Ayyappa Temple at Sabarimala in Kerala's Pathanamthitta district from November 17.
A company, Sabari Service, would be operating the helicopter service from this Mandalakalam (annual pilgrimage season). Pilgrims arriving at the Cochin International Airport at Nedumbassery would be taken to Sabarimala. The helicopters would take off from the helipad at Kalady, which is located at a distance of 10km from the Cochin airport.
The daily to-and-fro service is from Kalady to Nilakkal, the base camp of Sabarimala. It would take just 35 minutes to reach Nilakkal from Kalady.
The first helicopter service is at 7am from Kalady that would reach the Nilakkal base camp by 7:35am. The return trip from Nilakkal will take off at 7:40am and would reach Kalady by 8:15am. Twelve services would be held in a day.
Other services
Will start at 8.35am from Kalady and reach by 9:10am at Nilakkal
9:15am from Nilakkal – 9:50am at Kalady
10:10am from Kalady – 10:45am at Nilakkal
10:50am from Nilakkal – 11:25am at Kalady
11:45am from Kalady – 12:20pm at Nilakkal
12:25pm from Nilakkal - 1pm at Kalady
2pm from Kalady – 2:35pm at Nilakkal
2:40pm from Nilakkal – 3:15pm at Kalady
3:35pm from Kalady – 4:10pm at Nilakkal
4:15pm from Nilakkal – 4:50pm at Kalady
The ticket rate (up-and-down) for one person is Rs 29,500. For online booking, email to sabariservice.in@gmail.com.
The company staff would also help in the pilgrim's further journey from Nilakkal to Sabarimala and the return trip. Transportation facilities would be made available.