The portmanteau word 'artivist' suits P.S. Jalaja better than any of her contemporaries. Based in Kochi, this young woman believes that the realms of art and activism are inseparable.
Being the daughter of a carpenter, Jalaja had an innate passion for art and drawing and wanted to build a career in it. However, her father insisted she graduate first. Hence, before moving on to pursue art at RLV School of Arts at Tripunithura here, she completed B.Com.
The years ahead proved that Jalaja's choice was right, with her works being exhibited at several exhibitions across the country. She was one of the few Keralite artists featured in the first edition of the Kochi-Muziris Biennale. Her work titled "Tug of War", which was showcased at the Biennale in 2012, was 30 feet tall and four-and-a-half feet wide. Even before the Biennale, Jalaja's painting was selected for a show titled "Her Work is Never Done", curated by Bose Krishnamachari in Mumbai.
More from the series: C Bhagyanath: the painter who sets the 'city stage': Pix
KL Leon, the man who paints memories: Pix, video
TR Upendranath: fragmented frames & unifying body | Pix, video
According to her, the years at RLV made her realize there's more to art that copying the world as it is seen. "Even as a child I used to sketch objects and people around me. However, it was the years at RLV that changed my perspectives about art," she says.
Now, Jalaja is a painter of people and plurality. People of various colors, language, styles, emotions and attitude, representing cultures across the world, repeatedly appear in her works.
In one such work, Jalaja brings the entire world into the gallery of a stadium, where men, women and transgender people from various parts of the world are seen cheering together. She firmly believes in the idea of cultural plurality and one's freedom to choose the style of living. Hence, women clad in Kerala style saree and those in bikini appear together in several of her works. Jalaja is also an artist of detailing, prompting the viewer to spend some time fathoming her works.
While she believes that her sketches will act as a vehicle for social change, Jalaja is pretty realistic about the constant clashes that make the world an uninhabitable place. Hence, people fighting with each other as if they are on the war front also appear in her works.
Both as an artist and an activist, Jalaja does not want to spare a chance to challenge the oppressive and regressive forces in society. Police, in different uniforms, representing different countries, frequently appear in Jalaja's works as a symbol of the regressive face of the governmental machineries. One of those works was featured at the Prague Biennale in 2011.
The innumerable awards and accolades that came her way include a state award in 2009 and an Honorable Mention Award in an exhibition organized by the Akademi in 2008.
Jalaja has worked in BMB Gallery, Mumbai, from where she got a chance to participate in the Guangzhou Art Fair in 2010. She has also attended a residency program in Italy.
Her latest work - a series titled "Boat people" - portrays the plight of the refugees.
Human anatomy is an area of art, which Jalaja likes to explore more. As teachers refused to take classes on nudity, despite it being a part of the art syllabus, an annoyed Jalaja along with her friends conducted a practical session on painting nude figures when she was just out of college. The works were showcased in an exhibition. Apparently, her vast collection of works includes nude images of her own friends.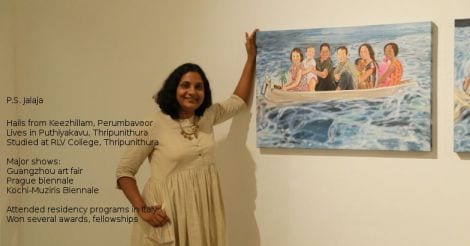 Jalaja is an active member of Kalakakshi, a Kochi-based collective of artists, which take up and intervene in social issues.
"There are people who believe the politics of an artist needs to be reflected only in her art. I don't believe in it. We are part of this society and we need to raise our voice against all sorts of injustice," Jalaja says in a firm voice.
It's interesting that the people's artist doesn't even have a 'formula studio.' The living room of her house transforms into a studio when Jalaja picks up the brush.
And the 'people' in the house are her mother, an aunt, her partner Jasinther Roke Feller, who is a sculptor, sister P.S. Jaya, who is also an artist, and her dog.