There is no greater truth than the eternal fact of life – death. However, it is the fear of having to quit the world that often leaves us perturbed and puzzled. Moreover, if one were to face death head-on, the tale often takes a different turn. For only the brave can laugh in the face of death.
"The living room," presented at JT PAC, Ernakulam on Sunday is brilliant depiction of how death is an indispensable part of the human existence.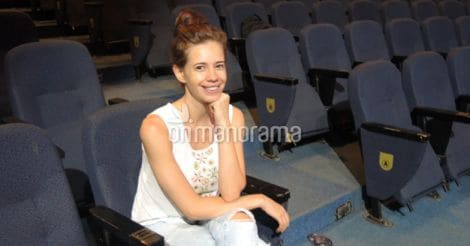 Kalki Koechlin. Photo: Divya P
Directed by Kalki Koechlin, the tale revolves around the life of Anna Nil (played by Sheeba Chadda), an elderly widow.
One day, she spots 'Death' aka Yamir (played by Neil Bhoopalam) sitting on her late husband's favorite chair.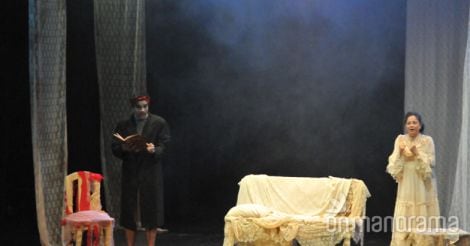 A scene from the play 'The living room.' Photo: Gitanjali Diwakar
As 'Death' begins to tell her more about himself, Anna has a hearty laugh and convinces herself that it is yet another 'candid camera' show.
Excited, she telephones her old friend Joe and invites him to be part of the show. However, the truth gradually unfolds. Anna has to meet her fate – to die.
But things change when Anna realizes that a close friend of the family (played by Jim Sarbh) is also destined to meet death around the same time. Curious to know how she could alter the course of life, she pleads with 'Death' to prevent the 'worse' from happening.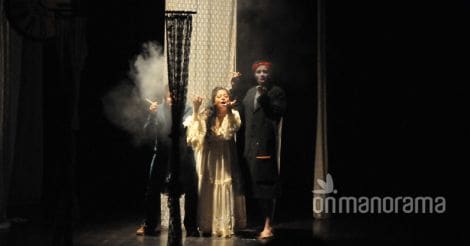 A scene from the play 'The living room.' Photo: Gitanjali Diwakar
Also read: At a living room rendezvous, Kalki Koechlin initiates a chat with death

The play throws light upon the fact that one ought to live with the consequences of the decisions that they make. Moreover, it highlighted how simple yet straightforward death truly is.
The humor in the play was subtle yet effective leaving the audience in splits. While the first half of the play seemed to have followed a sequential pattern, the latter half appeared to be rather confusing. The climax, was indeed unexpected but it failed to create an impact.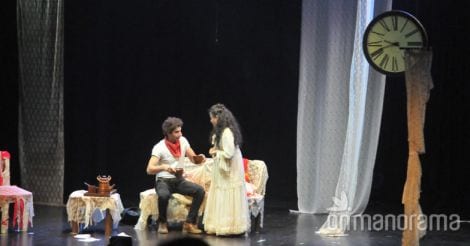 A scene from the play 'The living room.' Photo: Gitanjali Diwakar
In short, the presentation did not 'finish with a bang'.
The simple sets added a certain charm to the play and the sounds and lighting successfully transported the audiences to a different world.
The play was entertaining and the presentation was simple, but a more powerful climax could have boosted it to a higher realm.