Walking on to the sets of a stage on the eve of a much-anticipated play, you expect to see lot of chaos with technicians and light-boys running around to finish their tasks before the D-day.
Kalki Koechlin's debut directorial The Living Room is to be staged at JT Pac in Kochi on Sunday evening. The crew were feverishly working, hands engrossed in work and ears perked up to implement instructions that come their way.
Dressed in a simple white top and a pair of sky blue tattered jeans, her hair pulled up in a neat bun, Kalki was all over the stage, firing instructions and running down the aisle to do the 11th hour fine tuning.
The Living Room, the chronicle of an old woman's rendezvous with death, premiered in July last year and has had a successful run so far.
Onmanorama caught up with the director-actress on her play, juggling her time between Bollywood and stage and much more.
Excerpts
You chose to narrate the theme of death for your first play. Could you tell us more about 'The Living Room'
I once jotted down a conversation between death and an old woman. And two years later, I came across it and thought of developing it into a play. That's how we have Ana Neil (the old woman) at her near shabby and lonely house. Although she has "nothing much to live on" she tries to "talk it out" with death when it comes to take her.
The Living Room begins on a somber talk with death and attains the color and vigor of comedy as Ana Neil reflects on her life and begins to appreciate it. It all happens in a single day and plays out in that room.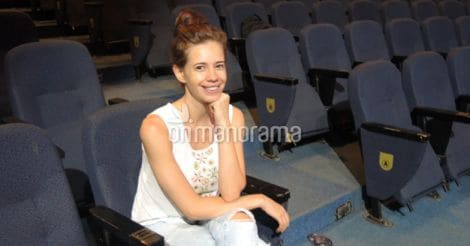 Kalki Koechlin
But still, why death specifically?
During my childhood days in Bangalore, I had this old, lonely woman as my neighbor with whom I used to regularly chat. She had deserted her abusive husband and was living on her own. Probably those conversations with an 84-year-old prompted me to think more about the older generation, their fears and musings on life. Earlier also, I had co-written a play called Skeleton Woman that talked about a writer and his dying wife.
Everyday Health | Who said death has to be unpleasant? Do these 16 things now
But I also strongly feel that we need to talk more about death. It's so much part of our lives, but most of the time, we chose to ignore it. We need to teach the people, especially our children, as to how to face it.
In your last movie Waiting you enacted the role of a wife, whose husband is in coma. That is neither life nor death
Yes, it seems that the theme of death is following me everywhere (laughs). Though I have written and thought a lot about the theme of death, I still don't know what I would have done if I was in such a situation. Whether to reduce your dear one to a mere vegetable or press the button and let them die -- you never know.
You have one foot in Bollywood and another set firmly on the stage. How different is acting for the silver screen and before a live audience?
I like both and these are two different challenges. I loved acting for Yeh Jawaani Hai Deewani as much as being part of a Hamlet. But for the play, we wait for the audience to react to the conversations. Once the first person has laughed out at our jokes, we know we have succeeded and our play has communicated to the people out there.
Now, you are a director and run your own production company (Little Productions). How do you manage to do all that?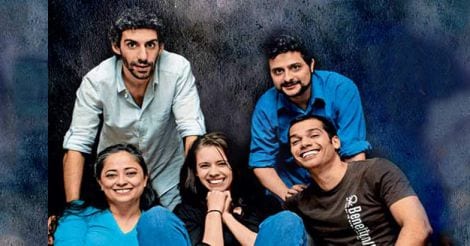 Kalki with the cast of 'The Living Room'
It's like a parenting job. I need to ensure that my actors are taken care of, they get to eat and practice well. Plus, being a director has made me a more grateful actor. I appreciate my director's work more now.
Read the review of her play, The Living Room.
You have also been part of many short films on social issues that have gone viral. How did you pick your topics?
The AIB approached me for the short film You are at fault. It was immediately after Nirbhaya gang-rape and I felt the need to be a part of it. And I wrote Printing Machine (about media) for a friend, and then decided to make a short film out of it. And I won't name them as social activities – all of these for me are various channels of creative expression.
You seem to be involved in lot of writing. Can we expect to see a book from you soon?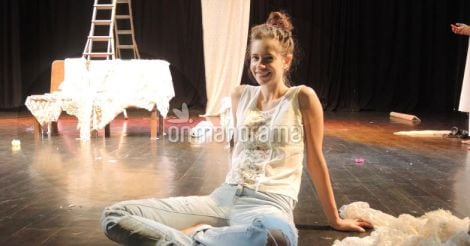 Kalki at JT PAC in Kochi
I have actually got lot of offers from Penguin and other publishing firms. But I don't think I have it in me to write an entire book. But yeah, I will continue to pen down poetry and write plays.
When did you first decide you want to be an actor?
Well, if I had to pinpoint one moment – it was probably during one of my school plays, when I had to be a sheep for a drama for Christmas. Everyone wanted to be Mary, of course, and here, I was kneeling down as a sheep. Guess, from then on I had an interest in theater and took part in lot of plays. And finally during that juncture in life, when you have to decide what you want to do, I picked one subject that I was sure I will not get bored with – theater.
You are basically from the south of India – born in Pondicherry, brought up in Bangalore and studied in Ootty. That makes you a close neighbor of Kerala. Have often do you come here?
Yes, Kerala was the place I visited during vacations. And I just love the food in your land – especially the fish. Fish molee would be my favorite. And Kochi specifically, I was here some years ago for Rajat Kapoor's Hamlet. In fact, it was played out on this very stage.
The tag of a Bollywood actress could have put Kalki on the high pedestal of fame but the actress deserves to be lauded for successfully trying out different channels for expressing her creativity.