When Mollywood's best director returns a year after treating us with one of the most avant-garde movies of all time in Double Barrel, and crafts a 'truly local' film with a host of newcomers, people get excited. Because no one makes films like Lijo Jose Pellissery and no other director can generate the amount of buzz he can by just releasing a two-minute-twenty-second trailer.
Yes, we are talking about Pellissery's upcoming movie, Angamaly Diaries. As we look forward to another sublime piece of cinema from the auteur's kitty, meet 'Vincent Peppe', aka the handsome gangster, whom we get brief glimpses of in the trailer.
A product of Mahararajas college, Anthony Varghese is no greenhorn in acting. The Angamaly native has acted in at least 10 short films.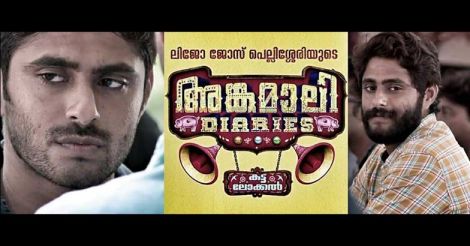 While all we wanted to know was about the thug life of his character, 'Vincent Peppe', the hero of Angamaly Diaries, Varghese politely declined to talk anything about the movie.
"It's indeed heartening to know that the trailer has managed to pique the interest of the viewers, but I think it won't be proper to say anything about the film before its release. The trailer is just an intro," he said.
Incidentally, Varghese dropped out of his PG course to pursue a film career. ''I was not really good at studies and textbooks have never interested me. I discontinued my PG course midway and began assisting in movies'', said the physics graduate in a typical Angamaly dialect.
Talk to him about the amazing response he has been receiving for the trailer and Varghese is all smiles. "I consider it as a blessing. Nothing more to say at this point of time," he concluded after promising a detailed interview after the movie release.
Produced by Vijay Babu under the banner of Friday Film House, Angamaly Diaries features 86 newcomers and is scripted by actor Chemban Vinod Jose. Apparently, the movie is inspired on real events that happened in Angamaly.