With Dilwale all set to hit the silver screen on December 18, Shah Rukh Khan and Kajol once again find themselves in the spotlight.
The star pair of several Bollywood hit films like Baazigar, Dilwale Dulhania Le Jayenge, Kuch Kuch Hota Hai and Kabhi Khushi Kabhie Gham, are teaming up after almost six years, increasing the hype surrounding the film.
With the year also marking the 20th anniversary of the iconic Dilwale Dulhania Le Jayenge (DDLJ), Dilwale is riding high on expectations.
Directed by Rohit Shetty, Dilwale has been touted as a romantic musical action comedy and has an ensemble cast, which also include Varun Dhawan, Kriti Sanon, Boman Irani, Vinod Khanna and Kabir Bedi.
Onmanorama caught up with Shah Rukh and Kajol ahead of the release Dilwale, where the stars discussed the film, their chemistry and their Kerala memories.
On Dilwale and its DDLJ connection
SRK: It's not a sequel to DDLJ. It's a completely new film. It's a love story but it's very different from anything we have done so far. I would say it's a much more intense and angry love story. The film has comedy and action because it's a Rohit Shetty film. It's an entertaining combination of a lot of things, which makes it a real Dilwale. And I feel that Kajol and me, at this age and stage, should be doing films like these often.
Kajol: It's a very different film. It has nothing to do with DDLJ, besides a word from the title. It's film for the families but it's also intense. It's a fast and furious love story, as Rohit would put it. We think that we have made a good film... a happy film, a film that is fit for the holidays. It's gonna add a little extra cheer to your lives, hopefully. The film has action and romance. It's a film of speeding cars and flying sarees. It's definitely going to add to the holiday and festive mood.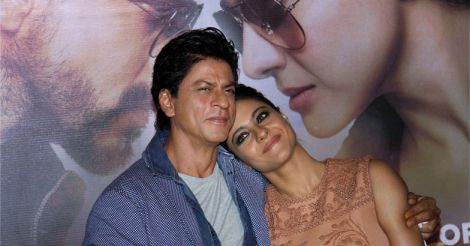 Bollywood actors Shah Rukh Khan and Kajol during the promotion of Dilwale in Mumbai. PTI
On the Shah Rukh-Kajol chemistry
Kajol: I honestly don't know what makes it so special. But I guess that's part of the magic - the mystery. You never know what it is, even we don't to be frank. We just come to the sets, do our job and hope we give the fans a good film.
SRK: It's nice to hear that people say it's special, though I don't believe it's been the same every film. We've been working for 22 years now, and so there will be changes. But Kajol and me have been part of films which people like in terms of romance and love. And that's always a good thing.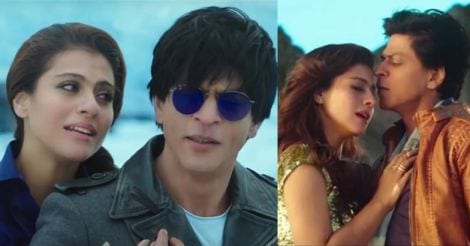 Kajol and Shah Rukh Khan in stills from 'Dilwale'.
On Kerala and South India
SRK: I find Kerala a very beautiful place, extremely beautiful. I shot parts of 'Chennai Express' there. Whenever I come there for functions or something, it stuns me how beautiful it is. But unfortunately I'm so busy working, I kind of just fly in and fly out of Kerala. I would love to come and stay there, find a nice place on the beach. I've mentioned it to my family that one should go there and spend a few days. I've seen some of my friends' places there, which are beautiful. Mammoottyji and Mohnlalji have beautiful houses.
Kajol: I agree that Kerala is beautiful. But I have a little more connection to South India than Shah Rukh. I shot 'Sapne' and 'Minsara Kanavu' there. See, I have actually shot South Indian films, which he can never claim (laughs).
On how to remain happy and healthy
SRK: I relax, spend time with family as much as I can and look forward to the good things in life.
Kajol: I sleep a lot, work out a lot, laugh a lot and try to find the fun element in situations.
Dilwale will release worldwide on 18 December. Also, catch Shah Rukh and Kajol at their candid best on Mazhavil Manorama on December 19.