Jewel Mary, the bubbly girl from Thripunithura, Kochi, became the blue-eyed girl of television ever since she co-hosted the popular reality show 'D4 Dance' on Mazhavil Manorama, with Govind Padmasurya.
Now, Jewel is two-film old in Mollywood and has played opposite superstar Mammooty in Pathemari and Utopiayile Rajavu. Even though her movie projects and wedding kept her a bit busy, Jewel is all set to make a comeback to the mini screen through Mazhavil Manorama's new reality show 'Dhe Chef' with full on energy.
When Onmanorama caught up with the host-turned-actress, Jewel was on the sets of the show and was more than happy to have a candid chat with us:
How does it feel to come back to Television?
(Laughs) Imagine how we go on a vacation and come back home. That's exactly how I feel now. Coming to Mazhavil Manorama is like coming back home. What all I got is basically from this platform and I love being here.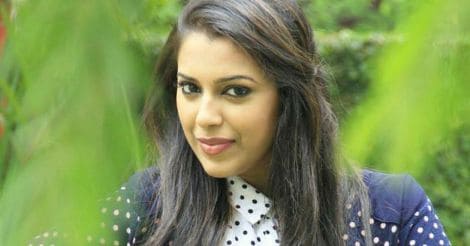 I just loved the concept of 'De Chef', says the actress
What's your next project?
There were reports that Jayaramettan and I would be playing the lead roles in the horror comedy Aadu Puliyattam by Kannan Thamarakulam. However, it is not true. I don't know from where that news was being circulated. I only listened to the story and never signed it.
Meanwhile, I have been listening to scripts since quite sometime and that's when 'Dhe Chef' came my way. I just loved its concept and wanted to be here.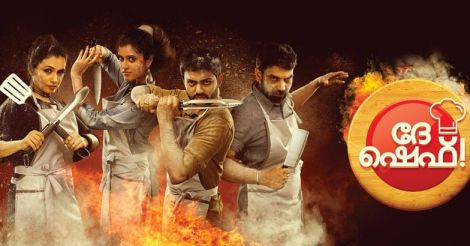 The show will be aired on Mazhavil Manorama on Friday, Saturday and Sunday
About the show?
One can expect anything and everything from 'Dhe Chef'. In fact this show will be very different from the usual cookery programmes one has seen so far. There will be fun, there will be drama, there will be emotions and above all, it will have more than enough surprises.
Taking a leap from 'D4 Dance' to 'Dhe Chef'
There is a change I must say. Each stage is a new learning experience. When we reach 5th standard, we feel studying in 4th was much easier although each class has its own variations. I experience the same thing here.
Both shows cannot be compared since both belong to different genres. There, it was GP and now I have Mathukutty with me. He has already established himself as a renowned RJ and he's too interesting. You will get to know as you watch the show.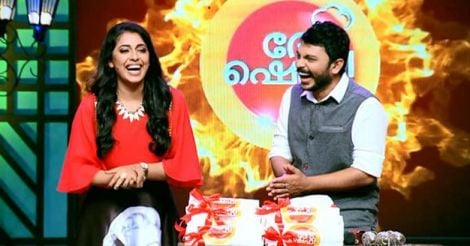 Jewel will be hosting the show with RJ Mathukutty
How good is your culinary skills?
I do cook. But I think it's more about satisfaction than anything. I love making chappatti; when you see it rise up on the pan, it gives you a feeling of satisfaction.
('Dhe Chef' will be launched on 27th November and is scheduled to air every week on Friday, Saturday and Sunday)