Kasaba is undoubtedly one of the most anticipated movies this season in Mollywood for two reasons; firstly, superstar Mammootty in a cop avatar after quite time and, secondly, it is the debut directorial venture of Renji Panicker's son Nithin Renji Panicker. Like his father, Nithin is all set to mark a turning point in the industry.
The movie that is set to hit the screens by July 7 has already set new records with the highest teaser viewership in Malayalam industry. With expectations from the movie riding high, Nithin is calm and composed, eagerly waiting for the release of the flick. Excerpts from the interview:
What exactly is Kasaba?
Kasaba is the local terminology for police stations in India for towns that are not large enough for having a commissionerate. In Kerala, we have one at Ernakulam North Police Station and another at Kozhikode Beach Police Station. Our story is also about one such police station at a border area in a village, and so we decided to keep the title as 'Kasaba'. The shooting was mainly done in rural areas in Karnataka.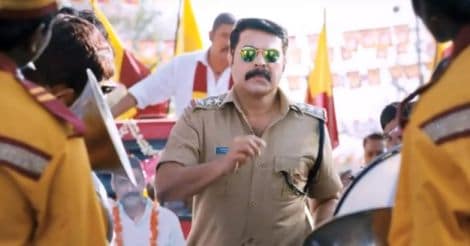 A still from the movie
Being a debut venture, what were the challenges you had to face?
Writing a script for a full-fledged movie for the first time and working with versatile actors were a bit challenging.
There is no prior experience to judge or analyse the flaws, as it's my first venture. So, to bring out the best from your very first film is the real challenge.
Why Mammootty as Rajan Zacharia?
It was only after the first draft of the script that I planned to rope in Mammooka. The film needed a superstar; someone who could pull off stardom easily, and my first thoughts went to Mammooka. And also, we've seen many of his police roles, and it has been a while since he has essayed one of these slick characters.
On top of it, Rajan Zacharia is not a clean chit cop, he has his own weaknesses, Nithin chuckles. But, mind you, there is no comical side to the movie. Kasaba is unique in many ways.
How was it directing Mammooty and other senior actors?
I have known all of them since my childhood and they were all quite supportive during days of shooting. They used to give me inputs and it was like a learning session for me.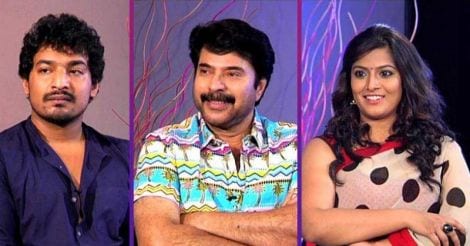 Nithin, Mammootty and Varalaxmi
Out of the two, which was more challenging- scripting or directing?
Directing, of course! Maybe it's because I'm new to it. I have been doing scripting for some projects. Since childhood, I was keen on writing. So, I find it way easier to manage.
Which are your favourite cop movies?
Inspector Balaram, August 1 and Commissioner are my first preferences.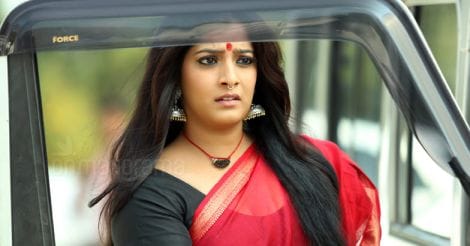 Your female lead Varalaxmi, is popular for her powerful de-glam roles in Tamil and Telugu movies. Any reason to choose her?
The character played by Varalaxmi demanded a 35 plus look in terms of age. The female lead had negative shades to her character and Varalaxmi has done justice to the character. On top of everything, I wanted a fresh face for the role and that's how we chose her.
All are in praise for Mammooka's look after the Kasaba teaser was released, especially those neon-green shades. Was that a deliberate attempt for a setting a trend?
No, that wasn't intentional at all. I found those shades different from the cliched ones and wanted to give a try. It's just part of the character. Anyway, I'm happy to know that it's turning out to be a trend-setting style.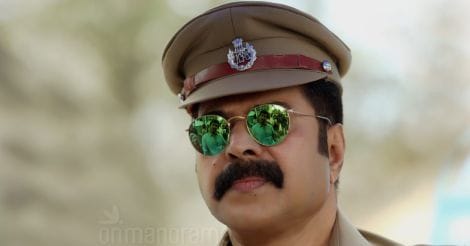 Tell us about yourself and your association with movies
Well, to be honest, I am quite a reserved person. My association with films started with assisting my father in 'Bharathchandran IPS' after my twelfth standard, and thereafter I've also assisted director Shaji Kailas. I took a Bachelors Degree in economics from Madras Christian College and later did my post graduation in business administration. My hobbies include watching movies and reading books.
Who is your inspiration, or shall we say motivator?
It's my father. He is such an easy going dad, I'm blessed to be born as his son.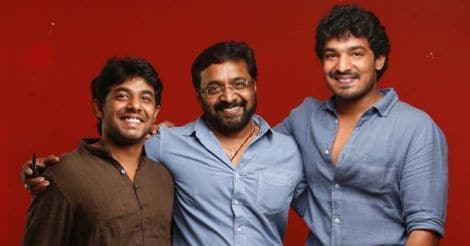 Nithin (R) with father Renji Panicker (C) and brother Nikhil
What did your father Renji Panicker say about the movie?
Apart from a few suggestions in the final draft of the movie, he never interfered in my work. He said it should solely be your effort and dedication that has to be felt in the movie. He is also looking forward to the release to know the response of the audience.