We've all had our share of crazy childhood fantasies, and so have Jo Ann Mary, a college lecturer in her early 30s and the little boy Chris.
As Manju Warrier and Sanoop Santhosh are gearing up for the release of their film Jo and the Boy, Onmanorama catches up with the shinning stars ahead of the film's release.
The energetic team
Manju: It was during the shoot of Ennum Eppozhum that Neil D'Cunha who was the cinematographer of Philips and the Monkey Pen told me about Rojin and about the 'Monkey Pen' team's wish to see me. I had watched and liked 'Monkey pen'. So I immediately agreed and thus Rojin came to meet me.
And when I was introduced to Rojin, I found him to be a small boy just like Sanoop unlike an intellectual figure I had in my mind. Rojin soon came up with the movie and it was exciting to hear about the subject. Perhaps the theme was what attracted me to 'Jo and the Boy'. Each stage was so organized from scripting to shooting. It was fun to be part of a team that had so much of energy and vibrancy throughout the shoot.
Sanoop: Since Jo and the Boy is more or less the same team that made 'Monkey pen', it was like a reunion. I was happy to be working with them again.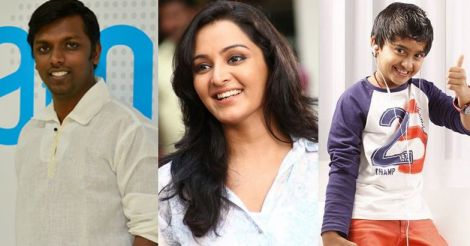 Rojin, Manju and Sanoop
Rojin, the craftsman
Manju: The first meeting with Rojin itself was a surprise for me and it was all the more amusing to work with him. Rojin's clarity on the subject is something that makes it easier to work with. Philips and the Monkeypen was a delicate film, and it was all because of Rojin that the film could be presented well keeping the audience hooked to it till the end. It's the same with this movie too. He knew exactly where, what and how things should be presented, which became more evident with each passing day of the shoot, and I completely trusted him with the decisions.
Sanoop: Rojin chetan is like an elder brother to me and he too treats me like his own son. We have known each other for quite some time, and it was fun to be back in each others' company.
Manju: Lovingly, we call Sanoop 'Unni' on the set. After each day's shoot, Unni, instead of going to his own room along with his parents, will tag along with Rojin to his room, which was a happy sight. Their bond and affinity for each other can't be missed.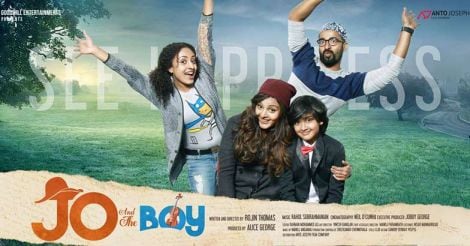 Poster of the movie
Being 'Jo' and 'Chris'
Manju: It was shocking to see Unni (Sanoop) working. Taking each shot in his stride with ease, Sanoop was so spontaneous, he knew very well how to make each scene as natural as possible. Within two to three days of shoot itself, we had a good bonding with each other and that comfortable level will be seen on screen as well. I am amazed at Unni's extraordinary acting skills at this age.
Sanoop: When I came to know that I would be acting along with Manju chechi, it was really scary. (Laughs) Yes, I even told this to Sanusha chechi who lauded me for the lucky chance and asked me to give it my best. However, it only took me a few hours to get to know Manju chechi and build a comfort zone between us, as she's a very caring person.
Singing along with acting
Manju: It was around 14 years back that I debuted in playback singing through the song 'Chembazhukka' in the film Kannezhuthi Pottum Thottu. Initially, I was told that I will have to sing one song and I just said, I'll try. On the sets, when I heard the track, I loved it. It's a simple, peppy, fast paced, fun track with both Malayalam and English words penned by Santhosh Varma, and it goes 'Do...Do... Do it'. Its a song that people of all age group will take to. Unni has also sung along with me.
Sanoop: The song tries to reflect the theme of the movie that urges one to take note of and capture the happiness in our lives.
The mesmerizing locations
Manju: Apart from the sanguine storyline, another major aspect will be its location. The main backdrop, which is 6000 ft above sea level, supports the plot in a very interesting way. We wanted an uncommon locale with wavering climate for the film and finally found this high-altitude place, which is 300 ft above Kodaikanal. There were a few climatic challenges that we had to face as we wanted some scenes to be shot in the mist and fog. Unexpectedly, there was rain and it was too cold shooting in the night.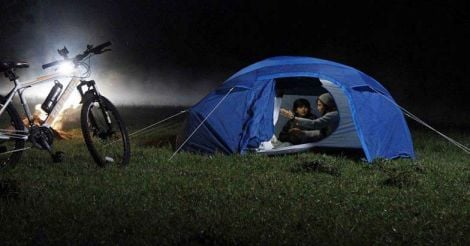 A still from the movie
Sanoop: Just like Monkey Pen, Jo and the boy is meant for all sections of the audience with its beautiful narrative and locales.
Jo and the Boy, directed by Rojin Thomas and produced by Alice George under the banner Goodwill Entertainments, will release on Thursday, December 24 and is all set to find a place in our hearts this Christmas season.