An actor who basks in versatility and enjoys an elaborate freedom to choose, Murali Gopy believes in perfection, than stretching the list. He is very particular about the storyline and gives nod to only the ones which he feels has something substantial.
While his thirst for variety and depth is immaculate, his dedication augurs well for them. Taking note of his cinematic outings so far, whether it's script or onscreen presence, it's clear that the path he treads is not mundane. Or at least that is what his works from Rasikan to Lukka Chuppi reveals.
A known singer (music is yet another area of interest for the quintessential artist) Murali Gopy blazed a trail that has set a distinct standard in Malayalam cinema. On the sets of Pa.Va, his upcoming flick written by Ajish Thomas and directed by Sooraj Tom, where he plays an eighty-year-old, Murali Gopy whips up a free-wheeling chat.
Being a scriptwriter yourself, how will you explain the experience of acting out a character scripted by someone else?
I am not looking at it as a scriptwriter but as an actor. Even while writing a script, I approach each of the characters from the perspective of an actor. I interpret every aspect, including the situations, relationships and so on as an actor alone.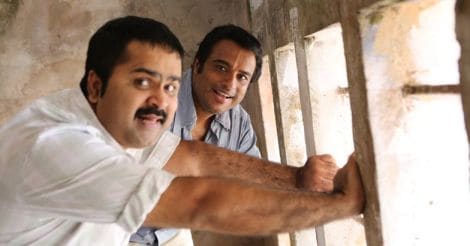 Murali Gopy (R) with Anoop Menon
How different and challenging was your latest film Pa.Va?
It deals with a different emotional and social milieu. Set in the eastern belt of Kerala, the story deals with the life of a Christian family and my character is Devassy Paappan, an eighty-year-old man. The character is different from what I have done so far and I have always longed for roles that are different.
Will you say that Paappan in Pa.Va has broken the chain of serious roles you have been doing so far?
First of all, let me tell you that my roles have never been typecast or serious. In Left Right Left my character is a complete deviation from what I did in 1 by Two, which is a psychic thriller. The film Vedi Vazhipadu again is a comedy and in Lukka Chuppi, which is a romantic comedy, I essay a playful character. In the film Ee Aduthakalath too my role is a different one. I don't prefer falling into a particular genre.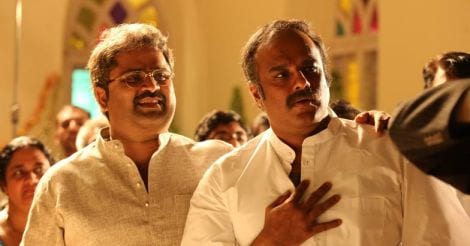 Murali Gopy (R) with Anoop Menon on the sets of Pa.Va
Which of your characters has struck you the most?
As an actor I have done my maximum in each of the films that I have acted in. It is the audience who is supposed to judge me as an actor or say which of my roles was most striking. I don't think any actor would ever pinpoint a particular character as his best. Each of the characters is challenging in its own right. Of course, some characters demand extra focus because of their distinct dimension and depth such as the one in 1 by Two. In short, I would say that I liked all the characters I have done so far. I choose to do only those films, which I feel have some resonance. That is the reason why the number of films I have done so far stands at 15. I read a lot of scripts and choose only those which appeal to me.
What would you like to be known as? Script writer or as an actor?
I just want to do the best in whatever I choose at a particular moment. To be known as something is not within me.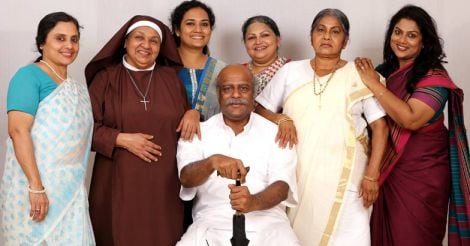 Murali Gopy with co-stars on the sets of Pava
Which of your father's films you like the most?
My father has done a lot many movies and he has been brilliant in all of them. I like all his movies. To me he is the best actor I have ever seen.
You have sung in films and performed in musical shows. How would you rate yourself as a singer?
I consider myself as a crooner not as a singer since I have not gained professional training in singing. Music is one of my most preferred areas of interest where I find happiness at its sublime best. While I sing, I sing like a kid and it's a great and gleeful experience. I have sung in five films (Rasikan, Kanchi, 1 by Two, Premam, Ee Adutha Kalathu) and all of them are hits. I still continue to receive offers for singing in various ventures.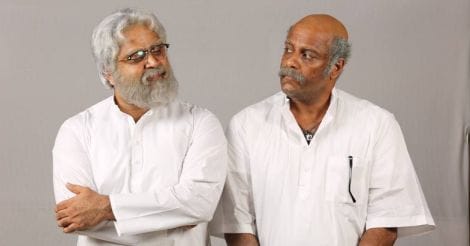 Murali Gopy with Anoop Menon on the sets of Pa.Va
Do you think old films were richer in content?
That's an obsolete concept. Every age has its own values, colours and aesthetics. Every age has its own freshness. What is new today will get older tomorrow. So people at that time will consider today's films as older ones. That is a constant process.
Upcoming projects?
Scripting for two of my films are over. Both of them will go on to the floors in 2016.